Oil and gas producers' pivot toward petrochemicals — precursors to plastics — in the face of environmental concerns may be only a temporary fix.
Anti-plastics regulations and consumer sentiment threaten this approach.
Competing technologies, including bioplastics and other alternative packaging, have grown with strong investor backing.
Amid the shift toward electric vehicles and global efforts to rein in fossil-fuel emissions, oil demand for road transport may peak in 2025.1 In response, oil and gas (O&G) companies are expected to pivot toward petrochemicals2 — mainly inputs for plastics. Materials, rather than energy, may account for more than half of oil-demand growth by 2050.3 However, could tighter global anti-plastics regulations and shifting consumer preferences limit the upside of these investments? When valuing O&G companies, could a rise in recycling technologies and non-fossil-based alternatives make conventional virgin plastic the next stranded asset?
Regulatory realities
O&G companies such as PTT, Total, Formosa and IRPC derive more than 25% of their revenue from petrochemical sales.4 But while 80% of these petrochemicals are used as the building blocks of plastic materials,5 a growing legal and consumer backlash against plastics pollution may threaten the economics of further petrochemical and O&G developments. The number of regulations to reduce plastic pollution has skyrocketed over the past few years, mostly targeting single-use packaging. These products account for as much as 40% of all plastic use and, just like other plastic products with a longer useful life, may take more than 500 years to biodegrade.
The European Parliament passed a directive in late 2018 enforcing restrictions on single-use plastics by 2021, including a requirement to move toward the goal of recycling more than 90% of beverage bottles by 2025.6 And the European Union is hardly alone. Restrictions on single-use plastics were implemented in 60 countries and approximately 350 U.S. municipalities as of the end of last year.7 If this trend continues, petroleum assets envisioned as plastic inputs could end up as stranded as those intended for combustion.
Regulations enacted to reduce plastic waste increased significantly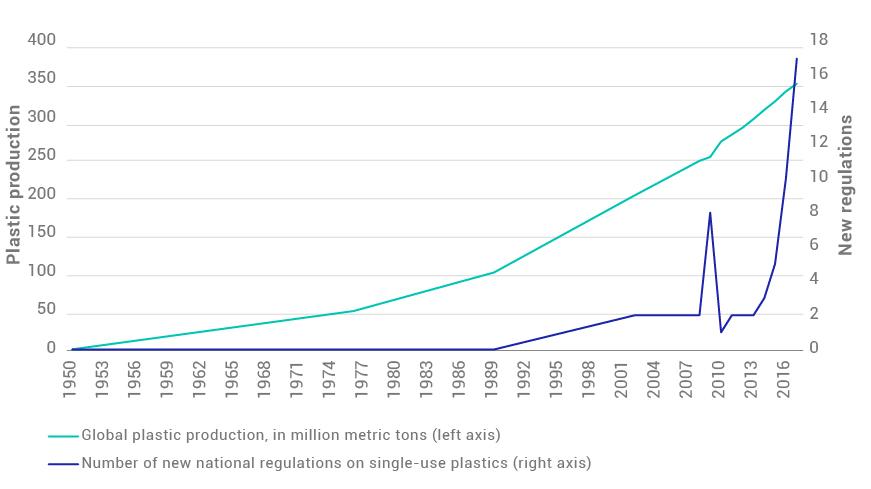 Source: MSCI ESG Research, Statista, United Nations Environment Programme
Recycling and alternative solutions lessening demand for O&G feedstocks
Chemical companies such as Dow, Mexichem, Westlake Chemical, Braskem, Lotte Chemical and Mitsui Chemicals currently derive more than 80% of their revenues from plastics-related products.8 But with headwinds from regulators and shifting consumer sentiment in favor of more responsible packaging, several of these companies have already begun to pursue solutions that would reduce dependence on O&G inputs. We identify three main threats to demand for O&G companies' virgin plastics feedstock.
1. Increased demand for recycled materials
Companies such as BASF, Indorama, Eastman Chemical and LyondellBasell have developed, partnered with or acquired plastics-recycling businesses. Some of these businesses aim to convert or decompose waste plastics back down to their basic monomer or intermediate building blocks. These recycled materials could be used as alternative raw materials to those supplied by O&G.
Recycling can conserve both energy and materials, and demand for postconsumer recycled materials is expected to grow. Firms such as Colgate-Palmolive, Danone, Diageo, L'Oréal, PepsiCo, Tupperware, Unilever and numerous other packaged-good companies have committed to use at least 25% postconsumer recycled materials in their packaging by 2025, up from a currently miniscule amount.9 And plastic-packaging companies such as Amcor and Sealed Air have pledged that all their packaging products will be either fully recyclable or reusable by that same year.10
2. Development of alternative solutions, such as truly biodegradable plastics
Another potential roadblock for O&G companies is the move toward bioplastics, which are developed from raw materials such as corn, rather than oil and gas. While not without negative environmental aspects, such as deforestation risks due to higher dependence on land resources and their potential to contaminate conventional plastic recycling streams, bioplastics may help reduce plastic pollution — especially if their biodegradability features improve.
3. Shifting demand from plastics to alternatives, such as paper-based packaging
Finally, plastics could lose market share to alternatives. Mondi and DS Smith, for example, have both developed paper-based packaging products aimed at competing with the traditional plastics markets.
Investors weigh in
It is estimated that only 9% of all plastics produced have been recycled, with most of the rest either littered or sent to landfills, resulting in an estimated loss in economic value of USD 80 billion to 120 billion every year.11 Significant growth in recycled-plastic materials or other alternative packaging could pull a large portion of that economic value away from O&G producers.
Support from the investment community may hasten the development of new technologies that compete with O&G, and many financial firms have pledged to reduce plastic waste. Morgan Stanley, for example, committed to the "prevention, reduction and removal of 50 million metric tons of plastic waste" from landfills and the environment by 2030.12 Additionally, 26 financial institutions with a combined USD 4.2 trillion of assets under management — including BMO Global, BNP Paribas, Hermes EOS and Sarasin & Partners — have so far endorsed the Ellen MacArthur Foundation's New Plastics Economy initiative.
In short, many O&G producers have looked to plastics as a means of continued expansion. But our analysis suggests this shift may provide these companies only a temporary reprieve.
1 Eddy, J., Rolser, O., Sharma, N., Smeets, B., and Tryggestad, C. 2018. "Five key questions clients ask about our energy demand outlook to 2050." McKinsey and Co.
2 Between 2010 and May 2019, 334 petrochemical projects have garnered commitments of over USD 204 billion. "U.S. Chemical Investment Linked to Shale Gas: $204 Billion and Counting." American Chemistry Council, May 2019.
3 As predicted in the baseline, Reference Technology Scenario (RTS). Bousso, R. and Ghaddar, A. "Rising use of plastics to drive oil demand to 2050: IEA." Reuters, Oct. 4, 2018.
4 MSCI ESG Research, Company Disclosures
5 Cetinkaya, E., Liu, N., Simons, TJ., and Wallach, J. 2018. "Petrochemicals 2030: Reinventing the way to win in a changing industry." McKinsey and Co.
6 "Plastic Oceans: MEPS back EU ban on throwaway plastics by 2021." European Parliament News, Oct. 24, 2018.
7 Meidl, R. "Ban plastic straws and bags? Then what?" Houston Chronicle, Dec. 13, 2018.
8 Source: MSCI ESG Research, company disclosures
9 "New Plastics Economy Global Commitment June 2019 Report." Ellen MacArthur Foundation
10 Amcor Jan. 23, 2018 press release; Sealed Air October 2018 press release.
11 Ellen MacArthur Foundation. New Plastics Economy, 2017.
12 Choi, A. "Why Morgan Stanley is focusing on plastic waste." Morgan Stanley, April 2019.
Further Reading
Using alternative data to spot ESG risks