Investment activity in Swedish commercial property has collapsed in the last 12 months as the market has struggled to adapt to higher interest rates.
The sharp rise in lending rates has also brought pressure on the borrowers that used debt to power a wave of industry consolidation.
Swedish listed property companies have sold USD 3.1 billion of European assets so far in 2023 as they try to deleverage.
Sweden's property market finished 2021 on a high: Investors spent SEK 338 billion (USD 39.2 billion) on real estate, making it by far the strongest year on record; residential capital values rose 16% year over year; and all-property total returns reached 14.3%, the highest return since 2007, according to the MSCI Sweden Annual Property Index. The picture has darkened since.
The driving forces behind the 2021 surge in transaction volume were a set of domestic players who spent tens of billions of krona in a series of large portfolio deals and a spike in consolidation among the listed property companies. In the three largest entity deals of the year, Corem Property Group acquired control of Klövern, Castellum bought Kungsleden and SBB bought Offentliga Hus.
In order to finance these transactions and others, Sweden-headquartered property owners in aggregate issued SEK 189 billion (USD 17.3 billion) of bonds in 2020 and 2021. Of these issuances, 59% by volume were floating-rate, mostly indexed to the three-month Swedish interbank rate. Throughout most of 2020 and 2021, this benchmark rate hovered around zero; by the end of April 2023, however, it had risen to 3.49%. This has caused significant challenges for the issuers of the debt, much of which was short-term (around 45% of the bonds are due to mature by the end of 2025).
Bond issuance by Sweden-domiciled property companies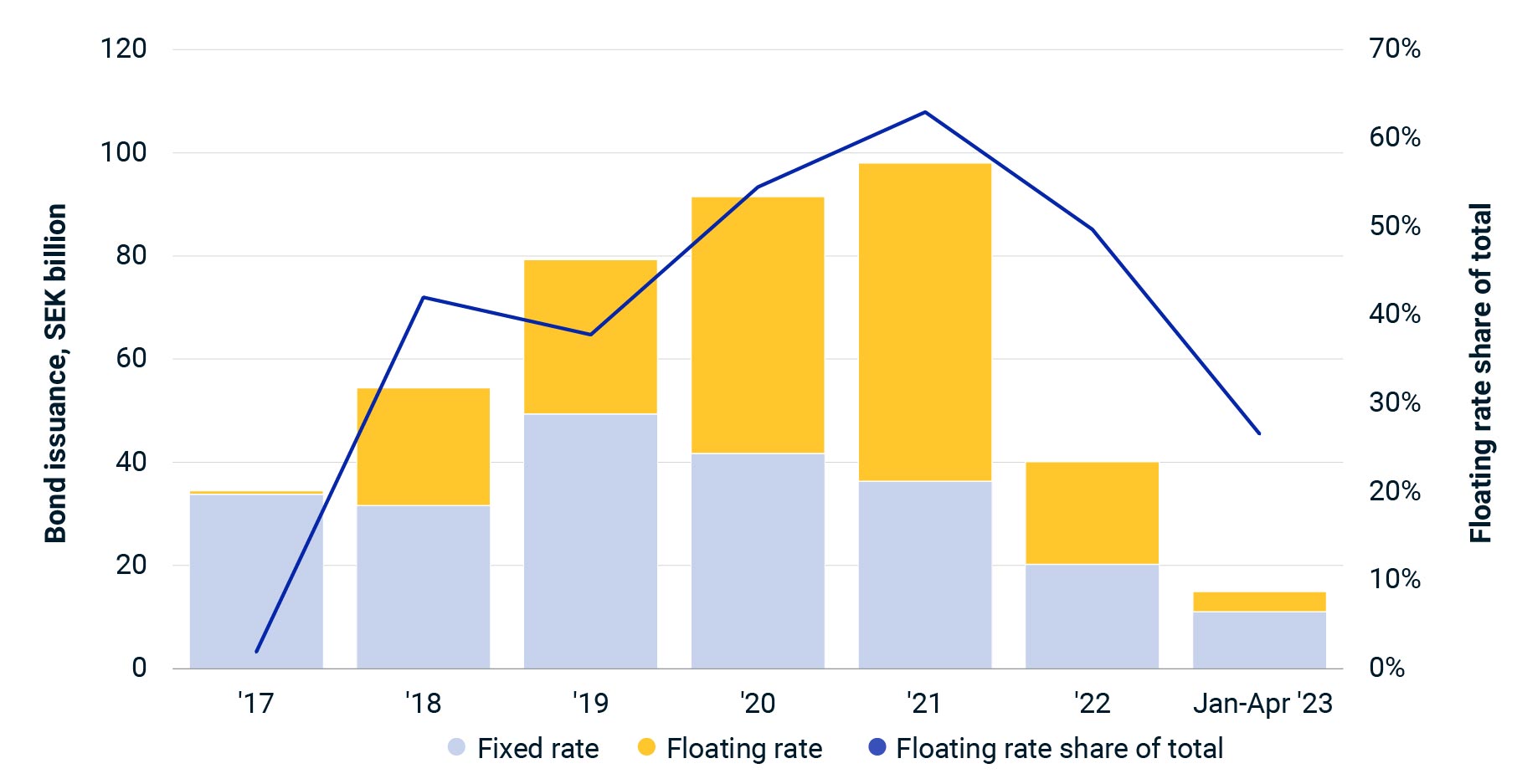 2023 bond issuance through April 24. Source: Refinitiv
The issues faced by the indebted property companies (including higher interest costs and higher loan-to-value ratios) have been reflected in their share prices. Between Jan. 2, 2022, and May 16, 2023, Castellum's share price fell by 59%, Corem's by 79% and SBB's by 91%. By way of comparison, the MSCI Sweden Index fell by 14% over the same period.
Some of the issues facing these listed players, which own around one-third of all Swedish investment properties by count, are reflected in the direct market, where the slowdown in dealmaking has eclipsed that of the 2008 global financial crisis (GFC). Just SEK 138 billion (USD 13.6 billion) was spent on Swedish commercial property in the 12 months to March 2023, less than half the volume of the prior 12 months. Moreover, just SEK 13.3 billion (USD 1.3 billion) was spent in Q1 2023, making it the weakest period for dealmaking since Q4 2009.
Commercial-property sales in Sweden
Major property types only; all sellers. Source: MSCI Real Capital Analytics
Prices and values have also softened, albeit not to the same extent as in the listed sector. For example, the MSCI Sweden Annual Property Index shows residential capital values fell 4.4% in 2022. Meanwhile, buyers and sellers have moved apart on their expectations for prices. A modeled bid-ask spread, which draws on the MSCI Real Capital Analytics database, shows there was a -25% difference between the price expectations of buyers and sellers of Swedish office properties at the end of the first quarter, emphasizing how illiquid the transaction market was.
Price-expectations gap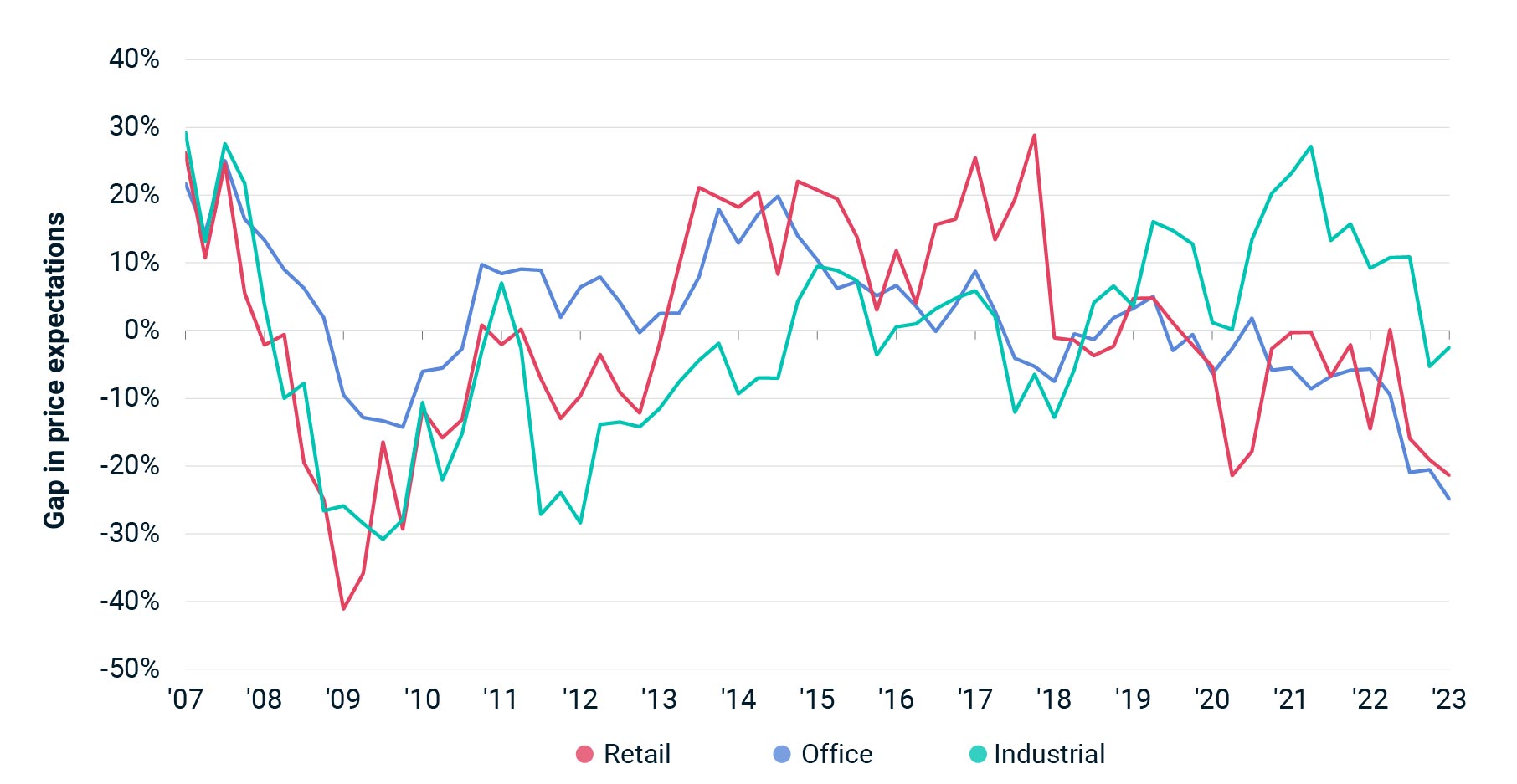 Source: MSCI Real Capital Analytics
A consequence of the pressures of higher interest rates is that many of the listed companies have been actively trying to reduce their debt burden, through measures including paused dividend payments, rights issues and asset sales. SBB also recently announced a strategic review, which could lead to the sale of the company.1
Corem recently sold a 25% stake in Klövern to an undisclosed international investor. The company also offloaded a 47-property portfolio of industrial assets to Blackstone in April and a 17-property industrial portfolio to a joint venture involving Swedish private-equity fund NREP in February. Meanwhile SBB sold a 49% share in a portfolio of Nordic educational properties to Canada's Brookfield Asset Management for just over USD 2 billion. In total, Swedish listed property companies have sold USD 3.1 billion of European assets so far in 2023.
Given the volume of dry powder2 on the books of the major private-equity firms, it is little surprise that both Blackstone and Brookfield have stepped into the space vacated by the domestic players, especially in light of the relative health of the occupier market. Data from the MSCI Sweden Annual Property Index showed rental growth accelerating across all main property types between 2021 and 2022.
Swedish rental-value growth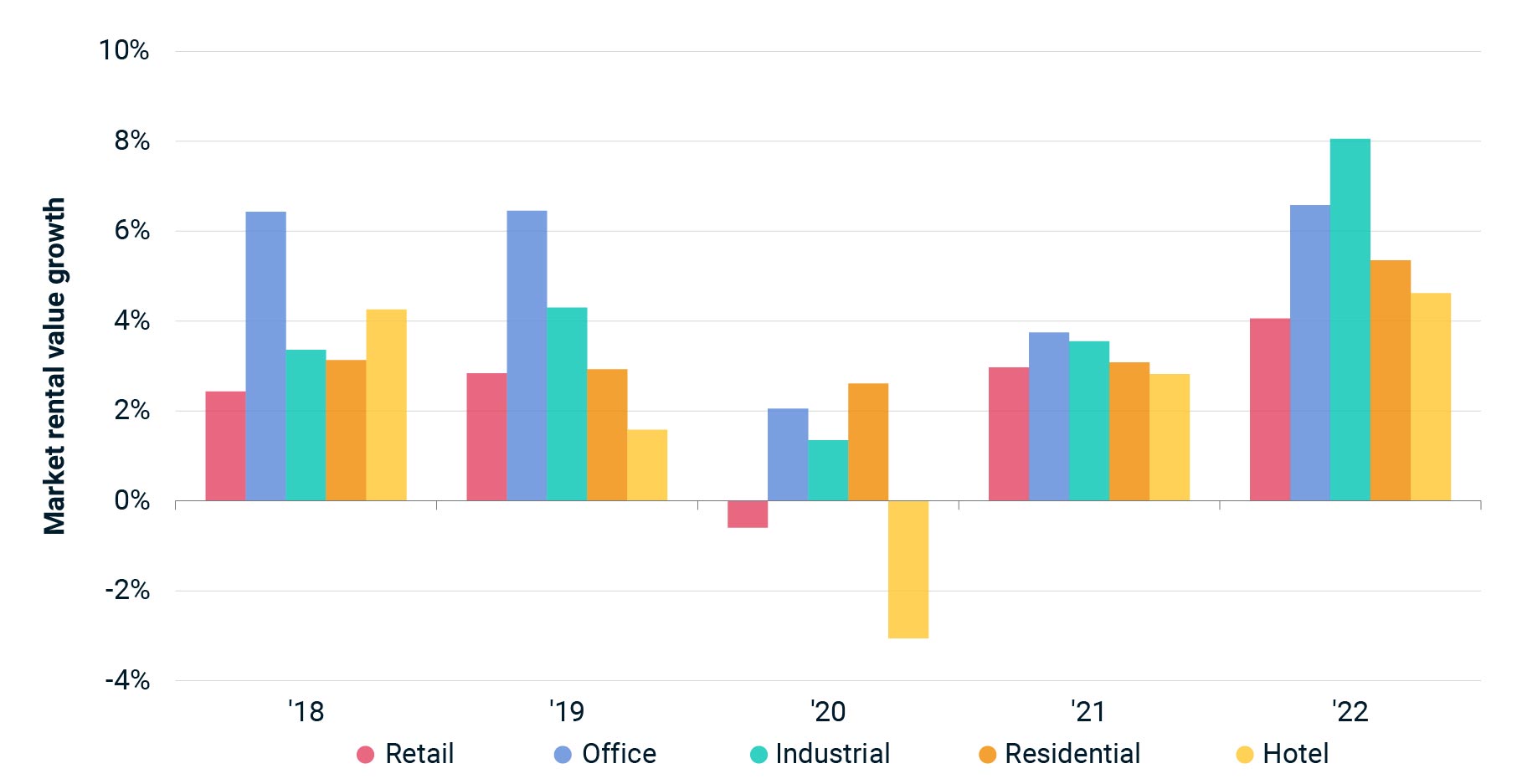 Source: MSCI Sweden Annual Property Index
This trend in private-equity investment has echoes of the aftermath of the GFC when value-add and opportunistic investors were able to inject equity into distressed situations in troubled markets such as Spain and Ireland, often at significant discounts, eventually exiting when the markets recovered.
Swedish-market participants may also take some solace in the fact that the Spanish and Irish property markets emerged from the post-GFC period stronger than they were prior to the crisis. Transaction volumes in both markets have held up far better than in Sweden and compared to the European average in the last 12 months.
The author thanks Fritz Louw for his contribution to this blog post.
1Anton Wilen and Charles Daly. "Swedish Landlord SBB Weighs Breakup After Property Slump." Bloomberg, 29 May 29, 2023.
2Peter Benson. "Blackstone's McCarthy: 'Effectively the full fund is fresh dry powder.'" PERE, April 12, 2023.
Further Reading
Real Estate Factors' Performance: The Financial Crisis vs. Now
Returns for European Property Fell to a Record Low