Some of the most innovative publicly listed companies in the world — Amazon.com Inc., Nike Inc. and Visa Inc., among others — have something in common that you might not expect: more women on their boards than their industry peers. They also tended to have stronger diversity and inclusion programs.
We examined constituents of the MSCI ACWI Index that had been recognized as innovators on one or more annual lists produced by Forbes, Fast Company, MIT Sloan and the Boston Consulting Group between 2015 and 2018. All told, there were 202 index constituents in 42 industries over three years, with the majority (161) clustered in 17 industries, such as software and services, pharmaceuticals and automobile manufacturers. Strong female presence on the board was a defining feature of these companies compared to others in their industries.1 They were also about 1.5 times as likely to have quantitative diversity targets for recruitment and/or senior management dedicated to overseeing diversity and inclusion initiatives.
INNOVATORS TENDED TO HAVE MORE FEMALE DIRECTORS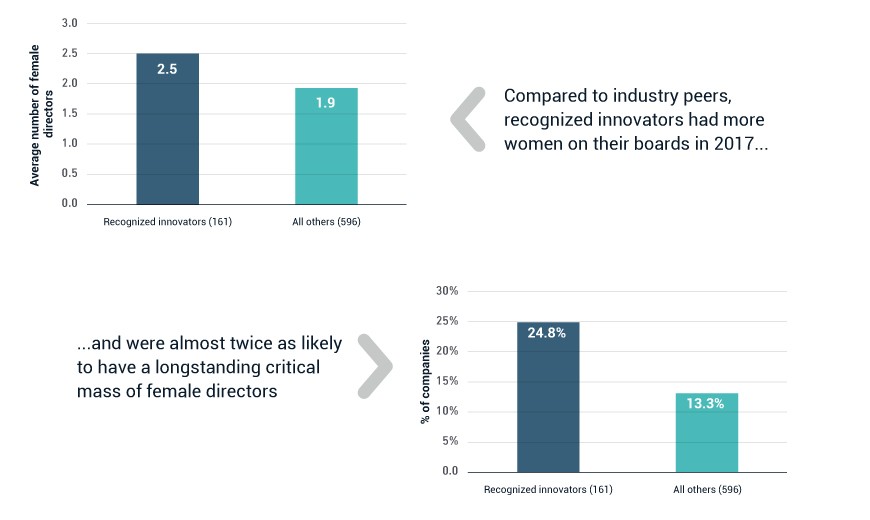 While we can't tell what's cause and what's effect — a culture that embraces new ideas might also be a culture that values diversity — there's research suggesting that more diverse groups are more creative.2 And our analyses have found that companies with more women on the board also tended to have more gender-diverse workforces and senior leadership teams.3 Investors interested in innovation capacity might do well to take a hard look at gender diversity on corporate boards.
1There were too few recognized innovators per industry for meaningful analysis of the rest of the sample. A "longstanding critical mass" of female directors was defined as at least three women on the board over three consecutive years from 2014-2016.
2Hewlett, S. A., M. Marshall and L. Sherbin. (2013). "How Diversity Can Drive Innovation." Harvard Business Review; "Fostering innovation through a diverse workforce." (2011). Forbes Insights.
3Eastman, M. T. and D. Rallis. (2016). "The Tipping Point: Women on Boards and Financial Performance." MSCI ESG Research
Further Reading
The Tipping Point: Women on Boards and Financial Performance
Women on Boards Progress Report 2018
Women on boards: one piece of a bigger puzzle