We identified 148 publicly traded companies with ties to the cannabis industry as of June 3, 2019 — mostly in the pharmaceuticals and beverages industries — almost double the number in November 2018.
Medical cannabis products have been recognized as effective in alleviating the symptoms of certain diseases, yet many of these products are not regulated as pharmaceutical drugs. Despite this uncertainty, the market for these products is burgeoning.
Investing in either medical or recreational cannabis can present a difficult dilemma for investors, depending on their investment mandates.
In the wake of cannabis legalization around the world, investors have taken a wide range of positions on exposure to companies with ties to the cannabis industry. Some have sought to keep their portfolios cannabis-free, just as they might do for tobacco or alcohol. Meanwhile, others have focused on the risks and opportunities facing companies entering this business. The regulatory uncertainty is especially daunting in the U.S., where cannabis remains illegal at the federal level. How can investors address this challenge?
The universe of companies with cannabis involvement — ranging from direct production to minority stakes in cannabis-related operations — is expanding rapidly. We identified 148 global publicly traded companies, as of June 3, 2019 — nearly double the 86 companies with cannabis involvement as of November 2018.1
Listed issuers with cannabis ties by sector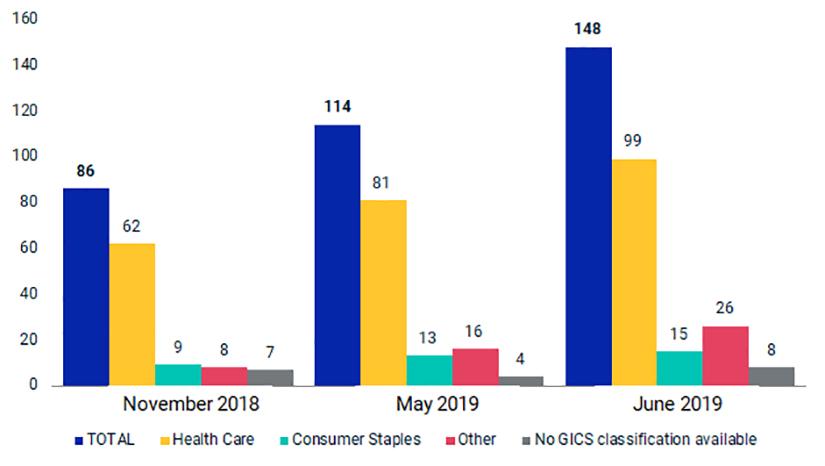 Sources: MSCI ESG Research. Data as of June 27, 2019. Sectors are drawn from the Global Industry Classification Standard (GICS®), a standard jointly developed by MSCI and Standard & Poor's.
Corporations are weighing the opportunities. As of June 3, 2019, most companies involved with cannabis were in the healthcare (71%) and consumer-staples sectors (11%) – primarily pharmaceutical and beverage firms, plus a handful of tobacco companies. With continued high growth expected for both the medical and recreational markets,2 as well as continued deregulation, medical cannabis companies may also be preparing to launch or ramp up recreational operations.
As the cannabis business likely continues to grow, understanding the associated environmental, social and governance-related (ESG) risks may be increasingly important for investors. Ethical investors wishing to limit their investments to medical cannabis may face a heightened need for monitoring and due diligence. Other investors may be concerned about exposure to companies facing potential liabilities, both in the short and long term.
To date, the U.S. Food and Drug Administration (FDA) has approved just one cannabis-derived prescription drug (from GW Pharma) and three cannabis-related ones (from AbbVie, Bausch Health and Insys). Most of the healthcare companies involved — such as Canopy Growth or Aurora Cannabis, which produce medicinal supplements that are generally high in CBD but contain little or no THC3 — have not received regulatory approval. For these companies, the ESG risk profile is unique and evolving:
Regulators typically scrutinize pharmaceutical companies' marketing practices, particularly off-label marketing and descriptions of side effects. For cannabis companies, however, marketing misconduct would more likely involve unsubstantiated therapeutic claims or erroneous labelling — illegal practices that can result in FDA warning letters, marketing restrictions or brand damage, as a small number of companies have already discovered.4
On the other hand, cannabis companies have thus far only been indirectly affected by the regulatory process of drug approvals or faced liability risks associated with drugs' effects on patients' health. In this context, these companies have received less regulatory scrutiny of their quality management than traditional pharmaceutical companies receive.
A taxonomy of medical cannabis and the relevant players throughout the value chain

Source: European Monitoring Centre for Drugs and Drug Addiction, MSCI ESG Research
A longer-term risk facing investors comes from the possible adverse health effects of recreational use of cannabis, whose THC content may cause physical and mental-health hazards in the case of abusive consumption5 — with the potential result that cannabis firms could face marketing restrictions, consumer-safety liabilities and brand damage similar to those long experienced by alcohol and tobacco producers.
Understanding ESG risks associated with cannabis
As the cannabis industry grows, the risks and opportunities faced by investors are evolving. With multiple uncertainties surrounding the global regulatory framework — as well as a general lack of evidence of cannabis's long-term health effects, even for medical purposes — investors with cannabis exposure may want to check their portfolios for potential risks.
1 "Cannabis: A practical guide for institutional investors." MSCI ESG Research. November 2018.
2 "Legal Marijuana Market Size, Share & Trends Analysis Report by Type (Medical Cannabis, Recreational Cannabis), By Product Type, By Medical Application (Cancer, Mental Disorders), And Segment Forecasts, 2019-2025." Grand View Research, May 2019.
3 Cannabis has two main compounds: cannabidiol (CBD), which is non-psychoactive, and Delta-9-tetrahydrocannabinol (THC), which is known for its psychoactive properties and is responsible for the "high" that users experience.
4 "Warning Letters and Test Results for Cannabidiol-Related Products." Food and Drug Administration, April 2, 2019.
5 "Marijuana: How Can It Affect Your Health?" Centers of Disease Control and Prevention.
Further Reading
Clearing the Smoke Around Cannabis
Bitter pills – The US opioid crisis and potential impact on healthcare companies
Tobacco: A practical guide for institutional investors (executive summary)