Apartments Led Steepening Drop in US Property Prices
Apartments Led Steepening Drop in US Property Prices
The decline in U.S. commercial-property pricing steepened in February, pulled down by a sharp fall in the apartment sector. The RCA CPPI National All-Property Index dropped 6.9% from a year ago and 2.2% from January.
Apartment prices experienced the largest annual decline of all property types, falling 8.7% from a year earlier, the largest drop for this segment since 2010. Even that annual rate of decline underplays the higher-frequency change: The monthly decline of 2.7%, when annualized, would be a fall of 28.2%.
Rising mortgage costs on the back of a series of swift interest-rate hikes have put pressure on deal activity and property pricing. In February, deal volume across all the major property types fell 51% relative to a year ago.
Industrial, office and retail in retreat
Pricing for all property types declined in February compared with January. The industrial index fell 0.4% from January, the fourth consecutive month of negative returns. On an annual basis, industrial prices still increased, though the rate of gain has sharply decelerated. Prices rose 3.6% year over year, down from annual rates greater than 20% seen through the first half of 2022.
The index for suburban offices fell 0.7% from January and dropped 1.5% from a year earlier. The annual decline was the weakest rate for suburban offices since the end of 2010. Prices for offices in central business districts dropped 0.2% from January. Retail prices dropped 2.2% from a year earlier. On the month, prices fell 1.0%, which when annualized would be a decline of 11.3%.
Annual change in US commercial-property pricing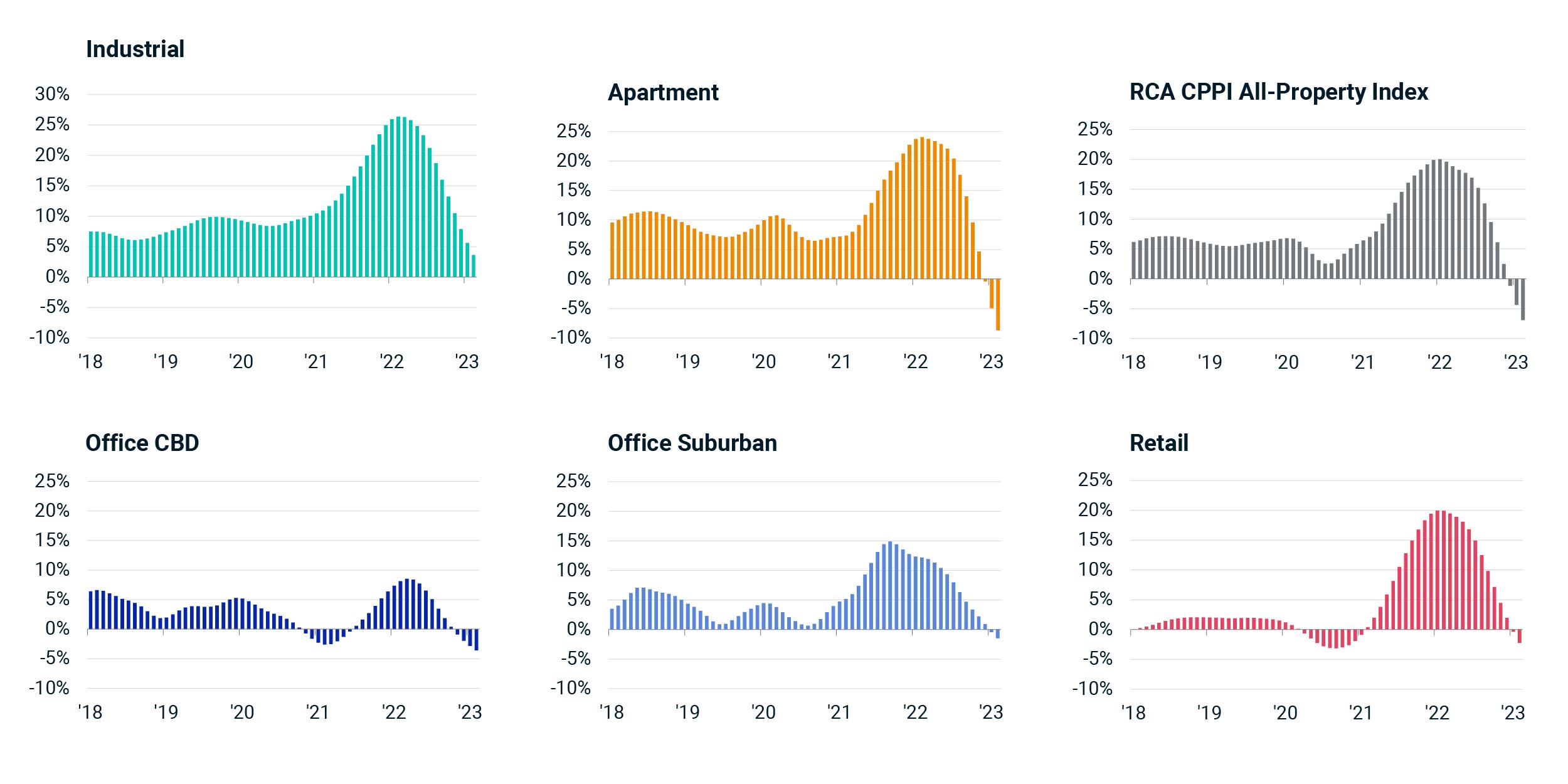 Source: RCA CPPI (commercial-property price indexes)