Are Bonds and Equities Finding Harmony Once Again?
Are Bonds and Equities Finding Harmony Once Again?
How have the sharp swings in inflation over the past few years impacted the return relationship between U.S. bonds and equities?
For the 20 years prior to the onset of the COVID pandemic, bonds offered important diversification benefits to investors with multi-asset-class portfolios, tending to rise in value when equities fell. During the first year of the pandemic, market volatility soared, but once again bond returns tended to move in the opposite direction to equities. Notably, inflation remained relatively stable during this period, albeit a bit below the Federal Reserve's 2% target.
Enter historic levels of inflation
The interplay between bonds and equities underwent an abrupt change between 2021 and early 2023, a period marked by the highest rates of inflation in 40 years. Rather than returns being negatively correlated (stock prices come down, bond prices go up), bonds and equities tended to move in the same direction. Bonds did not act as an anchor, but as a dead weight, and some investors began to question bonds' diversification benefits.
Between March 2023 and early August, the bond-equity relationship again shifted, this time with a slight tendency for returns to move in opposite directions. And while this relationship was weaker than before 2021, bonds' stabilizing impact became more evident in this period of receding inflation.
Investors have breathed a sigh of relief this year as inflation inched closer to the Fed's target. With inflation potentially back under control, bonds could regain their reputation as portfolio diversifiers, serving as hedges against equity-market volatility.1
Will bonds start offering diversification again?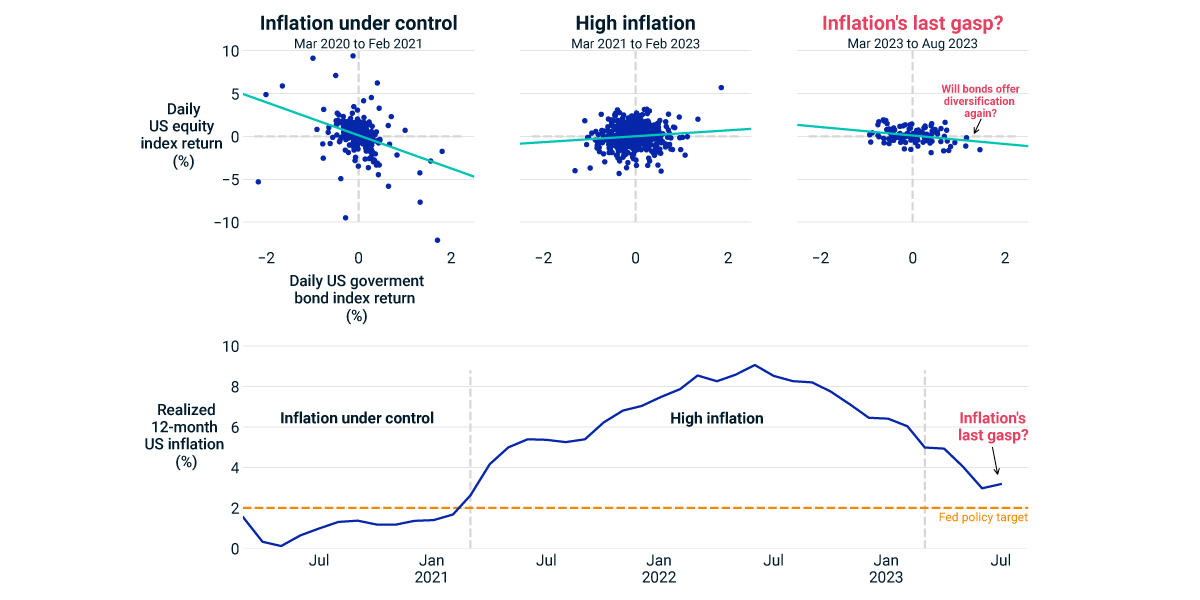 U.S. equity returns are represented by the MSCI USA Index, while returns of U.S. government bonds are represented by the MSCI U.S. Government Bond Index. The yellow lines represent the line of best fit between returns. Inflation is represented by the one-year U.S. consumer price index (%).
1
According to MSCI's Macro-Finance Model, the Fed's credibility stabilizes long-term inflation risk, which in turn drives the bond-equity correlation negative.