Commercial-Property Debt Not Just a Small Bank Story
Commercial-Property Debt Not Just a Small Bank Story
Recent industry chatter suggests that smaller banks are behind 70% of all commercial-real-estate lending in the U.S. Such exposure would have worrying implications for commercial real estate's performance as these financial institutions face new challenges. That figure, however, is likely a misread of Federal Reserve data showing smaller banks are behind roughly 70% of the existing stock of bank loans to commercial real estate.1 The key words here are: "of bank loans."
Banks are not the only source of debt in commercial real estate. Looking at the MSCI Real Capital Analytics database of commercial-mortgage originations for deals priced USD 2.5 million and greater, banks of all scale were behind 40% of all loan originations from 2015 to 2019. Besides banks, lender groups active in commercial real estate include debt funds, life-insurance companies and originators of commercial mortgage-backed securities and collateralized loan obligations.
Smaller banks did gain ground
Examining just regional and local banks, we see that this group was behind a 17% share of commercial-property loan originations from 2015 to 2019. These smaller banks gained market share in the COVID-19 era, jumping up above 25% of total lending for a time in 2020, before retreating. By Q4 2022, these banks had gained ground and were behind 31% of origination volume across all lender types.
This growth in market share is viewed in some corners as a sign of smaller lenders stepping up and taking on risks where others would not. There is more at play here. Smaller banks tend to lend on smaller assets in smaller markets. As the pandemic savaged deal volume in the expensive coastal markets, investment activity shifted to the smaller locales dominated by these lenders.
Regional and local banks' share of originations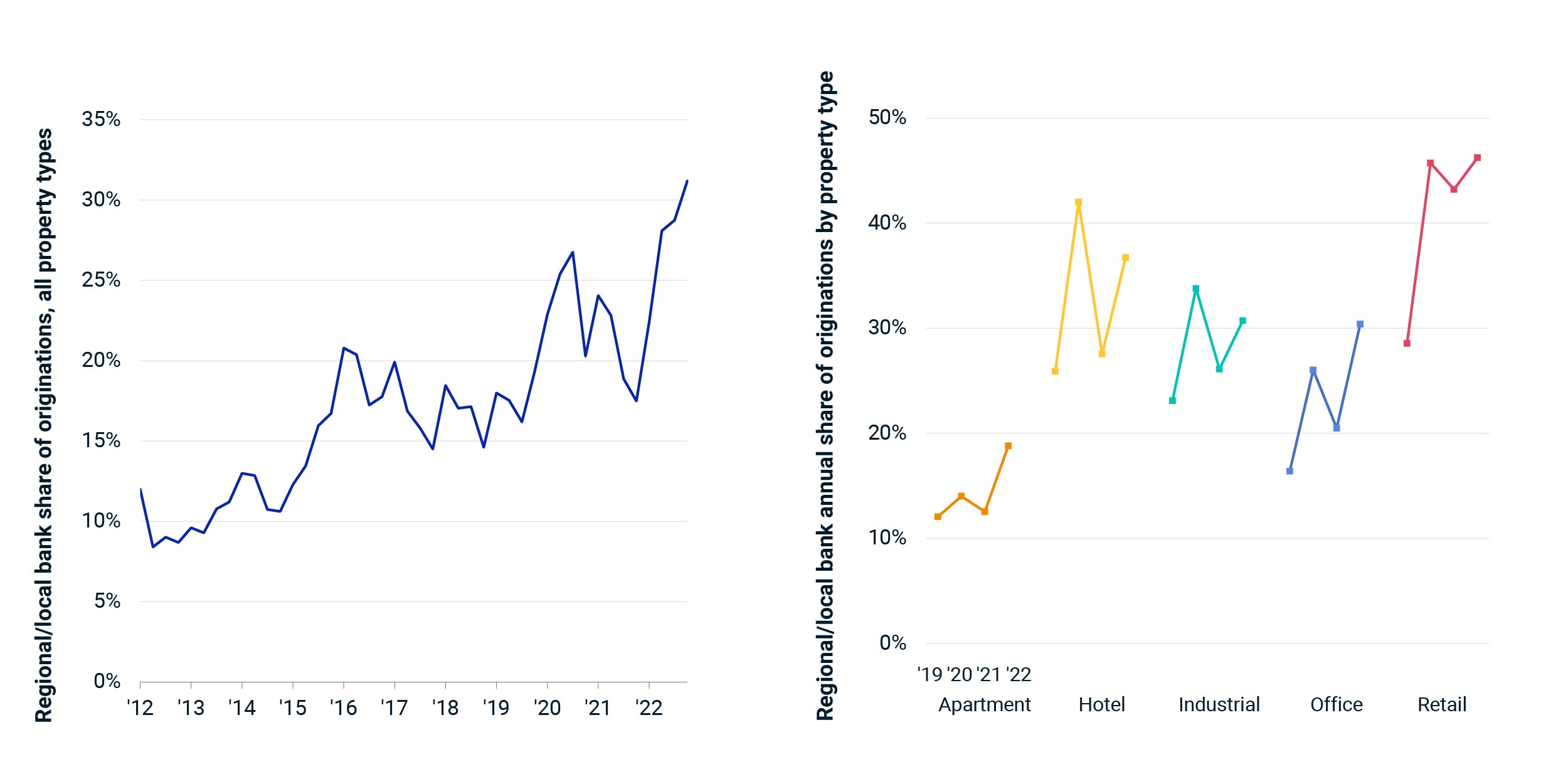 1
"Assets and Liabilities of Commercial Banks in the United States - H.8." Federal Reserve, April 7, 2023.