Currency Swings on Dizzying Pace
Currency Swings on Dizzying Pace
While news of the euro approaching and (briefly) reaching parity with the U.S. dollar dominated recent headlines, there is more to the story.
Expectations of aggressive rate hikes in the U.S. propelled the USD against nearly all currencies over the past year. Concurrently, the EUR weakened against currencies of several commodity-producing and emerging-market countries, amid less aggressive central bank action and the war in Ukraine.1
The explicit impact
As a home currency appreciates (depreciates), unhedged foreign-equity returns are converted at an unfavorable (favorable) exchange rate. In the current environment, USD investors with unhedged currency positions felt the strengthening dollar take a bite out of their foreign-equity returns just when markets were declining globally. For European investors, the euro's fall offset foreign-equity losses across most major markets.
The implicit impact
Currency movements can also affect those invested in companies domiciled within their home country. Exchange rates can impact international competitiveness, sales and profitability for companies that operate globally.
For example, an appreciating USD can reduce the competitiveness of multinational U.S. companies, as they get priced out by local competitors in international markets.2 In contrast, the EUR's slide can expand profit margins for export-oriented European companies.
We found that, all else being equal, companies with a higher share of USD revenue — U.S. utilities, real estate and telecom firms, and European firms led by health care — were more likely to benefit from the surging greenback.
In uncertain markets, potentially marked by more aggressive central banks and wild swings in currency values, some investors have looked to position portfolios in sectors they believe will be resilient or to fully hedge currency exposures as they seek to minimize portfolio volatility.
Impact of home currency on foreign equity returns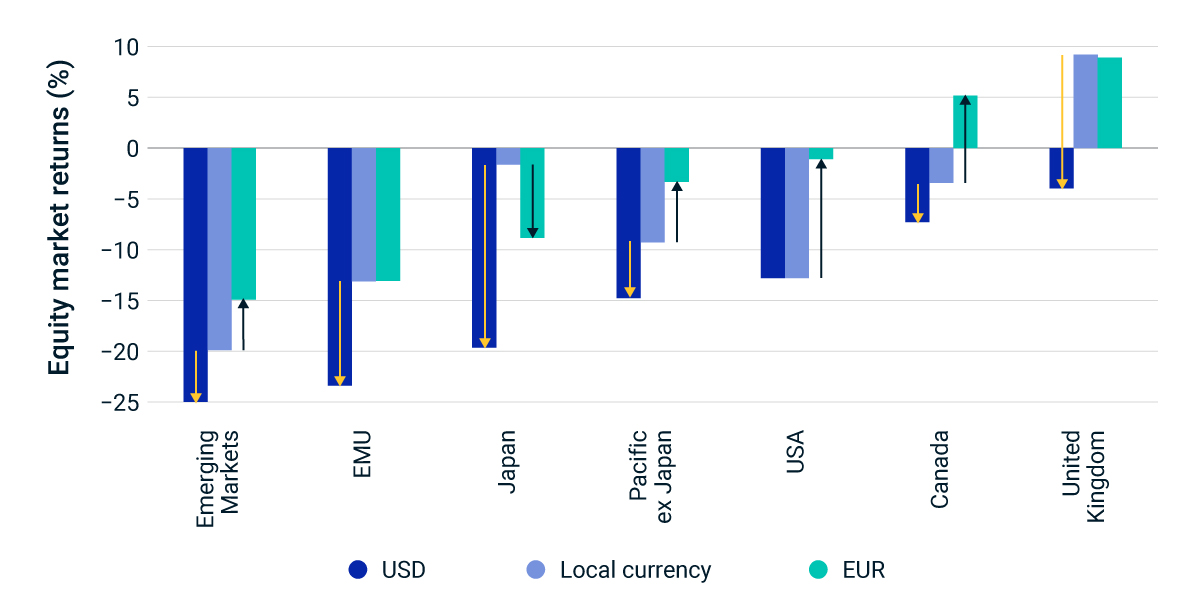 Gross returns from June 30, 2021, to June 30, 2022. Local currency represents equity-market performance excluding the impact of currency fluctuations. The yellow and black arrows represent the impact of converting local currency returns into USD and EUR, respectively. Results are for market illustrative purposes during this period only.
US dollar revenue share of firms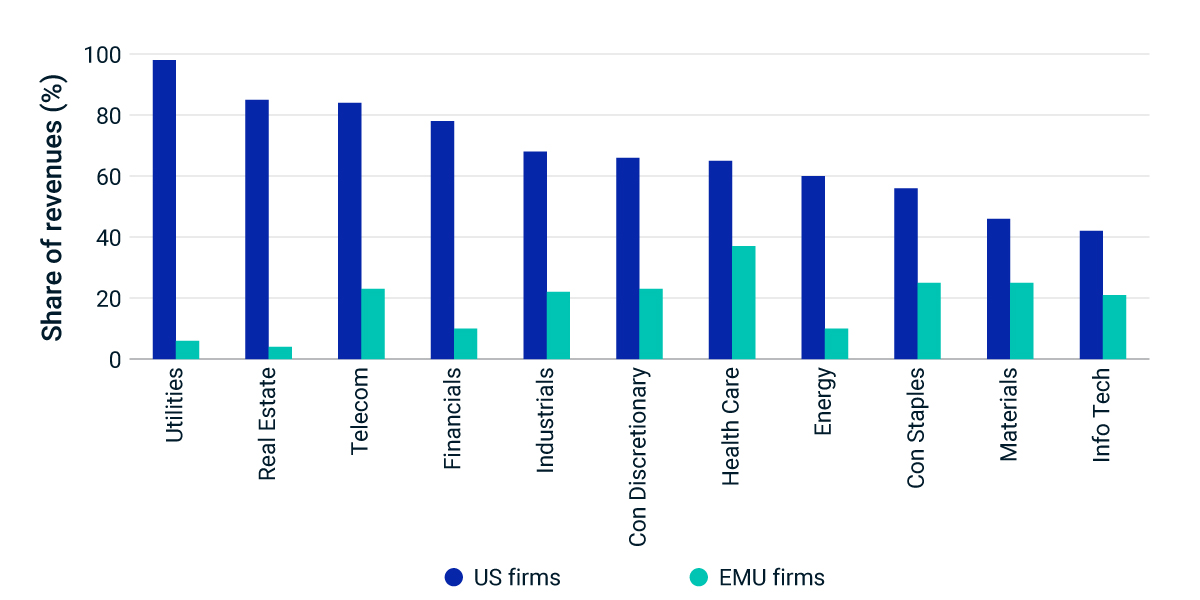 Data as of June 30, 2022. U.S. and EMU firms correspond to companies that are domiciled in the U.S. and European Economic and Monetary Union countries, respectively.
1
Some countries have their currencies pegged to the U.S. dollar.
2
Pollard, Amelia, and McCormick, Liz. "'Dollar Ate My Profit' Is Corporate America's Lament Once Again,." Bloomberg, June 13, 2022.