Energy Crisis Looms Over European Equity Markets
Energy Crisis Looms Over European Equity Markets
The unfolding European energy crisis is causing havoc among energy producers and utilities. Germany's nationalization of struggling utility company Uniper is a recent example of the fallout. But how could soaring energy prices affect companies from the perspective of energy consumption?
Which European companies may be most exposed to rising energy costs?
We looked at the energy exposure of stocks in the MSCI Europe Index. First, we identified the most energy-intensive companies measured in terms of energy consumption in gigawatt hours (GWh) per USD 1 million of sales.1 We only included companies whose assets are predominantly located in Europe, with the top 10 most energy-intensive companies outside of energy producers and utilities shown in the exhibit below. In the absence of offsetting government subsidies, high energy costs could significantly reduce these companies' profit margins.
Next, we assessed companies with the largest absolute energy consumption, measured in GWh. These companies might be at risk if European governments seek to cut energy use.2
Top 10 most energy-intensive companies in MSCI Europe Index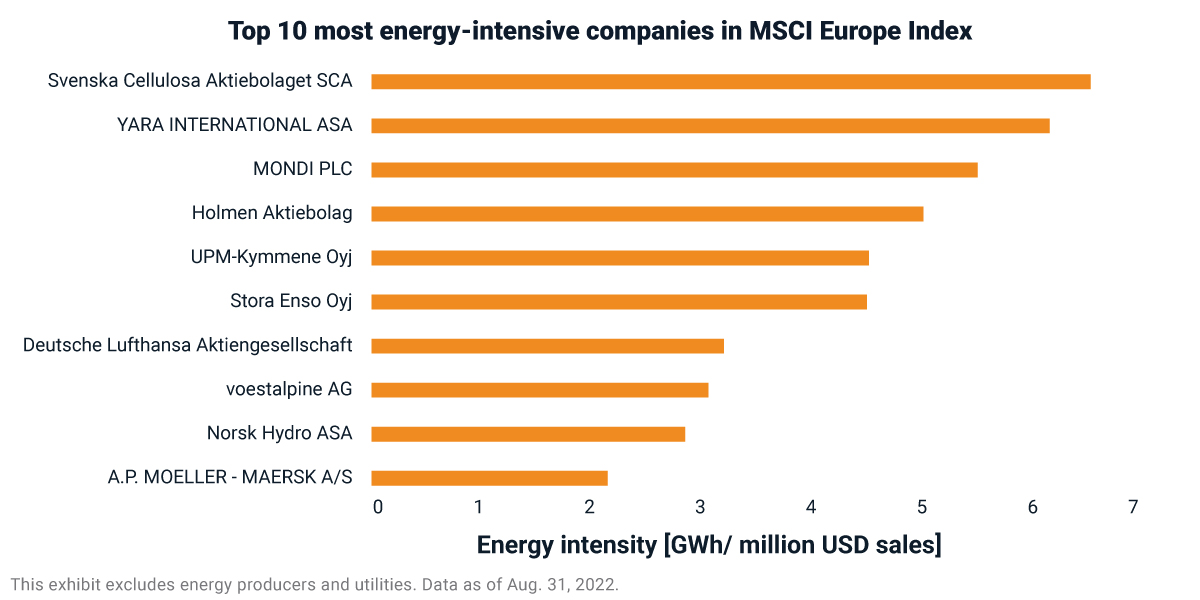 This exhibit excludes energy producers and utilities. Data as of Aug. 31, 2022.
Top 10 energy consumers in MSCI Europe Index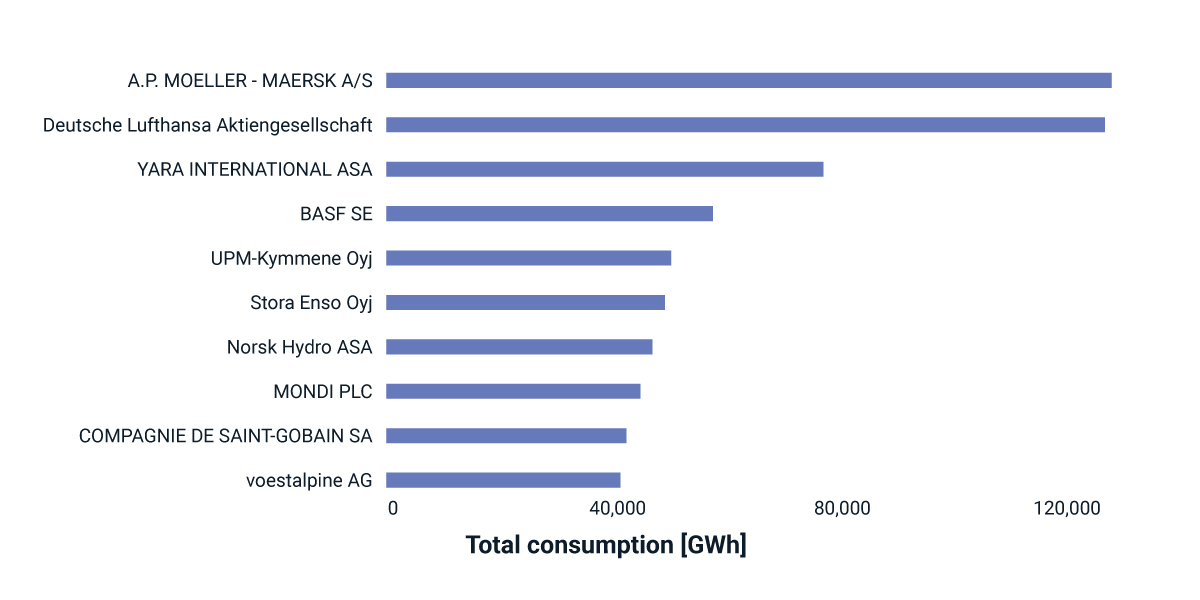 1
Energy-intensity and consumption data is available in ESG Manager (client access only).
2
Although no specific measures are in place yet, talks about the EU's potential power demand reduction have started. Krukowska, Ewa, Ponikelska, Lenka, and Bloomberg. "EU set to take steps toward energy rationing with mandatory power-demand cut." Fortune, Sept. 12, 2022.
Related content
Proposed EU Windfall Tax May Hit Clean Power
As European policymakers mull windfall taxes on "excess" energy profits, clean-energy producers could be hit harder than fossil fuel-focused peers because of their differing cost structures.
Learn more
Companies with the Most Wind-Related Revenue
As the world seeks to transition away from fossil fuels, the installed capacity of wind energy has tripled from 2010 to 2020.
View the chart
Inflation Reduction Act May Energize Utilities' Energy Transition
The Inflation Reduction Act may help utilities with a significant presence in the U.S. accelerate their emission-reduction plans.
Read the blog