European Listed Real Estate Fell Below March 2020 Lows
European Listed Real Estate Fell Below March 2020 Lows
War and the associated energy crisis, recession fears, decades-high inflation and rising interest rates have been weighing on European real estate, and particularly on listed markets. As of Oct. 10, the MSCI Europe IMI Office, MSCI Europe IMI Residential and the MSCI Europe IMI Core Real Estate Indexes were below their lowest close of the March 2020 market turmoil. The residential index has fallen furthest below its March 2020 trough: as of Oct. 10, it was 16% lower. Despite sharp falls during the past year, the industrial and retail indexes still hovered above their 2020 lows.
During the market turmoil in 2020, when the COVID-19 crisis exploded in Europe, all indexes named above had drawdowns between 28% (residential) and 70% (retail). All indexes staged a strong recovery in late 2020 (although retail and office did not recover to their pre-pandemic levels) and reached peaks in late 2021. From their respective peaks to recent lows, the residential index has fallen the most (down 57%), followed by the industrial index (down 47%).
Even with inflation expected to come down significantly, central banks have indicated that further interest rate hikes are necessary, meaning that real rates look set to climb further which could continue to weigh on real estate.
Listed real-estate indexes in Europe stumble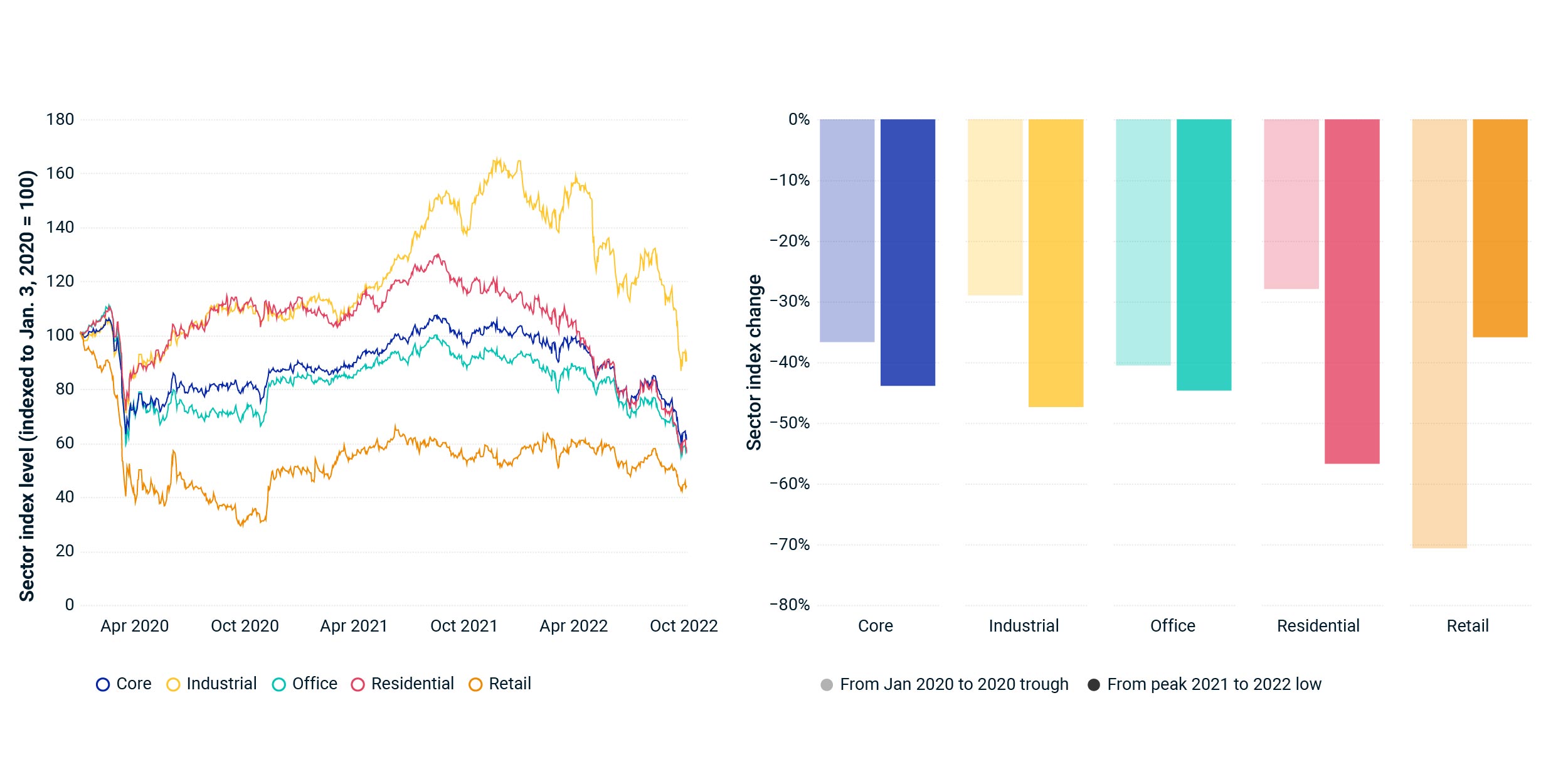 MSCI Europe IMI Core, Industrial, Office, Residential and Retail Real Estate Indexes; net local currency index level; data as of Oct. 10, 2022