GAMMAA as the New FAANG?
The FAANG acronym has been used to refer to a dominant group of stocks for nearly a decade, with the original clique of Facebook (Meta Platforms Inc.), Amazon.com Inc., Apple Inc. (added in 2017), Netflix Inc. and Google (Alphabet Inc.). We often wonder how this group has changed over time and if there are other stocks that could, or should, make the list based on MSCI Peer Similarity Scores.
The FAANG evolution
We've grouped companies of the MSCI USA Investable Market Index into 150 peer groups based on MSCI Peer Similarity Scores and examined what other companies were in a similar position as the FAANGs (shown in the table below). In 2017, Netflix and Amazon were grouped together with no other FAANGs, while Amazon and Netflix were excluded for 2022.
New stocks on the block
New joiners to the group frequently included companies playing dominant roles in key trends, such as digitization of media and payments as well as growth in graphics processing units and data centers. Recent joiners Advanced Micro Devices Inc., Nvidia Corp. and Intuit Inc., along with the previous additions of Microsoft Corp., Adobe Inc. and Qualcomm, help construct what we might call the new FAANG as GAMMA: Google, Apple, Meta, Microsoft, Adobe and AMD, as well as Intuit, Nvidia and Qualcomm. We see cloud-based services and platform providers as the most similar to companies on the 2022 list.
Just as markets are not stagnant, neither are relationships between companies. Understanding these relationships and how they evolve over time can be valuable for investors by providing insights into emerging trends that may drive markets.
FAANG evolution and participation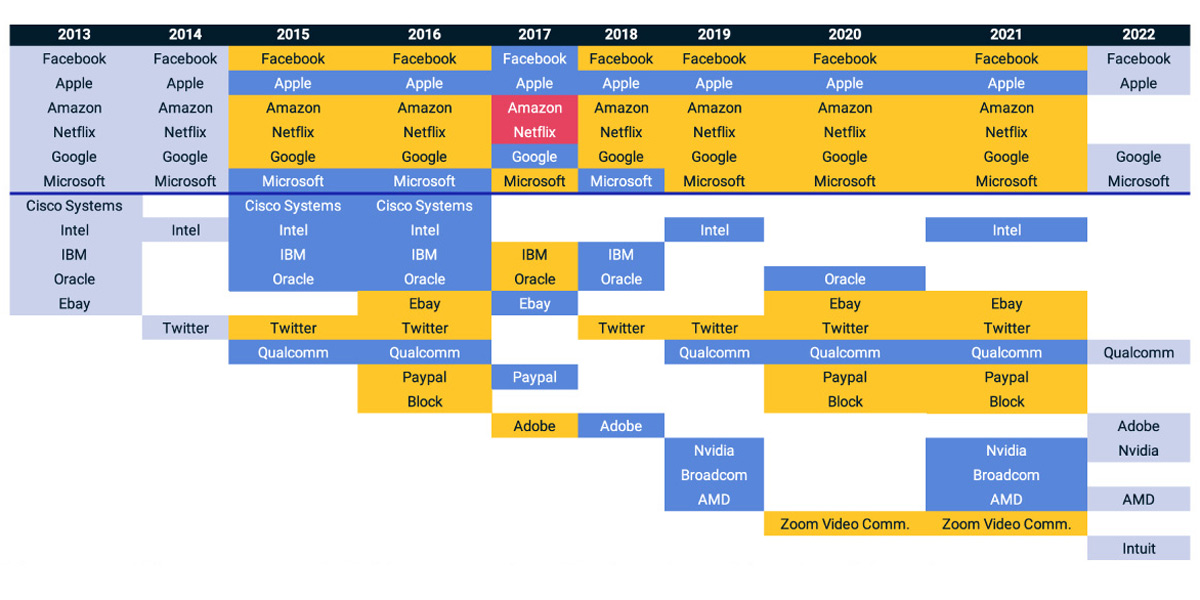 Colors represent different peer groups. The dark line separates the traditional FAANG group (plus Microsoft) from other companies.

Related Content
All FAANGs are Not Created Equal
Commonly grouped as tech stocks or growth companies, it seems reasonable to assume they share many similar characteristics. However, when examined through the lens of performance-driving factors, their characteristics are far from homogeneous.
Read the Blog
Do Factors Stand Up to FAANG?
Large U.S. technology companies, the so-called FAANG, dominated the U.S. stock market in the last few years and had a significant impact on many investment strategies.
Read More
Navigating Inflation in Equity Portfolios
While the high-inflation environment and its impact on asset prices are on most investors' minds, some investors may also be contemplating whether inflation has peaked following the swift action by global central banks.
Learn More