Going Digital: Tech-Led Growth Has Affected Country Concentration
Going Digital: Tech-Led Growth Has Affected Country Concentration
Digital technology in all its many forms is now an integral part of our lives. The companies that develop and promote its use have benefited from this trend, as have their share prices and market capitalizations.
The strong performance of these companies has also led to increased concentration in the MSCI USA Index and MSCI China Index, as is clear in the charts below. In both cases, there has been a substantial increase over the last five years: with FAANG stocks having grown from slightly more than 8% to around 17% of MSCI USA, and BAT stocks having increased from a little over 18% to nearly 33% of MSCI China, as of Jan. 29, 2021.1
The effect of such concentration means that more of the performance and risk of each index can be driven by this smaller number of stocks, whose performance, in turn, tends to be driven, both positively and negatively, by similar factors and consumer trends. Investors may want to consider how this could impact diversification.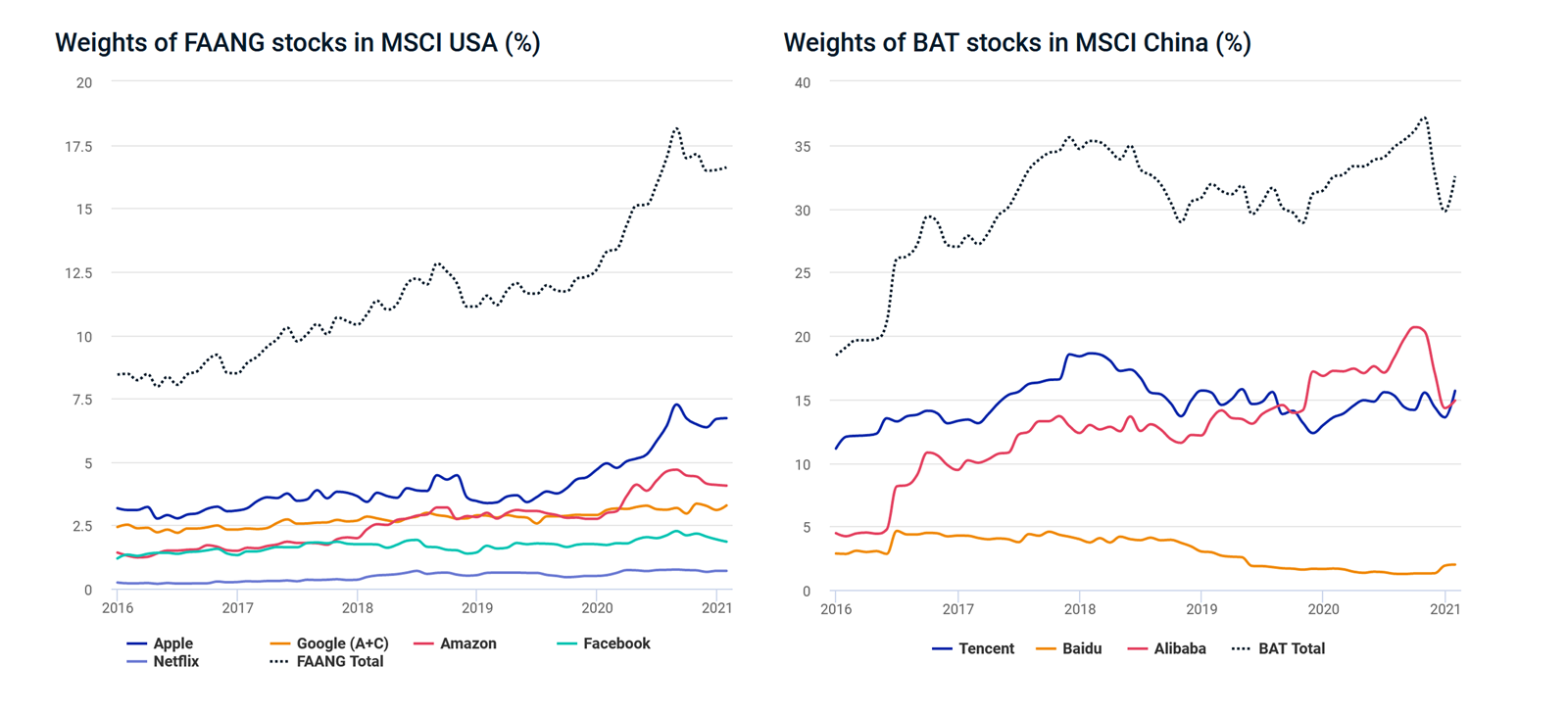 Data from Dec. 30, 2015, to Jan. 29, 2021.
1
FAANG stocks are Facebook Inc., Amazon.com Inc., Apple Inc., Netflix Inc. and Alphabet Inc., the parent company of Google LLC. BAT stocks are Baidu Inc., Alibaba Group Holding Ltd. and Tencent Holdings Ltd.
Related Content
Global Investing Trends
Investing globally can help investors work toward global diversification, tap into new opportunities for growth and harness the potential in the rise in importance of emerging markets.
Explore More
Dispersion in Equity Markets
The dispersion of equity returns over the last 25 years, as measured by their cross-sectional volatility (CSV), followed the equity market cycle very closely in both developed and emerging markets (EM).
Explore the Chart
Emerging Markets and ACWI Economic Exposure
Just 15 years ago, corporate revenues from emerging markets (EM) represented around 10% of global revenues. 
Read More