Impact of Extreme Heat on Utilities in India and Eastern China
Impact of Extreme Heat on Utilities in India and Eastern China
Using MSCI's Asset Location Database and Climate Value-at-Risk model, we analyzed MSCI AC Asia Index constituents to assess potential risks to utilities from extreme heat.1 Heat patterns in 2020 (number of hot days with temperatures exceeding 30°C) were concentrated around tropical and subtropical regions, including India, Thailand, Malaysia and Singapore.
However, under the Intergovernmental Panel on Climate Change's severe global warming scenario (5°C IPCC SSP5-8.5),2 extreme heat would be more prevalent, with regions that were previously less exposed or with higher property values facing greater losses. Companies in some areas of India, Eastern China, Malaysia and Singapore could face increased costs of over USD 3.5 billion.
For utilities, extreme heat could raise electricity consumption due to increased use of air-conditioning and other appliances. Meanwhile, high temperatures will reduce water availability and the efficiency of solar panels, and further affect hydroelectric power generation and nuclear power cooling plants. Traditional thermal power, such as coal and natural gas, may also face decreased capacity, increased human capital costs and infrastructure maintenance fees.
Climate-aware investors may wish to consider such risks when assessing portfolios.
Potential losses from extreme heat for constituents of the MSCI AC Asia Index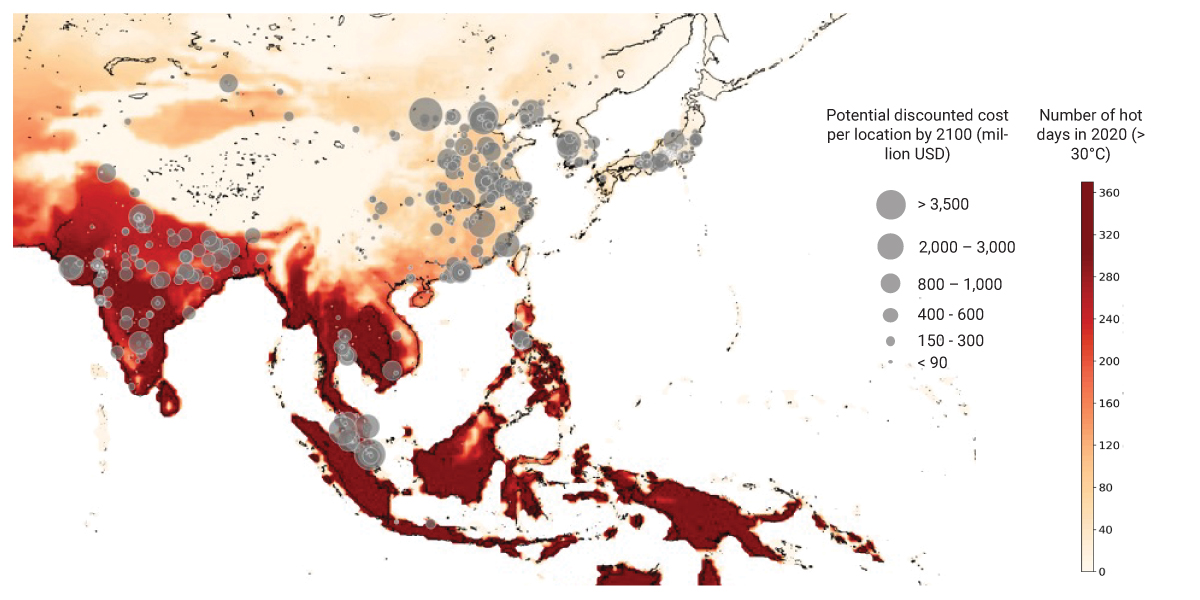 Notes: We compared 2020 heat exposure in selected regions with potential discounted costs by 2100. We selected the 5°C IPCC SSP5-8.5 scenario, assuming a hothouse world to have a worst-case cost estimation. The asset-level discounted costs did not always match the heat-exposure map due to variation of increased hot days between now and 2100, location and the vulnerability of each asset location.
Data as of April 21, 2023. Source: MSCI ESG Research
1
The MSCI AC Asia Index captures large- and mid-cap representation across developed- and emerging-market countries in Asia. The utilities sector peer set comprised 53 companies that were constituents of the MSCI AC Asia Index (n=1,245), as of April 21, 2023. A total of 2,059 asset locations of peer set companies were collected and mapped.
2
Shared Socioeconomic Pathways (SSPs) are scenarios of projected socioeconomic global changes up to 2100. They are used to derive greenhouse gas emissions scenarios with different climate policies. The scenarios are: SSP1: Sustainability; SSP2: Middle of the Road; SSP3: Regional Rivalry; SSP4: Inequality; SSP5: Fossil-fueled Development. They have been used to help produce the IPCC's Sixth Assessment Report on climate change, published in August 2021.