Key Takeaways from China's National People's Congress
Key Takeaways from China's National People's Congress
China's 14th National People's Congress (NPC) came at a critical time with the country reopening after its three-year "zero-COVID" policy. The most eye-catching number was the "around 5%" GDP growth target for 2023, which is slightly below the 5.2% IMF forecast and other estimations. But it might have demonstrated policymakers' pragmatism in recognizing the challenging macro environment and prudence in dampening expectations of big-scale economic stimulus, which may undermine China's long-term "common prosperity" objectives.
China has had a long-term track record of topping annual growth targets set at the NPC. The chart below shows that actual GDP growth beat the growth target by 1.45% on average during the past five terms of China's premiership (1998 to 2022). Outperformance usually occurred during the first term of state leadership relative to the second term. During our study period, a major target miss only occurred in 2022, with actual growth of 3% versus the target of 5.5%, primarily due to negative impacts of the prolonged COVID lockdowns.1
With the lifting of COVID restrictions and reopening of Chinese economy, the 2023 report described a blueprint that the new leadership team is likely to follow to revive China's economy:
Expand domestic demand through increasing household income and boosting consumption and government-led domestic investment,
Promote external demand through expanding market access, attracting and utilizing foreign capital and stabilizing exports,
Support private enterprises through protecting rights, improving the business environment and increasing private-sector confidence.
Deepen green development through clean technology, enhancing environmentally friendly infrastructure and implementing eco-protection projects.
Investors looking to understand potential risk and opportunities of China's financial markets may want to analyze these expansion priorities along with other elements of the report.2
GDP growth vs. GDP target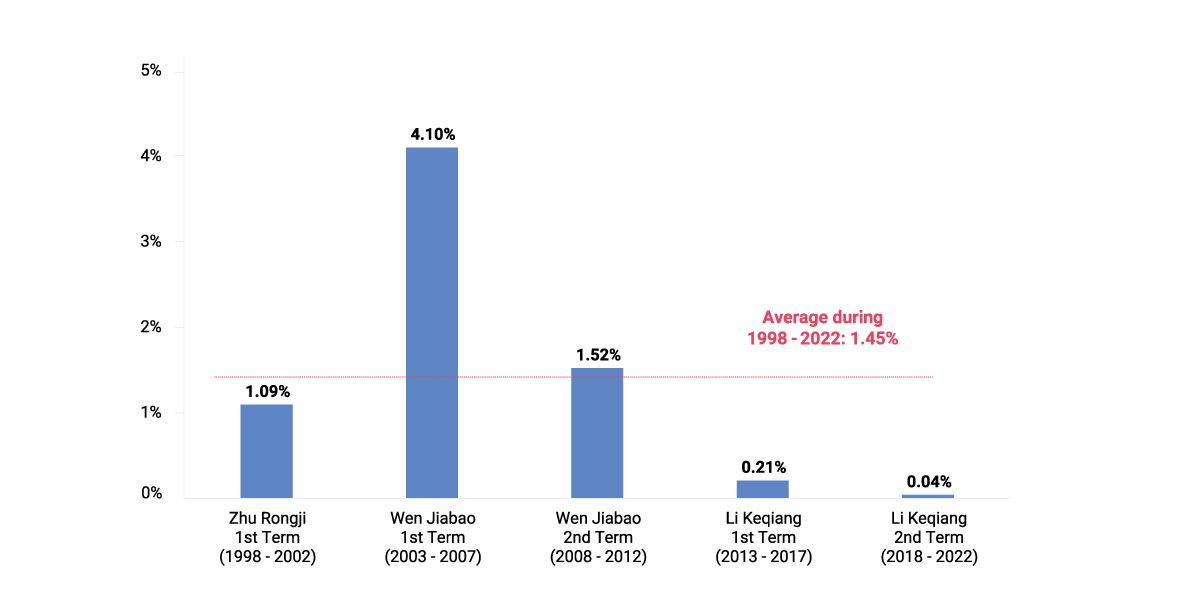 Source: Wind, China government reports. The height of bar refers to the outperformance of realized GDP growth at the end of each period minus the forecasted GDP growth target at the beginning. Five-year average.
1
The years 1998 and 2014 observed minor target misses. Actual GDP growth for 1998 was 7.85% versus a target of 8%, and actual GDP growth for 2014 was 7.43% versus a target of 7.5%.
2
2023 China's Government Work Report (www.gov.cn).