'Magnificent Seven' Drove the Equity-Market Rally
'Magnificent Seven' Drove the Equity-Market Rally
Global equity markets bounced back strongly this year. The MSCI ACWI Index returned 7.9% through May 31, seeming to pause the trends seen in 2022 — dismal performance marked by a fall in big tech and investors favoring low-risk and value-oriented stocks vs. high-risk growth. A closer look at the underlying companies, however, reveals that only a handful of stocks led this rally.
Seven stocks' outsized return contribution
More than 70% of the total returns of the MSCI ACWI Index can be attributed to just seven stocks.1 This proportion was even more pronounced for the MSCI USA Index, where these stocks contributed nearly all (more than 95%) of the returns while accounting for just 26% of the index weight.2 For comparison, the MSCI factor indexes, which have low or zero exposure to these firms, significantly underperformed their parent indexes.
Part of the reasoning for this equity-market rally may be investors' expectations of the future earnings potential of these seven stocks due to their exposure to structural megatrends. To test this theory, we looked at these stocks through the lens of MSCI thematic exposures divided into megatrend categories. All seven — including AI-driven NVIDIA Corp., which returned 156% through May 31 — had high relevance scores or economic association to most of the relevant megatrends.
While other drivers were likely at play, looking at thematic exposures may help investment managers analyze potential investments and explicitly express their views by tilting toward or away from relevant megatrends.
Total-return contribution of the seven stocks across indexes
Thematic exposure of the seven stocks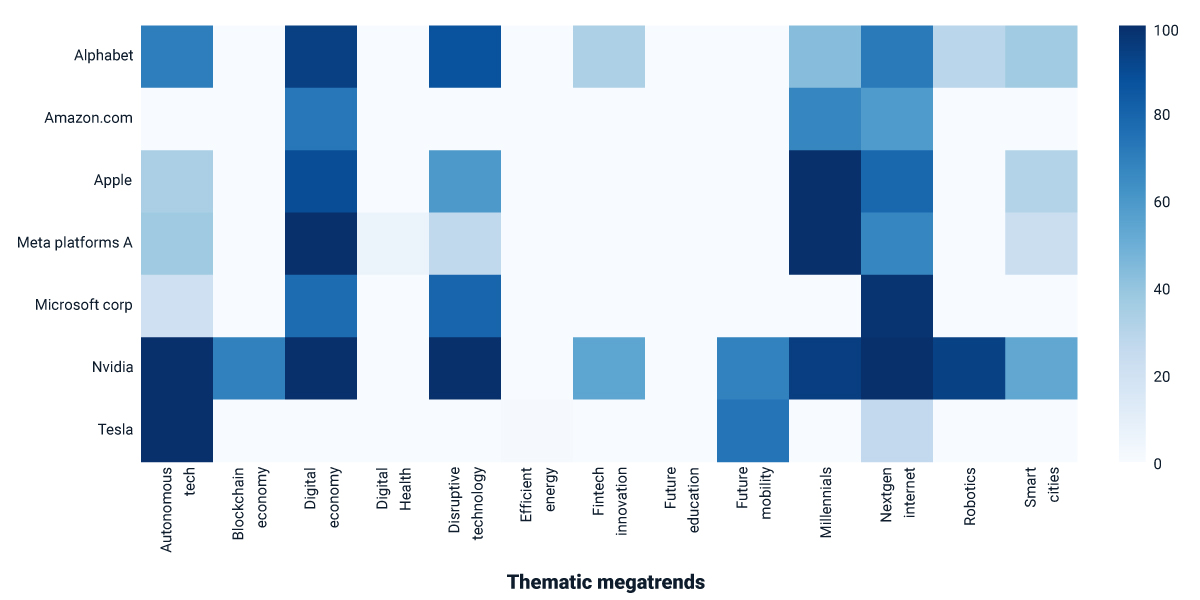 The relevance score, expressed as a number between 0% and 100%, measures the strength of the economic association between a company and a theme.
1
The seven companies are Alphabet Inc., Amazon.com Inc., Apple Inc., Meta Platforms Inc., Microsoft Corp., NVIDIA Corp. and Tesla Inc. For the analysis, Alphabet A and Alphabet C have been considered as one stock.
2
As of May 31, 2023.