Markets Brace for More Rate Hikes, as War Fans Inflation Fears
Markets Brace for More Rate Hikes, as War Fans Inflation Fears
Russia's invasion of Ukraine has added to an already-long list of concerns for global investors, which have led central banks around the world to reassess monetary policy, as they seek to balance economic growth and inflation.
Last week, the Federal Reserve took center stage, raising interest rates by 25 basis points (bps) — an increase in line with market expectations. But perhaps more important, the Fed stated this would be the beginning of a rate-hike cycle. Federal Reserve Chair Jerome Powell went further on March 21, saying the Fed would definitely consider one or more half-point raises at future meetings. He cited the war in Ukraine as one reason behind the potentially higher inflation risk.1
Which factors performed well when rates rose?
As U.S. equity markets brace for more rate hikes, we examine how long periods of consecutive hikes, as well as cuts, in the federal-funds rate since 1975 have impacted performance across factors, as represented by MSCI USA Factor Indexes. Each period in our analysis lasted at least four quarters, with a change of at least 200 bps.
We found that growth, and to a lesser degree minimum-volatility, stocks underperformed a market-cap-weighted benchmark during periods of rising rates. All other factor indexes delivered positive active returns, relative to their benchmarks, when rates rose. Value and lower-sized stocks (the latter proxied by the MSCI USA Equal Weighted Index, which has higher exposure to smaller companies) have done better during rising-rate environments, compared to periods when rates were falling.
Factor indexes' response to rate changes over time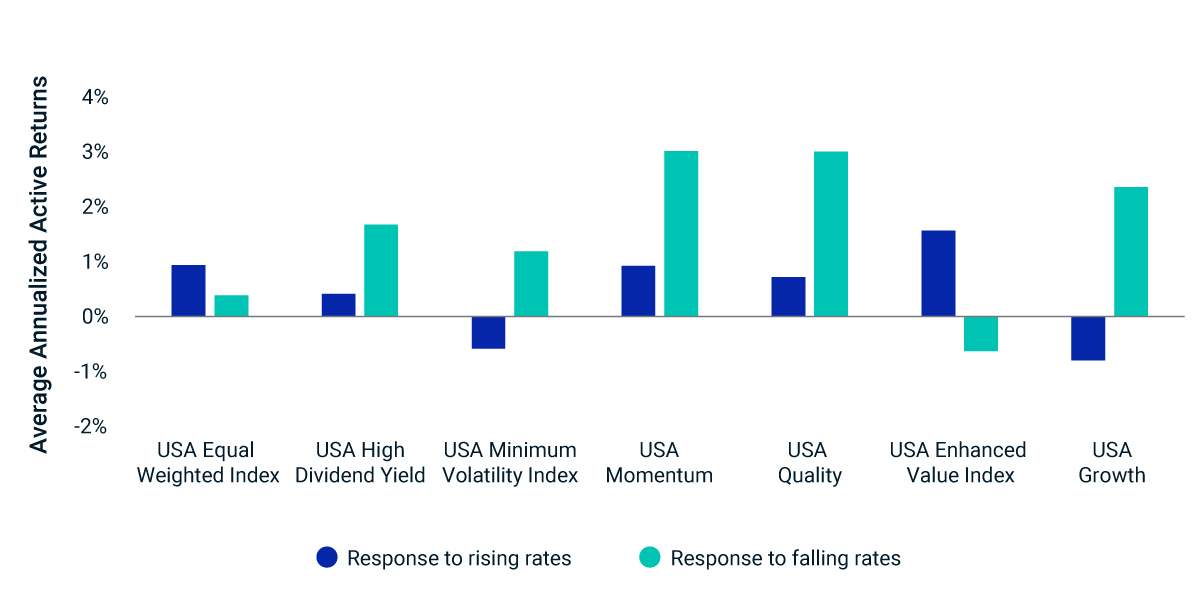 Returns averaged over individual periods of rising and falling federal-fund rates from 1975 to February 2022.
1
Timiraos, Nick. "Powell Says Fed Will Consider More-Aggressive Interest-Rate Increases to Reduce Inflation." Wall Street Journal, March 21, 2022.

Related Content
Research and Insights
Our investing insights explore the topics that matter most, whether on climate and ESG, current market trends or global investing and risk management across asset classes.
Explore More