More Global Issuers Have Engaged on ESG Ratings
More Global Issuers Have Engaged on ESG Ratings
Amid escalating demand from capital-market participants, regulators and other stakeholders, we have witnessed a marked increase in corporate issuers' interactions with MSCI ESG Research. Eight years of data (2015-2022) show a notable and ongoing trend: Issuers across all market-capitalization ranges, regions, countries and sectors are making more inquiries, giving more feedback and providing more updates to their ESG and climate data.
Rise in emerging-market and climate-related interactions
In 2022, 43% of issuers that were constituents of the MSCI ACWI Investable Market Index (IMI) proactively contacted MSCI ESG Research with inquiries, up from 7% in 2015. 16% of issuers that interacted with us provided feedback on their data. While emerging-market issuers still lag their developed-market peers, 31% of issuers in the MSCI Emerging Markets IMI interacted with us in 2022, up from just 4% in 2015.
Climate-related data points received the most issuer feedback in 2022, covering around 14,600 climate data points — 3.4 times more than in 2020. Overall, this rise in feedback across both ESG and climate topics might be pointing to greater pressure from investors and regulators, as well as companies' inherent interest in sustainability issues.
Issuer-interaction rate in the MSCI ACWI IMI universe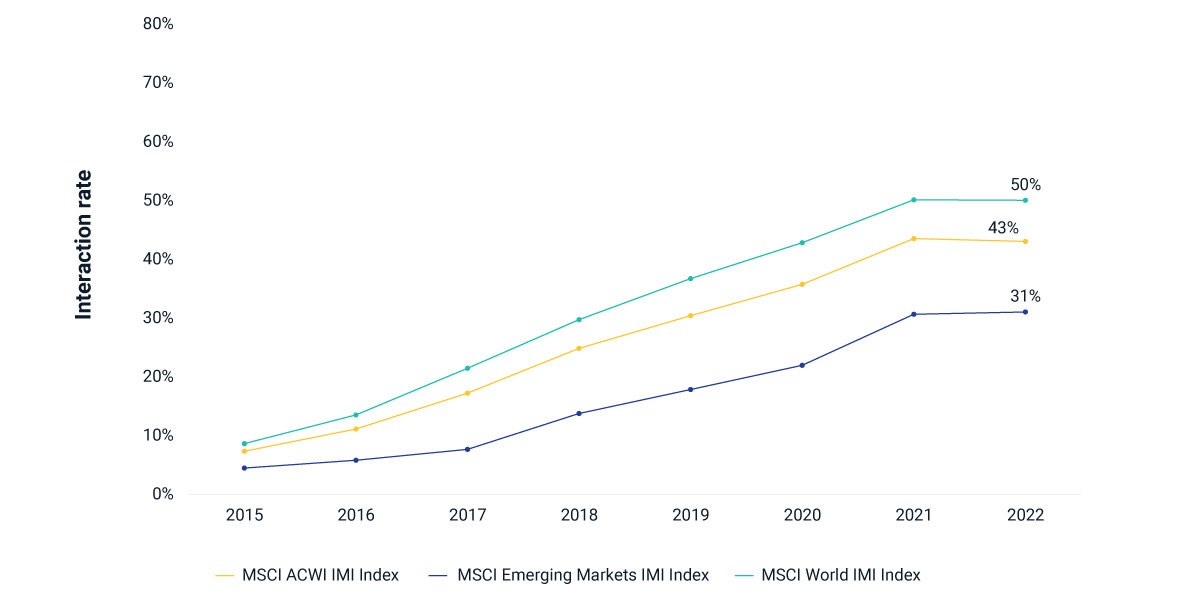 MSCI ACWI IMI (n=9212); MSCI Emerging Markets IMI (n=3152); MSCI World IMI (n=6060). World specifically refers to developed markets, instead of a global market. Data as of Dec. 31, 2022. Source: MSCI ESG Research
Number of data points submitted by issuers across 10 ESG themes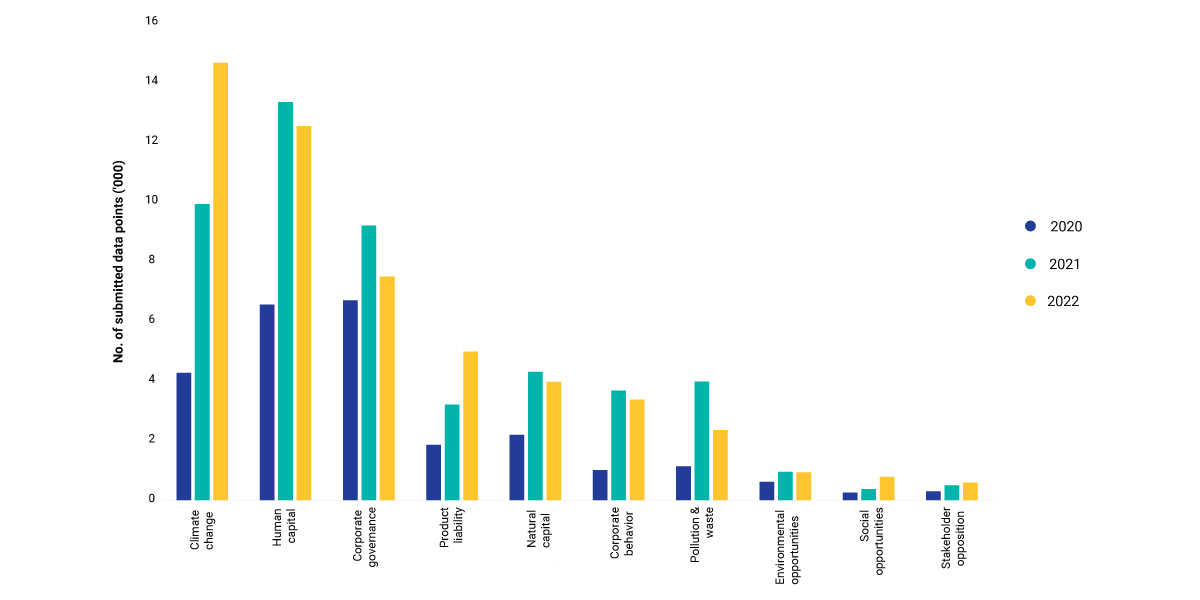 Each year reflects data points submitted from Jan. 1 to Dec. 31. Source: MSCI ESG Research