New Kids on the Bloc: Opportunities in Emerging Markets
New Kids on the Bloc: Opportunities in Emerging Markets
Emerging market (EM) stocks (as measured by the MSCI Emerging Markets Index) continued their year-long slide through October. And the longer-term picture wasn't much rosier: In the decade-plus following the 2008 global financial crisis, EM stocks have barely budged while developed-markets stocks (as measured by the MSCI World index) have risen over 150%.
So how can investors approach the challenges ahead for emerging markets? Regional considerations could be insightful.
The diversity of emerging markets
The surging U.S. dollar and China's growth slowdown have weighed on EM returns in 2022. In addition, the MSCI China Index has declined 40% year-to-date, as China's zero-COVID-19 policies, struggling real estate and technology sectors, as well as headlines from the 20th National Congress of the Chinese Communist Party weigh on markets. However, we view the EM as a diverse group of regional blocs, some of which have been resilient over the past decade.
The adage of "higher risk, higher return" has not held true in EM throughout the COVID-19 era, as shown in the left-hand chart below. Countries beset with persistent inflation and political unrest, such as Brazil and Turkey, fell sharply. In contrast, Asian manufacturers in Taiwan, India and Indonesia fared relatively well. All of the Asia ex China countries (blue circles below) are now the largest bloc by market capitalization in the EM.
We found that this bloc's performance has stood up longer term as well (shown in the right-hand chart), as the West's deepening ties with Indian manufacturers and with Taiwan's semiconductor industry have helped. Even domestic Chinese A shares, with their tilt towards consumer staples and industrials, have been more resilient than their technology-heavy, overseas-listed counterparts.
EM country performance during pandemic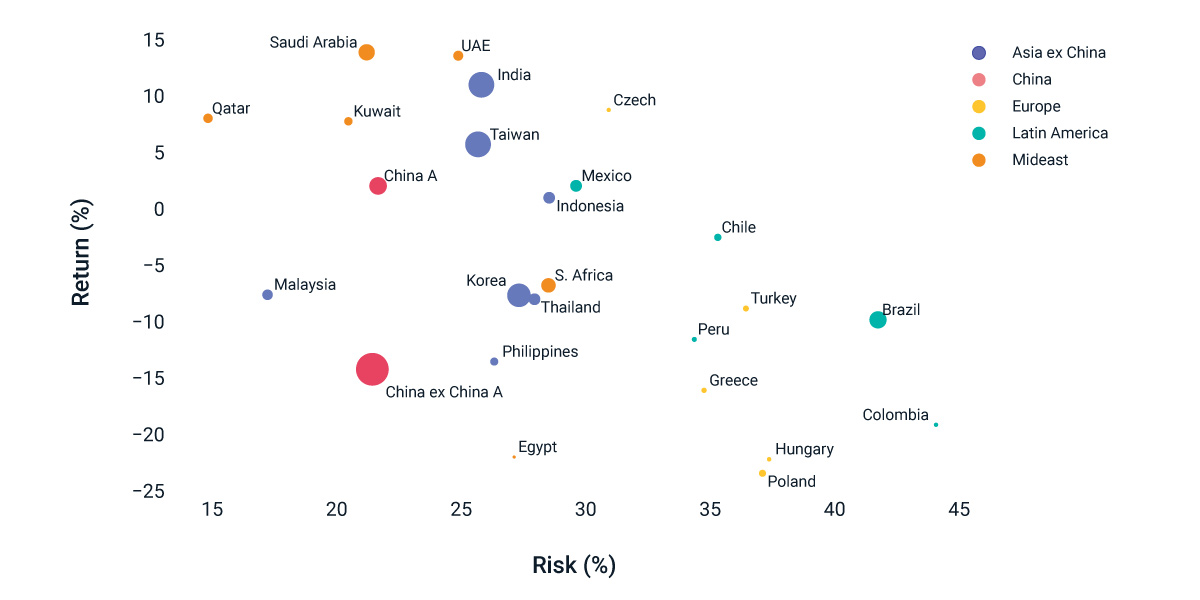 Returns are gross in USD from January 2020 through September 2022. Larger circle sizes indicate larger country weights.
Asia ex China return following 2008 global financial crisis and during pandemic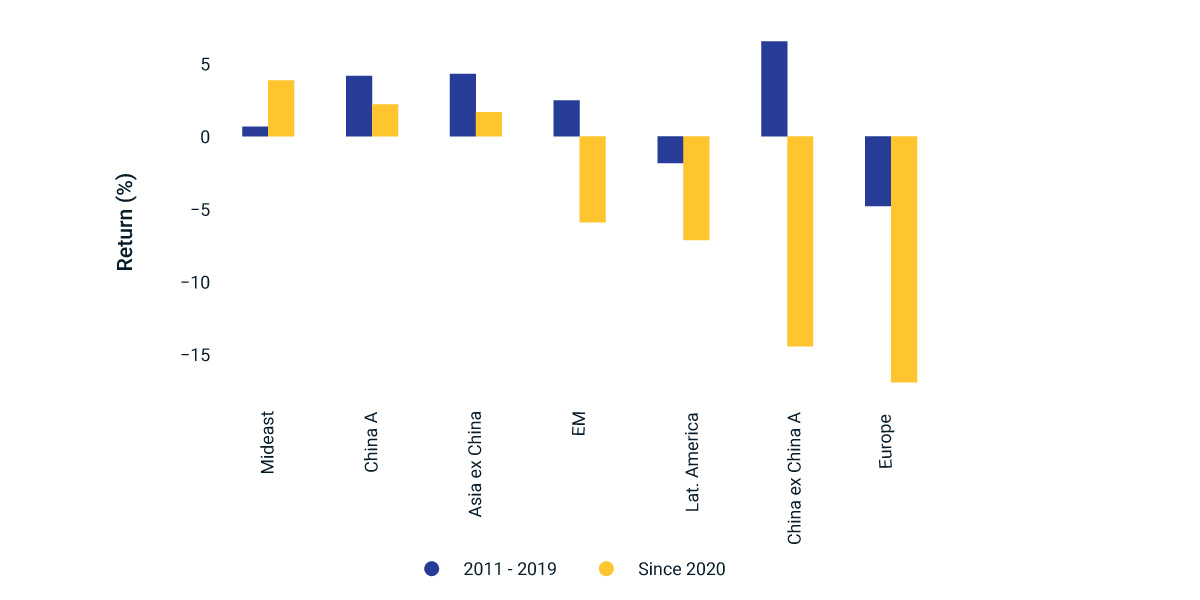 Returns are gross in USD from January 2011 through December 2019, and January 2020 through September 2022.