Price Growth Across US Property Types Eased in July
Price Growth Across US Property Types Eased in July
The pace of annual price growth across all major U.S. commercial property types faded in July, though most RCA CPPI indexes still showed double-digit gains. The RCA CPPI National All-Property Index rose 16.8% from a year ago, marking a continued slowdown from the record rates seen at the start of 2022.
Price growth has eased as investors became more hesitant in the face of challenges such as rising interest and mortgage rates, and concerns over the chances of a recession.
Price increases for suburban offices slipped to an annual rate of 7.8% in July, the tenth consecutive month of decelerating growth. Price growth for offices in central business districts (CBDs) eased as well, slowing to a 7.7% annual rate. The 3-month increase for the CBD-office index of 0.4% indicated an even slower pace of yearly growth, at an annualized figure of just 1.7%.
Retail, apartment and industrial off highs
The retail sector index increased 17.7% in July from a year ago. While this pace of growth is still well above much of this index's history, it has eased for five months in a row. The annual price increase for apartments dipped to 20.9%, keeping it in the 20%-24% range seen since November 2021.
The industrial index outpaced all property types with the highest annual growth rate of 24.4%. Still, this pace marked a retreat from the near-27% record rate seen earlier in the year. The 3-month change for the index of 4.0% indicated a 16.9% annualized rate of growth, weaker than the annual price growth posted.
Annual growth in US commercial-property pricing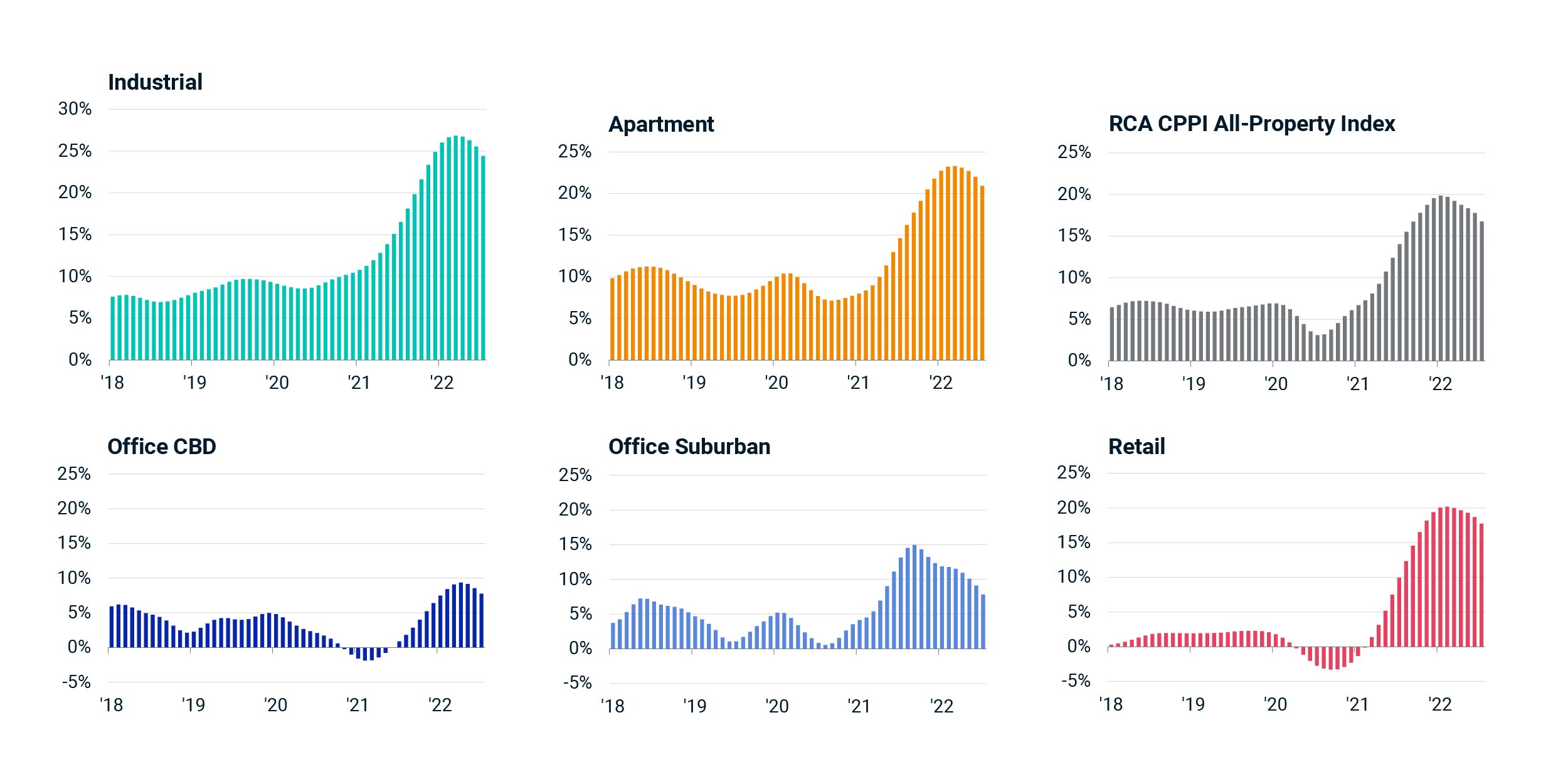 RCA CPPI (Commercial Property Price Indexes)

Related Content
Global Real Estate Returns at a Turning Point?
Global real estate returns accelerated to 17.8% on a 12-month rolling basis in the first quarter of 2022 despite the growing headwinds of geopolitical tensions and associated rising inflation and interest rates, the debut results of the MSCI Global Quarterly Property Index show.
Learn More
How US Real Estate Purchases Changed During the Pandemic
One notable consequence of the COVID-19 pandemic was a shift in real estate investors' preferences.
Explore More
The Signal for Industrial Property Amid E-Commerce Noise
E-commerce sales grew at an exponential rate for most of the period from 2002 to 2019, and then got kicked into overdrive by the COVID-19 pandemic.
Read the Blog