Retail, Hotels and Restaurants Face Labor Challenges
Retail, Hotels and Restaurants Face Labor Challenges
Retailers, hotels and restaurants rely on a large workforce with relatively low wages. Now, inflationary pressures and looming labor shortages might escalate two major challenges: squeezed profit margins and rising demands for a living wage.1 In the map below, we identified 53 companies that might be particularly sensitive to these challenges.
We projected some of the highest additional employee costs for companies operating in countries with double-digit inflation (Turkey, Argentina, Bulgaria, Poland and Brazil), as of June 2022.2 But we found little evidence that these companies were planning to raise wages above statutory levels.
The combination of a tight labor market and rising inflation offers both investors and workers a chance to differentiate between companies.
Companies facing tight profit margins and rising demands for a living wage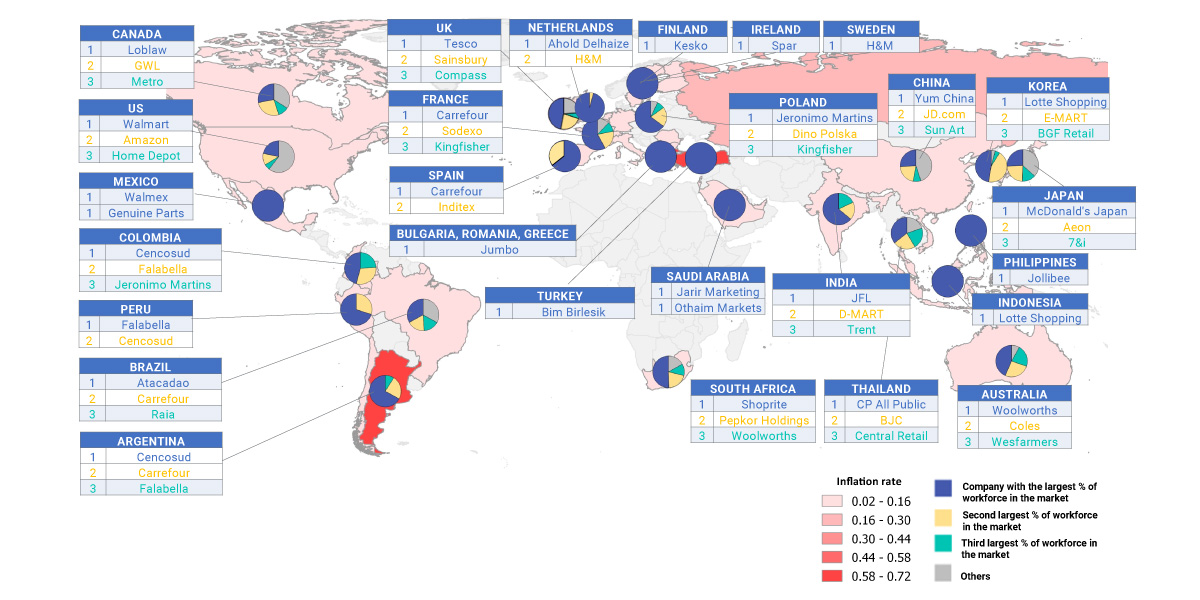 Source: MSCI ESG Research LLC, company disclosures, OECD, International Monetary Fund (IMF) Repository, as of June 2022. The pie chart for each country represents the total number of employees of all retail, food retail, hotel and restaurant constituents of the MSCI ACWI Index as of June 2022. The number of employees per country was estimated — unless reported — based on the percentage of FY 2020 revenue and may include employees of franchise operations.
1 Kestenbaum, Richard. "Retail Wages are a Growing Problem That Will Only Get Worse."

Forbes

, July 13, 2021.
2
Among the 53 companies, Bim Birlesik (97.2%), Cencosud (10.5%), Carrefour (9.8%), Falabella (6%), Jeronimo Martins (15.4%), Dino Polska (15%), Raia (7.4%) have operations in those five countries (projected additional costs are in parentheses). For further reading, see Houston, Liz, Kim, S.K. and Toader, Aura. "Bargaining with Labor – the New Normal." MSCI ESG Research Thematic Report, Aug. 25, 2022 (client access only). Source: OECD, IMF Repository. Data as of June 2022.