The 60/40 Portfolio Is Sick. Can It Recover?
The 60/40 Portfolio Is Sick. Can It Recover?
This year's abysmal performance of the 60% equity/40% bond portfolio raises fundamental questions about the role of bonds in multi-asset-class portfolios.
With negative returns of almost -16% so far during 2022, the 60/40 portfolio's performance is the worst of the past 50 years, surpassing the poor performance of the early 1970s and the 2008 global financial crisis. Both bonds (as represented by the 10-year U.S. Treasury) and equities have contributed significantly to this year's performance, with bonds registering their worst returns in 50 years. In strong contrast, in prior periods of poor 60/40 performance, bonds generated positive returns ranging from small (as in 1973 and 1974) to very large (as in 2008).
Stocks and bonds went down together
This year's large negative returns of both bonds and equities represents a direct challenge to the view that bonds offer important diversification benefits in 60/40 portfolios and in mixed portfolios including equities and other asset classes.
Investors may wish to think carefully about the co-movement of bonds and equities. Inflation and the Federal Reserve's credibility will play key roles. In a dark scenario, the Fed's efforts to tame inflation fail and its credibility with investors suffers. Inflation remains high, and the Fed is forced to maintain its tight monetary policies for an extended period, even in the event of sustained weak or negative economic growth. In this case, MSCI modeling suggests that bond returns tend to move in the same direction as equity returns, and provide only marginal diversification benefits.
In a more optimistic scenario, the Fed succeeds in bringing inflation down within the 2%-3% range, without causing a major economic downturn, and the Fed's credibility with investors is restored. In this event, bonds could once again become an important source of diversification, and the 60/40 portfolio stands a chance of recovery.
Worst performance in 50-years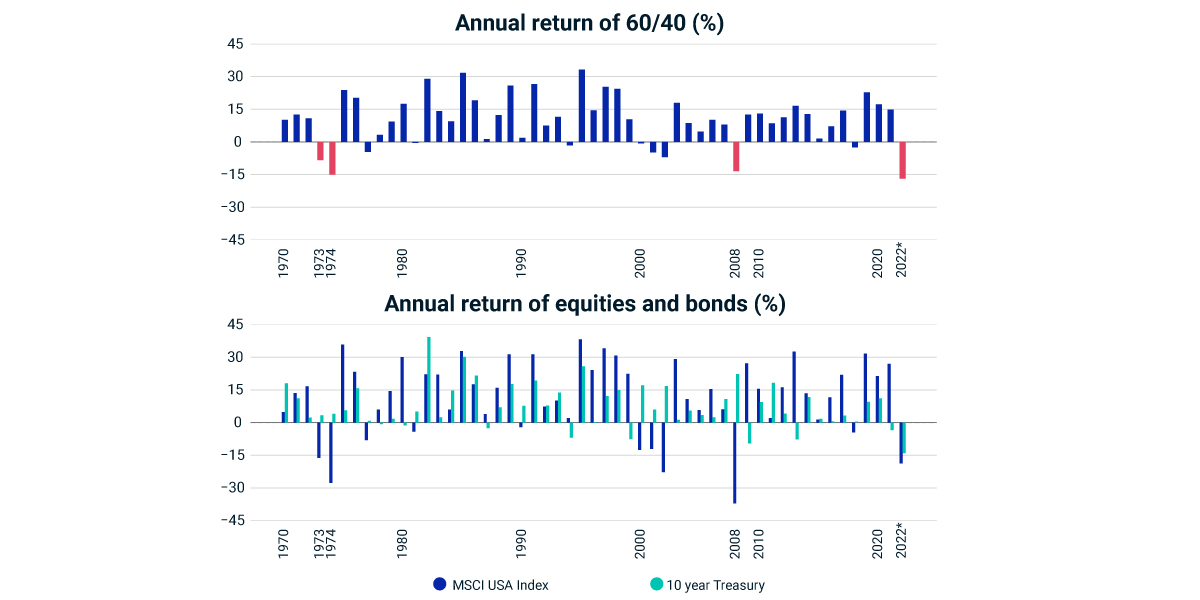 Year-to-date performance as of Sept. 19, 2022.
Related content

Deteriorating Liquidity Complicates Fed Action
The erosion in U.S. Treasury market liquidity over the past 10 months could worsen as the Fed more aggressively reduces the size of its balance sheet.
Read the quick take
A Deep History of the Bond-Equity Relationship and Inflation
Major stock sell-offs (defined as monthly returns below -2%) since September 2021 coincided with sell-offs in Treasurys.
View the chart
Has Inflation Affected the Bond-Equity Relationship
The sharp rise in inflation over the past year and a half, combined with growing concern over the U.S. economy's strength.
Read the quick take