The Futures of Emerging Markets in Asia
The Futures of Emerging Markets in Asia
Emerging Markets (EM) Asia is projected1 to grow at a higher near-term pace than other emerging economies. With an average projected growth rate of 6.5% over the next five years,1 India is expected to lead the expansion of EM in Asia as one of the world's fastest-growing major markets.2 The Chinese economy, which recently lifted its zero-COVID-19 policies, is expected to grow by 4.7% over the same period.2 Taiwan and Korea, with a significant portion of their economic revenues linked to the U.S. and China, are expected to grow at about 2%,3 mainly due to weakening export prospects.
However, risks to EM Asia exposure include adverse health outcomes in China, which could deter the recovery, U.S. quantitative tightening and the Russia-Ukraine conflict, which continues to impact energy prices. As shown below, the MSCI Emerging Markets Asia Index has more than 40% of its revenues tied to Chinese companies. And sectors such as real estate, consumer discretionary and communication services have more than 70% of their revenues linked to China. Conversely, the information technology sector, which accounted for almost a quarter of the MSCI EM Asia Index,4 has about 40% of its revenues linked to U.S. firms (mainly in IT services and semiconductors).
Listed futures linked to the MSCI EM Asia Index and single-country indexes
Investors looking to gain exposure to the MSCI EM Asia Index without constructing a tracking basket can look to EM Asia futures, which may be an effective path for asset allocation, tactical adjustments and risk-management purposes. Since 2019, there have been more than USD 40bn of notional open-interest trades on futures linked to EM Asia and its associated countries on average (as shown below). Investors managing China risks separately may consider listed futures linked to the MSCI EM Asia ex China and MSCI China A50 Indexes.
EM Asia economic exposures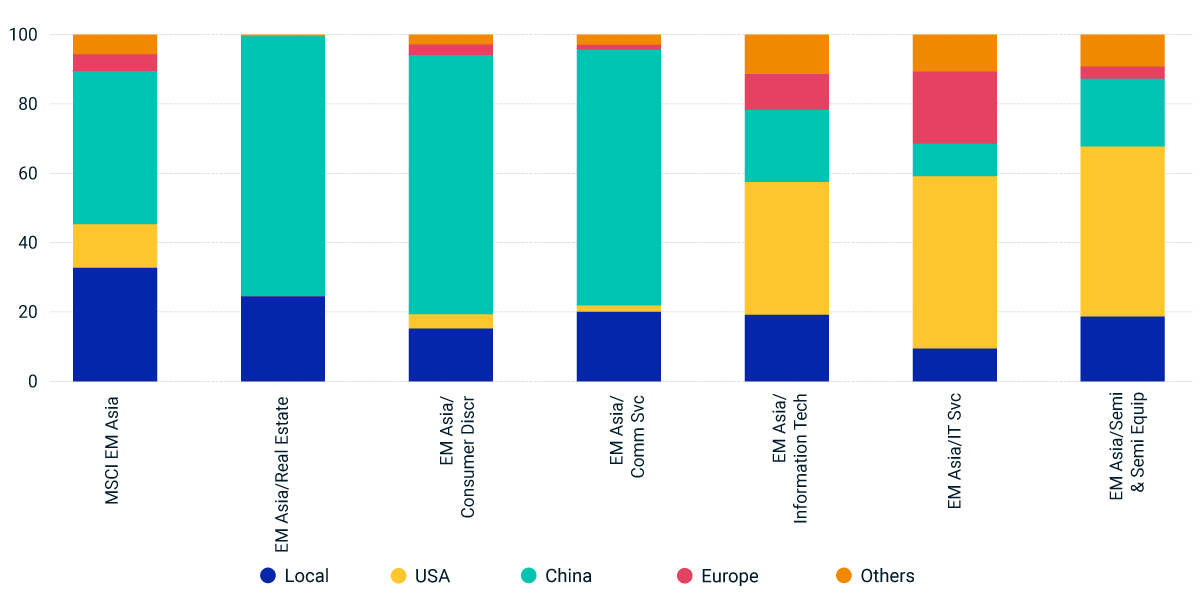 As of Jan. 31, 2023.
Futures linked to the MSCI EM Asia Index and its single-country indexes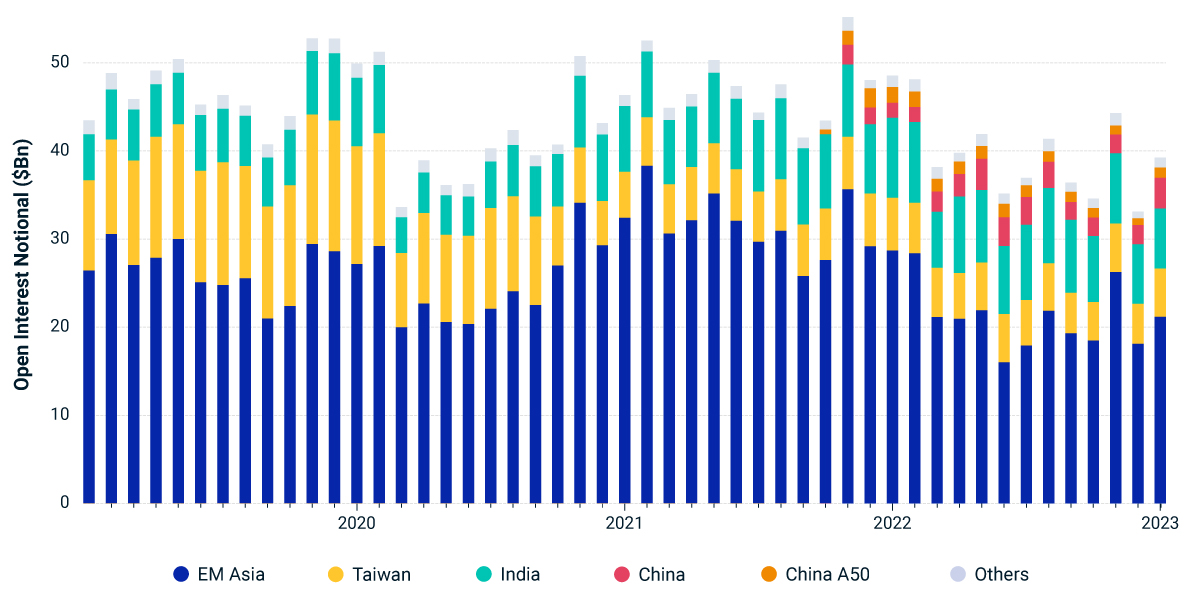 Month-end open interest notional in USD Bn. Others include futures linked to MSCI Malaysia, Indonesia, Thailand and Philippines indexes. As of Jan. 31, 2023.
1
Source: IMF, World Economic Outlook Database, October 2022. World Economic Outlook Update, January 2023.
2
China, India, Korea and Taiwan forms more than 90% of MSCI EM Asia index as of Dec 30, 2022.
3
As of Jan. 31, 2023.
4
As of Jan. 31, 2023.