The Impact of China's Reopening
The Impact of China's Reopening
China reopened its borders and eliminated COVID-19 quarantine requirements on Jan. 8, which appears to be the end of its three-year-long, "zero-COVID" policy. Markets clearly took China's recent reopening positively: From Oct. 31, 2022 (recent market trough), to Jan. 17, 2023, the MSCI China Index was up 51.7%, contributing to the 18.3% outperformance of the MSCI Emerging Markets Index relative to the MSCI Developed Markets Index. Concurrently, China's weight in the MSCI Emerging Markets Index rose from 27% to 33%, and the Stock Connect Northbound Channel1 recorded USD 28 billion of inflows as international investors gained confidence in China's economy.
China's change to its restrictive policy could also provide significant support to the global economy. The growth rates of developed economies and emerging economies (ex-China) are projected to slow from 2.5% and 3.8%, respectively, in 2022, to 0.5% and 2.7% in 2023. Conversely, China's growth is projected to significantly advance from 2.7% in 2022, to 4.3% in 2023.2 Within China, the advancement of logistics and mobility signals since Nov. 2022, such as flight numbers, traffic indicators and the shipment of core materials, could suggest an acceleration of activities in key sectors across manufacturing, consumer and services.
Uncertainties remain amidst progress
While China's reopening provides a silver lining to the lack of global economic growth projected for 2023 and beyond, a smooth path towards recovery is by no means guaranteed. For instance, uncertainties around how future COVID-19 waves could impact labor participation and consumer spending persist. China may also need to strike a fine balance by reversing policies in key sectors (real estate tightening and internet platform regulation) and promoting a more sustainable growth model.
Global GDP growth projections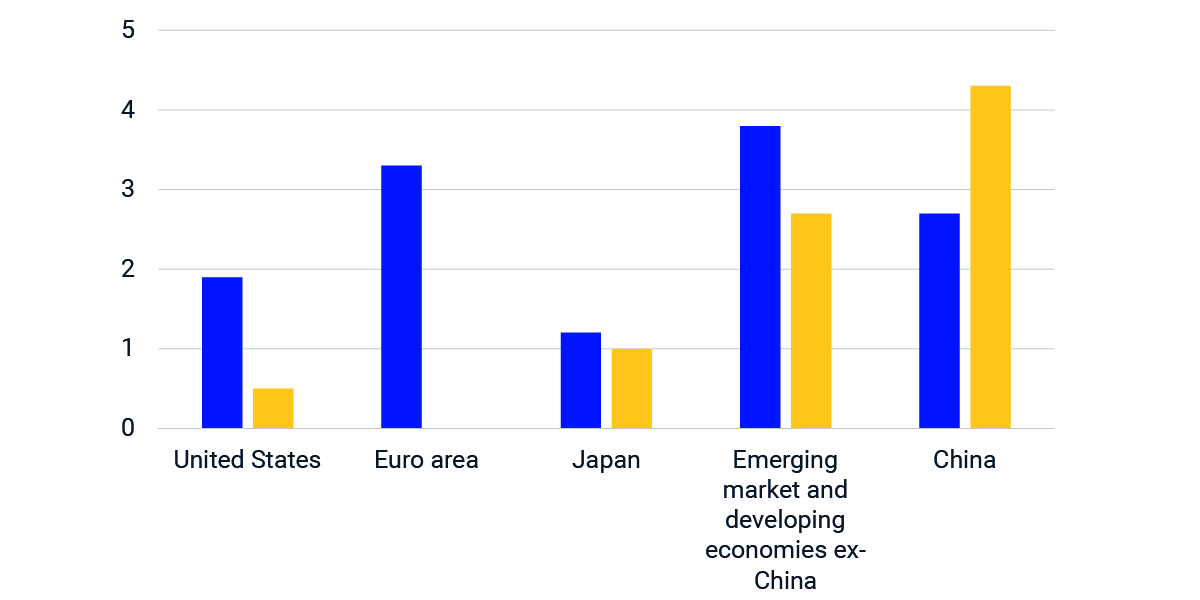 China market reactions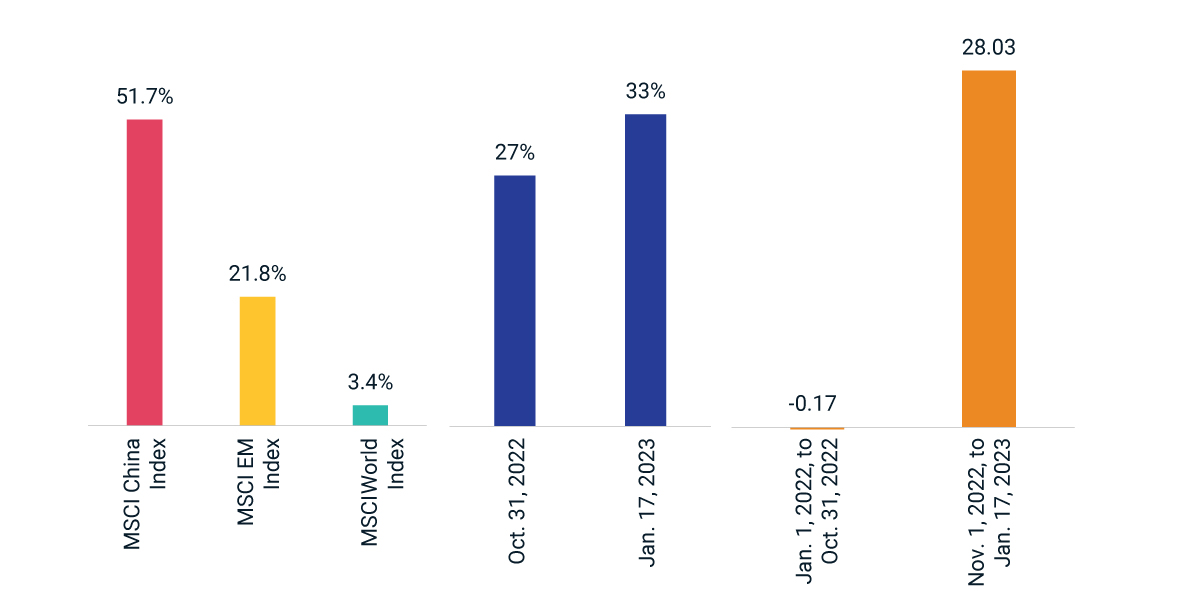 Gross total in USD. Source: MSCI Research, WIND data.
1
The Stock Connect program facilitates trading and clearing between mainland China's (Shanghai and Shenzhen) and Hong Kong's securities markets. Northbound Trading enables international investors to trade eligible securities in mainland China through the Hong Kong Exchange.
2
The World Bank, "Sharp, Long-lasting Slowdown to Hit Developing Countries Hard," Jan. 10, 2023.