The Impact of High Inflation on Equities
The Impact of High Inflation on Equities
Inflation in the U.S. and in many other countries has accelerated for more than a year, as the U.S. consumer price index reached 8% earlier this year and has remained around that level. Where we go from here is subject to debate. We previously highlighted the delayed impact of the increase in housing prices that may create a tailwind for inflation, but it may be offset by central-bank action and the cooling down of other sectors. But it is unlikely that we see the low levels of previous decades in the short term.
In order to provide context for investors to help navigate this period of high inflation, let's review the performance of the MSCI USA factor and sector indexes over the past year and the sensitivity of each index to inflation. The inflation sensitivities have been calculated by aggregating stock-level inflation sensitivities relative to the MSCI USA Index.1
As shown below, the energy sector was the outlier with highest sensitivity to inflation and highest return over this period. This was not surprising, given that energy has also been the biggest contributor to the growth of inflation. Other sector and factor indexes that showed positive inflation sensitivity and positive return (top-right quartile) were health care, value, high dividend yield and low volatility. On the other side of the spectrum, growth, information technology and consumer discretionary produced negative relative inflation sensitivity and returns.
Sector and factor inflation sensitivity and returns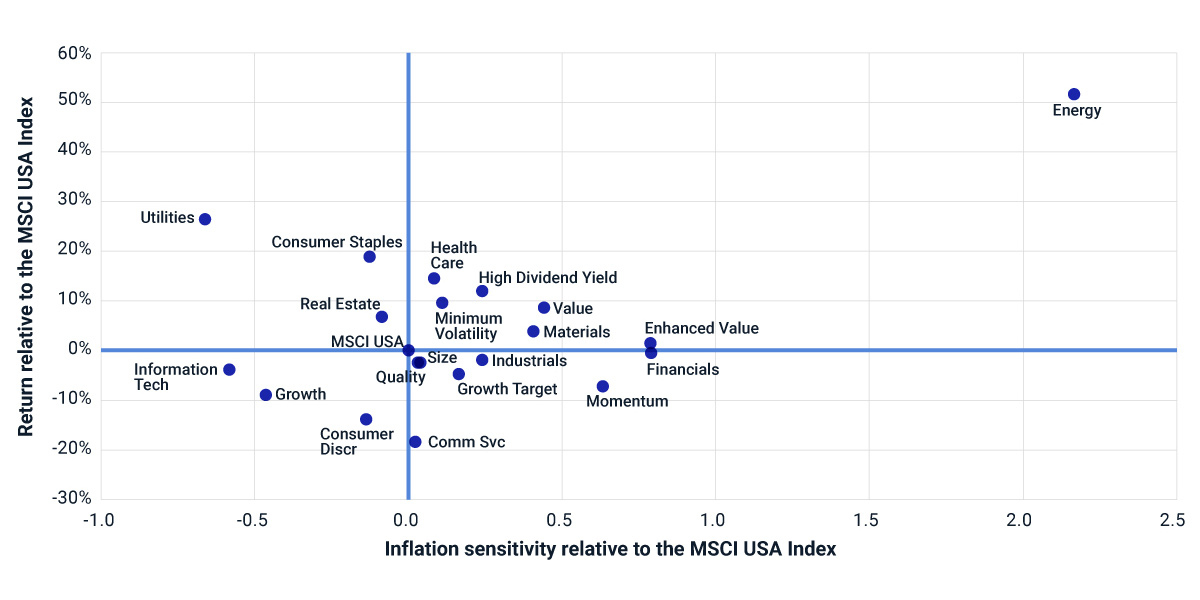 Relative return and inflation sensitivities of MSCI USA factor and sector indexes. Aug. 2021 to Aug. 2022.
1
"Measuring Stock Inflation Sensitivity." MKT MediaStats, Aug. 1. 2021.