The Pool of US Commercial-Property Lenders Shrank (Again)
The Pool of US Commercial-Property Lenders Shrank (Again)
The acquisition of First Republic Bank by JPMorgan Chase & Co. will lead to the consolidation of two of the top 25 commercial-real-estate lenders in the U.S., which may further complicate asset pricing due to changing competition to fill the debt portion of the capital stack.
If one is shopping around for a loan and 20 lenders are competing for your business, the likelihood is you will get better rates and terms than if you have only, say, five lenders looking to work with you. The scale of the latest consolidation is not that extreme; nonetheless, remove First Republic — at #21 on our list of the top 25 loan originators for 2022 — and it points to a further thinning of the lender herd.1
With the consolidation, however, may come a rebalancing of the composition of the U.S. lender field. The nonbank financial system has gained ground since 2015 when bank lenders have faced uncertainty and regulatory scrutiny.
The picture on construction lending
Recent data from the Federal Reserve2 has shown a deceleration in the growth of construction lending by banks. The failure of First Republic Bank is not helpful with respect to the uncertainty that is leading banks to curtail construction loans. Still, our analysis of known loans originated by this lender shows it was not among the top 25 construction-loan originators in 2022.
Top commercial-property lenders in the US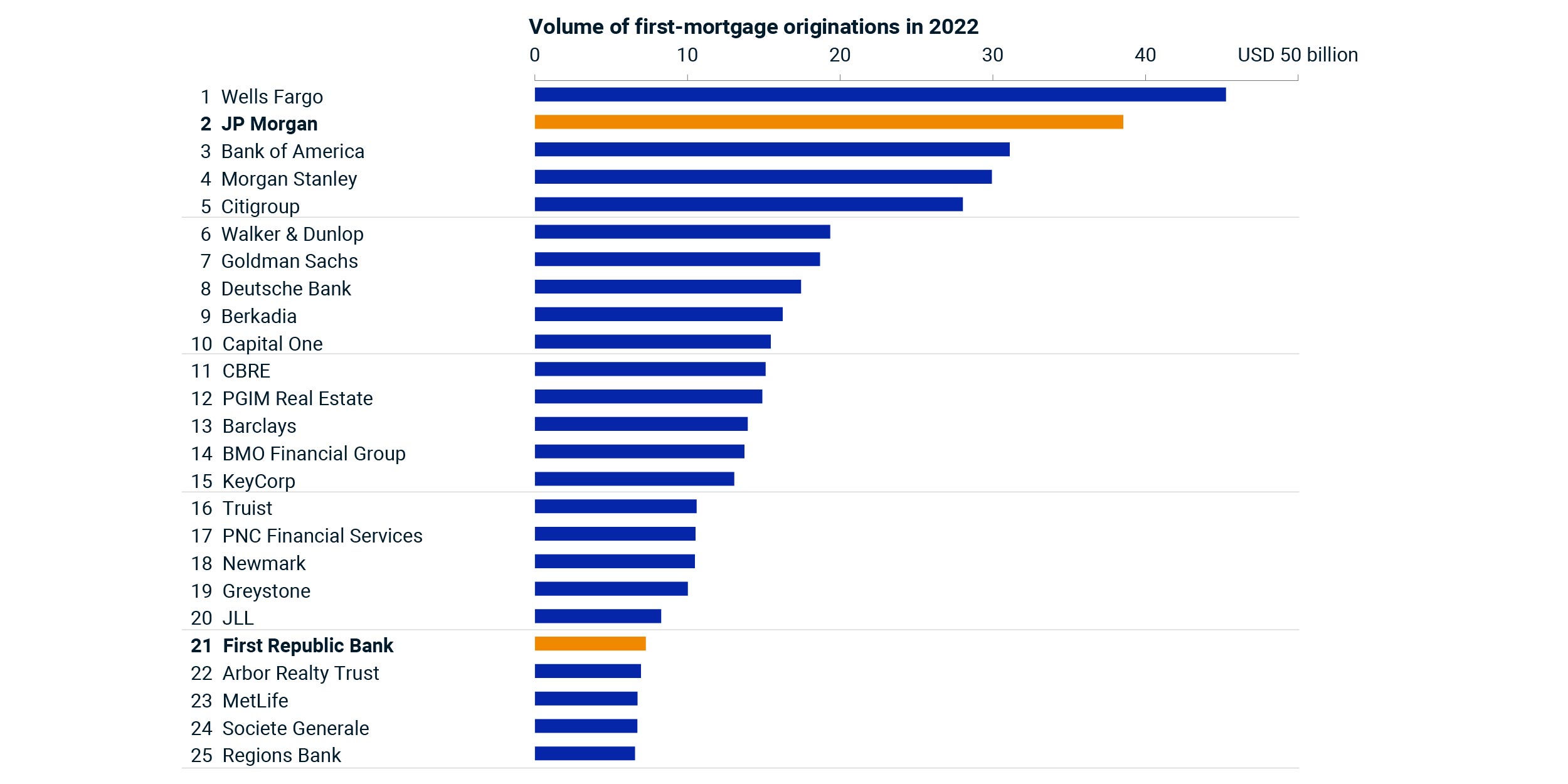 In instances where multiple parties have provided a mortgage for a single asset or portfolio, the full value of the loan is credited to each party. Source: MSCI Real Capital Analytics database
1
Loan volume from MSCI Real Capital Analytics database.
2
"Assets and Liabilities of Commercial Banks in the United States - H.8." Federal Reserve, April 28, 2023.