What Can We Learn from the July CPI?
What Can We Learn from the July CPI?
The U.S. consumer price index (CPI) climbed 8.5% from a year earlier in July 2022, down from the 9.1% pace set in June. This headline figure masks moves of individual drivers of price growth that went in the other direction.
Understanding the index's construction is important. The CPI is calculated as a weighted measure of a basket of goods that represent a prototypical household's spending each month. Understanding where households are facing more pressure in their budgets can help one think about economic trends for the year ahead.
The chart below highlights the different components of the CPI. Items above the line drove more growth in overall prices, and bubble size represents the overall growth for the month due to each component.
Breaking down the CPI by component
Energy continued to drive much of the CPI growth in July, representing 33.7% of the growth despite being only 9% of the index. Still, the pace clearly slowed. Relative to June, energy prices fell at a 54% annualized rate. This declining pressure from energy costs should help households.
Shelter moved in the other direction, however. Housing costs were up 5.7% from a year earlier and represented 20.7% of all the growth in the CPI for the month. Also contrary to energy, growth in housing costs accelerated, having risen at a 7.2% annualized pace from June to July. Given that shelter represents the biggest component of the CPI, a 32.1% share of the index, moves here bear watching.
Energy and shelter drove July CPI growth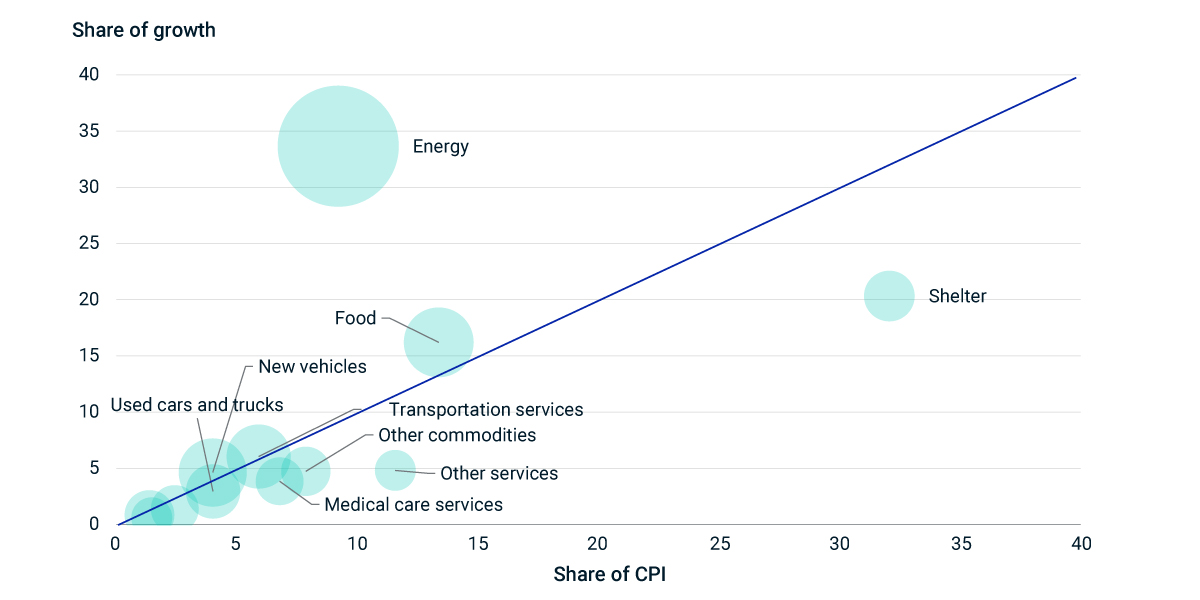 Related Content
Fed Chair Powell: See You in September
At last week's Federal Open Market Committee (FOMC) meeting, Federal Reserve Chair Jerome Powell continued to talk tough on inflation.
Read the quick take
Government-Bond Yields and Inflation
Inflation expectations based on the prices of government bonds have sharply risen since January, as military conflict in Ukraine increased in likelihood and then turned into an all-out war.
View the chart
Fed Policy and the Specter of Inflation
A surprisingly high U.S. inflation reading was released ahead of the June 14-15 meeting of the Federal Reserve's Federal Open Market Committee, and equity and bond markets reacted by selling off sharply.
Read the blog post