Climate change is the single greatest challenge humankind has faced and its consequences are already all too apparent. The rise in climate disasters over the past two decades has led to the deaths of over 1.2 million people and affecting more than 4 billion people in total1.
net zero - call to action
Our Call to Action
At MSCI, we believe that addressing the impacts of climate change will require the largest reconstruction of the global economy since the Industrial Revolution.
Capital markets are an essential and critical force to drive the transition to net-zero with concerted action from all participants, ranging from a reallocation of capital by asset owners, to effective channeling of funds by asset managers and banks to greener investments and innovation. Companies have a fundamental responsibility to reduce their impact on the planet and join the journey to a decarbonized economy.
The time to act is now. We urgently call on all capital-markets participants to play a vital role in the net-zero revolution to keep global temperature rise well below 2oC.
Net zero - Transparency is key
MSCI: Doing Our Part
At MSCI, we are committed to providing necessary research, tools and solutions to help all market participants accelerate this economic transformation. In addition to climate indexes and other climate-related data, MSCI will provide advanced analytical tools to help companies better measure their transition and physical risks to better align with a net-zero trajectory.
On a quarterly basis we will publish on our website the MSCI ACWI IMI Net-Zero Tracker. This report will indicate the aggregate temperature alignment of MSCI ACWI IMI with a 1.5˚C trajectory. It will also highlight the companies and sectors that have made the greatest progress in the path toward net-zero, as well as the world's laggards. MSCI will consult with market participants to develop and enhance the tracker over time.
Current Emission Trajectories
The chart shows the historical and potential future trajectories of the world's total greenhouse gas emissions. These figures are measured in metric tons of CO2 equivalent emissions relative to the history of the sum of scope 1 emissions of all MSCI ACWI IMI constituents (without index weight adjustments).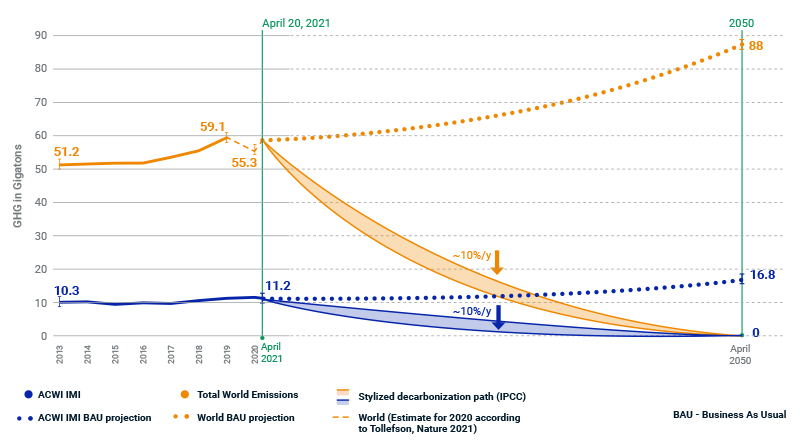 The total emissions of the world are sourced from annual UNEP Emissions Gap reports. World emissions for 2020 are estimated to be 6.4% below their previous year levels and to rebound in 2021 towards pre-pandemic levels (J. Tollefson. "COVID curbed carbon emissions in 2020 — but not by much." Nature 2021). The BAU projections are based on the realized 1.4% annual growth rate in historical world emissions as reported by UNEP Emissions Gap Report 2020. The required annual decarbonization rate according to IPCC ranges between 5% and 15% per year, depending on the shape of the decarbonization trajectory and the use of carbon capture. Source: UNEP data from 2013 to 2019; MSCI illustration from 2020 until 2050.
Net Zero - Net-Zero Commitment
MSCI's Net-Zero Commitment
We believe that we should conduct MSCI's business in line with the expectations we have asked of others, upholding the same high standards. We want to lead by example.
To achieve this goal throughout MSCI's global operations, MSCI has committed to achieve net-zero emissions before 2040.
Getting to net-zero reflects our goal of taking meaningful action to make climate considerations part of our strategy, operations and culture now and for years and decades to come. It builds on MSCI's Principles of Sustainable Investing, which sound the alarm to global investors that a convergence of environmental, social and governance factors will impact the pricing of financial assets and precipitate a large-scale reallocation of capital.
1There are varying definitions of net-zero. We use the definition adopted by the 2015 Paris Agreement, which requires greenhouse-gas emissions to be balanced with an equivalent amount of carbon removal.