Jeremy Baskin
Jeremy Baskin image & Designation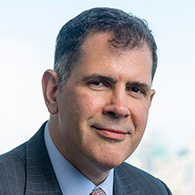 Jeremy Baskin
Head of Client Coverage - Americas
Jeremy Baskin bio description
Jeremy Baskin is Head of Client Coverage for the Americas. He is responsible for overseeing MSCI's sales in the region. Jeremy also sits on MSCI's Executive Committee.
Before joining MSCI, Jeremy was the former Global CEO and Global CIO of Rosenberg Equities (previously known as AXA Rosenberg). He was also on the AXA Investment Managers Management Board and Executive Committee and Chair of AXA Investment Managers NA. Additionally, he was on the AXA Investment Managers Asia and AXA Investment Managers' UK Boards. Jeremy was with AXA from December 2010 through March 2017.
Prior to joining AXA Investment Managers, Jeremy was Senior Vice President and Head of Active Equity Management for The Northern Trust Company. During his 21-year tenure at Northern Trust, he was responsible for the global passive business, as well as building the research and investment infrastructure for risk taking, value-added quantitative equity strategies. Jeremy left Northern Trust for a brief period to help develop the Equity Derivatives Group at First Union Securities, re-joining Northern Trust in 2000 as Director of Structured Equity.
Jeremy holds a Bachelor of Arts degree from Wesleyan University and an MBA in Finance and Marketing from the J.L. Kellogg Graduate School of Management at Northwestern University. He is a CFA Charterholder and a member of the CFA Society of Chicago, Chicago Quantitative Alliance and the CFA Institute.
Related Content - Our Leadership