Eric Moen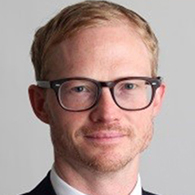 Eric Moen
Head of ESG and Climate
Eric Moen is Head of ESG and Climate, managing MSCI's global effort to provide cutting edge data, research and other tools to enable investors to integrate ESG and Climate across the entire investment process. He oversees the day-to-day operations of the large global ESG and Climate team and drives collaboration and innovation across MSCI's product lines. Eric is also member of MSCI's Executive Committee.
Eric has been with MSCI for over two decades. Over the last 10 years, he spearheaded the expansion of client solutions across MSCI's ESG business. Previously Eric held a range of client-facing roles overseeing sales and consultant teams across the ESG, Index and Risk Analytics business units. Before MSCI, Eric spent three years at Merrill Lynch in the International Private Client Group in New York.
Eric holds a Bachelor of Arts in Political Science from University of Colorado, and a Master of International Affairs from Columbia University, with a specialization in International Economic Policy.
Related Content - Eric Moen & Linda