Jay McNamara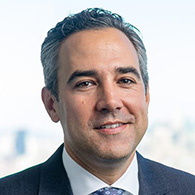 Jay McNamara
Head of Real Estate
Jay McNamara, as Head of Real Estate, is responsible for all aspects of product management and business strategy for the MSCI Real Estate product line and is a member of MSCI's Executive Committee.
Since joining MSCI in 2002 and before taking on his current role in 2017, Jay has held various senior leadership positions including serving as Head of Americas Client Coverage, Global Senior Account Manager, and Global Head of Asset Owner & Investment Consultant Coverage. Prior to MSCI, Jay held a series of sales and relationship management roles at Brown Brothers Harriman & Co. in Boston, Hong Kong and New York.
Jay served as Chairman of the Explore Schools' Board of Trustees, a network of high-performing public charter schools in central Brooklyn.
Jay holds a Bachelor of Arts degree with a major in Economics and Political Science, from the College of the Holy Cross in Worcester, Massachusetts.
Jay McNamara Bio - Related

Related Content
Our Leadership
Our senior leadership team is comprised of highly experienced executives from diverse backgrounds.
Learn More
Real Estate Investing
Our analytical solutions make it easier to increase and manage private real asset investments.
Explore
The DTU+E Investment Approach and its Efficacy
Jay McNamara sits down with Jacques Gordon, Global Strategist, LaSalle Investment Management to discuss the currents.
Watch the Video
We use cookies to optimize site functionality and give you the best possible experience. Learn More
Cookie Preferences
Accept all cookies
This website uses cookies to remember users and understand ways to enhance their experience.
For more information, please visit our Cookie Notice.
Strictly Necessary, Functionality and Performance Cookies
We use cookies to enable you to move around our website and use its features, to provide you with functionality by remembering choices you make and provide enhanced features, and to learn how our website is performing and make improvements.
For more information, please visit our Cookie Notice.