Jigar Thakkar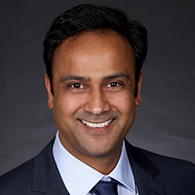 Jigar Thakkar
Chief Technology Officer and Head of Engineering
Jigar Thakkar has served as Chief Technology Officer and Head of Engineering since July 2018. In this role, he is responsible for overseeing the company's engineering technology services, development and data science operations. He is also a member of MSCI's Executive and Management Committees.
Prior to joining MSCI, he served as Corporate Vice President at Microsoft from 2017 to 2018, leading software engineering for Microsoft Teams and Skype for Business. Prior to that, he served as a Partner Director of Engineering from 2012 to 2017. During his 19-year tenure at Microsoft, he built large-scale products and served in various leadership positions within the Office 365, Dynamics CRM, Bing, Windows and MSN divisions.
He holds a Master of Science in Electrical Engineering from the University of Southern California and a Bachelor of Science in Electronics Engineering from the Maharaja Sayajirao University of Baroda in India.