Kazuya Nagasawa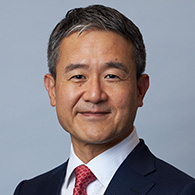 Kazuya Nagasawa
Head of APAC Client Coverage and Head of APAC Analytics
Kazuya Nagasawa is Head of APAC Client Coverage at MSCI. He is responsible for overseeing MSCI's sales, client relationship management and client service teams in APAC. Kazu is also Head of APAC Analytics and is responsible for MSCI's Analytics products and services in APAC. He is a member of MSCI's Executive Committee.
Prior to joining MSCI as Head of Japan Client Coverage in 2012, Kazu worked as Managing Director within the global Quantitative Investment Strategies Group at Goldman Sachs Asset Management where he held a wide range of roles including in alpha signal research, trading, portfolio management, investment solutions & strategic partnership and product management. Before joining GSAM in 1998, Kazu worked at Meiji Life Insurance.
Kazu received a Bachelor of Engineering degree and a Master of Science degree in Mechanical Engineering, both from Keio University.
Related Content - Alvise Munari
Related Content
Our Leadership
Our senior leadership team is comprised of highly experienced executives from diverse backgrounds.
Learn More
Corporate Responsibility
In changing times, MSCI's commitment to its employees and the wider communities in which it operates is paramount.
Explore More