When it comes to reducing greenhouse gases, investors tend to focus on fossil fuels and power generation. But other companies also need to adapt to survive the transition to lower carbon emissions.
We looked at the implications for e-waste, fashion, automakers, fast-food companies and buildings.
As the world transitions to a carbon-neutral economy, investors may wish to identify companies coming up with solutions, as well as those lagging, in this effort.
When it comes to reducing greenhouse gases, investors tend to focus on fossil fuels and power generation.1 But those are not the only companies that need to adapt to survive the transition to lower carbon emissions.2 We looked at five types of companies most people encounter every day, seeking to determine which companies are ahead of the curve in cutting both direct and indirect emissions — and which are behind.
An explosion of e-waste
There is a good chance you woke up and looked at your phone (no judgment on my part — I did too). We carry phones around like old friendships, using them to release a dose of social-media dopamine and to answer work emails or pay bills. The technology may be indispensable, but physical phones are frequently trashed in favor of a newer model.
This smartphone turnover has added to the growing problem of electronic waste. By 2021, the world is expected to generate 52.2 million tons of e-waste annually.3 The explosion of e-waste damages human health and the environment, but also provides an opportunity for companies to salvage parts from discarded technology. Of the 25 technology companies we assessed on their e-waste practices, 44% had a quantitative recycling target. Fujifilm was the only technology company to rely exclusively on in-house recycling, with seven companies (28% of the peer set) using in-house recycling in addition to external vendors.4 This exclusivity by Fujifilm allowed it to develop specialized recycling techniques attuned specifically to its product.
There's room for improvement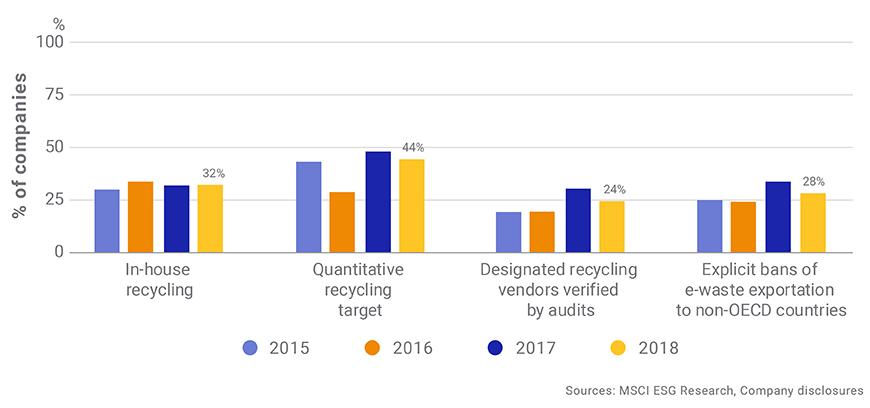 I hate everything in my closet
After you check your phone, it's time to get dressed. Most of us feel social pressure to have a wide variety of outfits for the office, social gatherings or just lounging around the house. To meet that perceived need, consumers often buy inexpensive but fashionable wares provided by fast-fashion companies like Zara and Topshop. Yet people are starting to understand the environmental damage caused by the production of fast fashion.5 In response, companies like H&M have created the Sustainable Apparel Coalition and have committed to using more renewable materials in their products and drastically reducing carbon emissions created in burning or disposing of excess supply in landfills. Fast-fashion companies that don't prioritize sustainability risk losing market value and incurring carbon-related fines.
Leaders and laggards in fast fashion's carbon emissions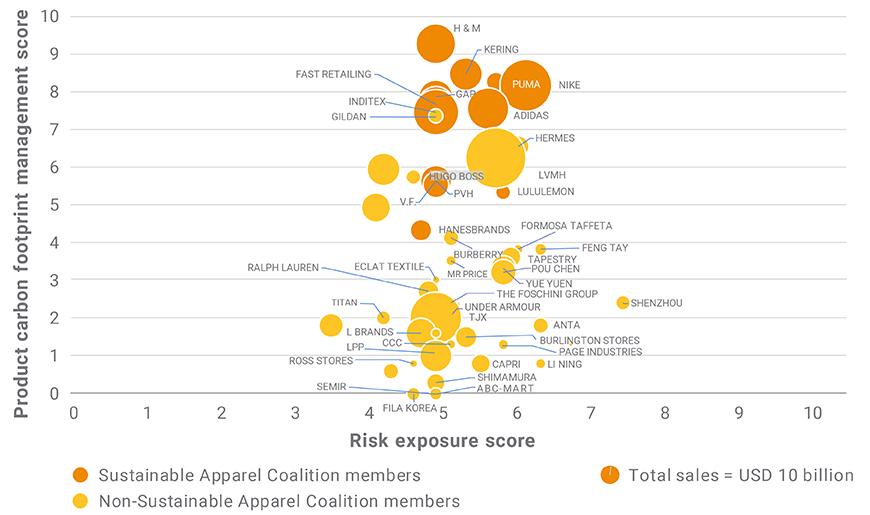 The x-axis indicates the companies' risk of product recall and warranty costs, based on sales volume and involvement in market segments with high risk of product failure. The y-axis indicates our scoring of management quality, based on best practices and management systems, warranty costs and red flags relating to recalls or controversies. Source: MSCI ESG Research, company disclosures
Rush hour
Unless you live in a community with accessible public transit, you probably commute by car. Conflicting consumer desires are creating friction between aspirational emission targets and actual car sales. While auto companies offer more hybrid and electric vehicles than in the past,6 consumers still prefer higher-emission pickups and SUVs. In the European Union (EU), the share of newly registered SUVs increased from 8% in 2008 to 29% in 2017. In the U.S., large-sized vehicles dominated passenger vehicle markets, taking 65% of 2017 sales — up from 48% in 2008.7
Yet California's zero-emission-vehicle mandate8 — which may shape the future of American automakers, if it withstands a challenge from the federal government — combined with regulations in the EU9 and Asia,10 would force companies to address the continued increase in product emissions. Some carmakers are better positioned for the long game than others. For example, Toyota has no projected EU fines in 2021 due to its hybrid vehicle sales and lower fleet weight, unlike its industry peers shown in the exhibit below.
Low carbon, low fines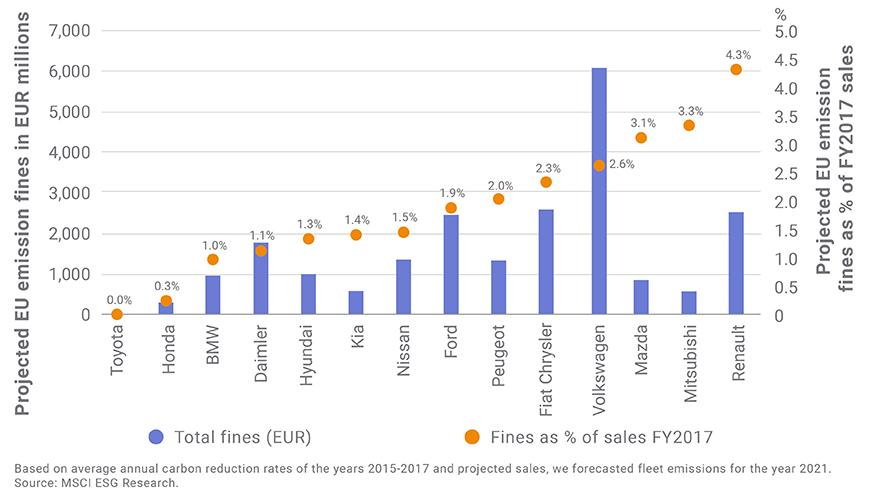 Would you like your burger with or without meat?
Are you hitting the drive-thru because you're running late? While waiting to order, you might hear a news story about how meat-filled diets are not that good for your health, contribute to the climate problem and might have triggered raging fires in the Amazon, leaving you to think uncomfortably about how fast-food companies rely on meat sales.
Fast food's continued reliance on meat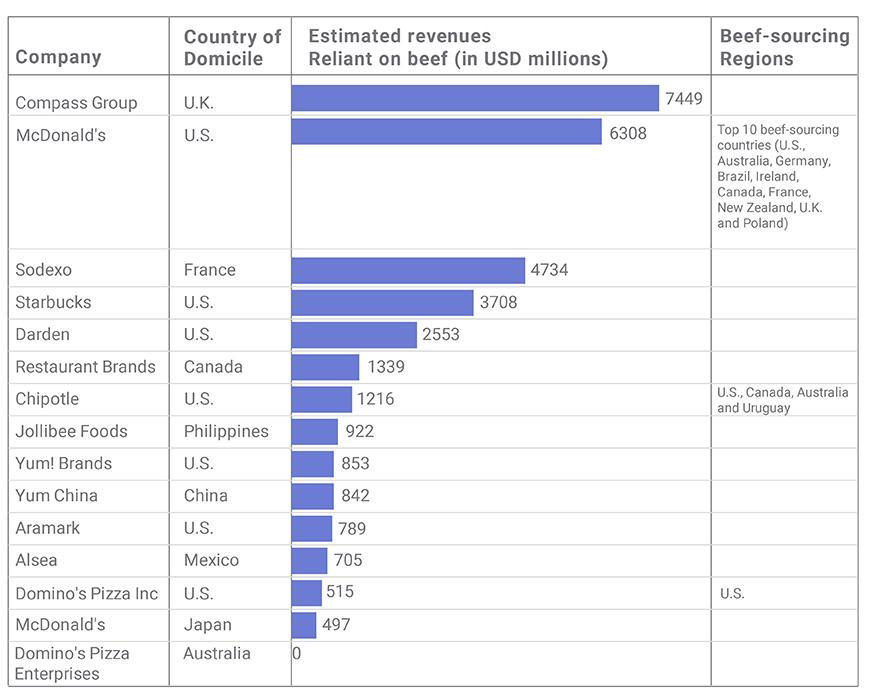 Source: MSCI ESG Research, most recent company disclosures as of September 2019
On the bright side, you can go meatless at numerous fast-food chains. Since 2018, chains such as McDonald's, Burger King and A&W Canada (a Yum! Brands subsidiary) have taken advantage of the trend toward meat-conscious consumption to offer plant-based burgers — made by Impossible Burger and Beyond Meat — dramatically lowering their products' carbon footprint.11
Building a green future for buildings
As you enter your place of work, you may notice the design has changed or the lighting has been upgraded in the past decade to meet sustainability goals. Sixty-nine countries are developing or have implemented either voluntary or mandatory energy codes for buildings.12
According to the Global Total Alliance for Buildings and Construction, energy-efficiency (EE) spending13 for buildings increased in 2017 by 4.1% (2.5% adjusted for inflation) from the prior year to USD 423 billion. And incremental investment — the increase in spending for energy-efficient services (e.g., design, delivery and installation) and products (e.g., lighting, equipment and materials) beyond the legal required minimum for EE – increased 4.7% (3% adjusted for inflation) to USD 140 billion in 2017. Spending on energy efficiency for buildings remains low. This is good news for companies producing energy-efficient products and bad news for buildings that fail to meet new emission standards.
The global push for green buildings
 
Property Type
Deadline
Target
WGBC
New
2030
Net Zero
All
2050
Japan
Homes
2020
Zero Energy
Buildings
2030
EU
Public Buildings
2018
Near Zero Energy Buildings
New
2020

Singapore

All
2030
80% certified Green Buildings

China

New
2020
50% certified Green Buildings

Hong Kong

All
2025
Reduce energy intensity by 40%

Australia

All
2030
Reduce emissions by 26%
Source: MSCI ESG Research
The endgame for investors
A wide array of companies — not just energy firms and utilities — will be forced to adopt new practices for sustainability or face potentially severe consequences as the world transitions to a carbon-neutral economy. Investors may therefore wish to identify the companies coming up with solutions, as well as those lagging, in this effort. The evidence for success can often be found in your daily life.
The author thanks Morgan Ellis, Siping Guo, Jingmin Hu, S.K. Kim and Arne Klug for their contributions to this blog post.
1IPCC Working Group III. (2019). "IPCC Special Report on Climate Change and Land." Intergovernmental Panel on Climate Change
2UN Secretary-General Antonio Guterres has called upon global leaders to develop plans to reduce greenhouse gases by 45% over the next decade and to net zero by 2050. For example, see: Sasarean, D. 2019. "Resilient carbon-transition portfolios: a road map." MSCI ESG Research
3Baldé, C. P., Forti, V., Gray, V., Kuehr, R., and Stegmann, P. 2017. "The Global E-Waste Monitor 2017." United Nations University, International Telecommunication Union and International Solid Waste Association.
4Guo, S. 2019. "Technology, Hardware, Storage & Peripherals." MSCI ESG Research.
5McKinsey & Co. 2019. "The state of fashion 2019: A year of awakening."
6BloombergNEF. 2019. "New Vehicle Outlook."
7Klug, A. 2018. "Automobiles." MSCI ESG Research
8Davenport, C. and Tabuchi, H. "Automakers, rejecting Trump pollution rule, strike a deal with California." New York Times, July 25, 2019.
9Regulation (EU) 2019/631 setting CO2 emission performance standards for new passenger cars and for new light commercial vehicles. Council of the European Parliament, European Parliament, April 25, 2019.
10Regulation national domestic emission control area (DECA), China Ministry of Transport
11See, for example: Waitrose & Partners. 2019. "Food and Drink Report 2018-2019."
12International Energy Agency (IEA) for the Global Alliance for Buildings and Construction. 2018. "2018 Global Status Report." United Nations Environmental Programme.
13Total EE spending is the sum of all EE project costs, which include the sum of all costs arising from EE services and products and incremental investment.
Further Reading
Climate change and climate risk: An index perspective
Corporate disclosure in a TCFD world
How institutional investors are responding to climate change