Bond Performance in 2023: A Midsummer Reflection
Bond Performance in 2023: A Midsummer Reflection
There's good news and bad news for bond investors this year. The good news is that year-to-date U.S. returns (through July 24) were positive.
But the bad news is twofold. First, inflation was also high, and Treasurys registered negative after-inflation performance. Second, in the race against equities, bond performance paled in comparison to the 20% gain in the U.S. equity market.
Opportunities and risks
Some investors may see this year's relative underperformance of bonds and wonder whether there may be opportunity. Real bond yields continue to be high relative to the 10-year average. And by some historical measures, bond-market valuations look low relative to equity valuations.
There are risks to adding to bond allocations, even if they look attractive, however. Potential risks include:
Higher inflation/aggressive Federal Reserve. Perhaps a diminished concern given recent reported declines, but inflation could still surprise by remaining high and compel the Fed to keep rates higher, for longer.
Debt overhang. The U.S. Congressional Budget Office projects very significant increases in U.S. debt issuance in coming years and decades.1
Foreign buyers. Despite a significant expansion in net issuance of Treasurys between January 2022 and May 2023, foreign holdings of these instruments fell, according to Treasury Department and Federal Reserve data. A continuation of this trend would dampen future demand for bonds.
Summ(er)ing-up
As we head into the dog days of summer, it may be useful to look back to last year's bond performance, which serves as a stark reminder that returns can be strongly negative. Important risks are still present in the current bond market, but opportunities may also be present.
Bonds lagged equities
Returns as of July 24, 2023, and inflation as of June 2023.
Bonds cheapened relative to equities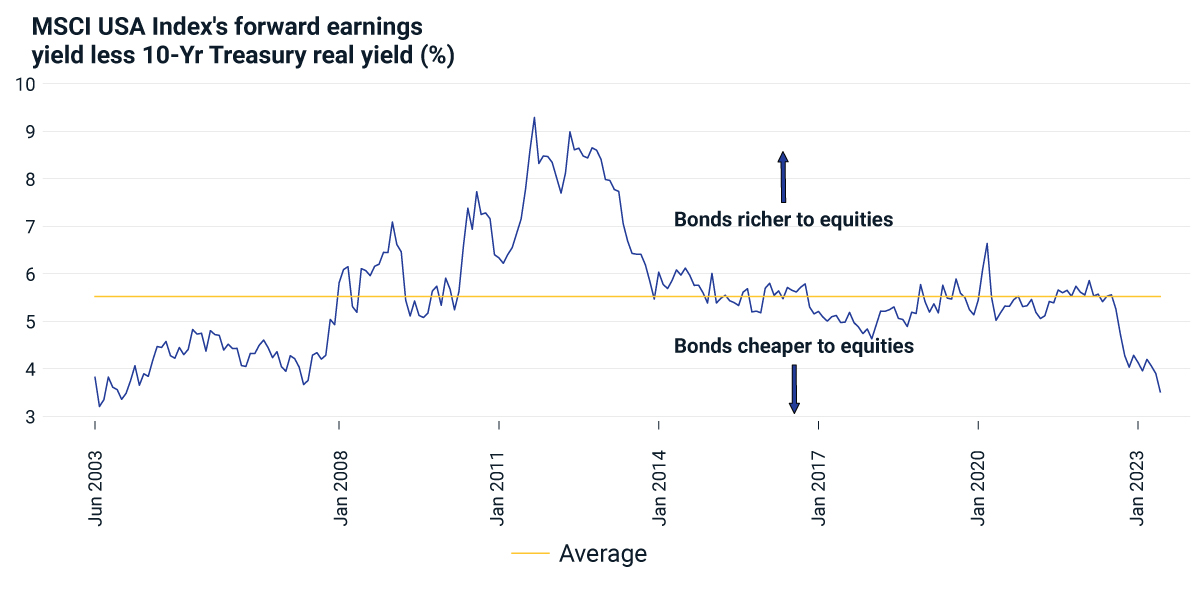 Data as of June 30, 2023.
1
"The 2023 Long-Term Budget Outlook." U.S. Congressional Budget Office, June 28, 2023.