Climate Indexes May Have Benefited from Clean Tech Since the Start of the War
Climate Indexes May Have Benefited from Clean Tech Since the Start of the War
Given the recent spike in energy prices we ask: How have higher energy prices affected the performance of climate indexes, which normally have less exposure to traditional energy companies?
Both the MSCI ACWI ex Fossil Fuels and the MSCI ACWI Climate Paris-Aligned Indexes underperformed their parent index (the MSCI ACWI Index) in the year to date through March 30. Our performance-attribution analysis, based on MSCI's Barra Global Total Market Equity Model for Long-Term Investors (GEMLT), showed that these indexes' lower exposure to oil- and gas-related industries did indeed contribute negatively to performance. Negative value-factor exposures also contributed to the underperformance, due to a continued market rotation out of higher-beta momentum growth stocks into value. That was not the whole story, however.
A shift toward clean tech?
While down for the year versus the MSCI ACWI Index, the active return of the MSCI ACWI Climate Paris-Aligned Index turned positive after the start of the war. The biggest positive contribution came from stock-specific risks, mostly derived from larger weights for certain stocks, relative to the MSCI ACWI Index. The MSCI Climate Paris-Aligned Index constituents' weights tend to be higher for stocks with high levels of clean-tech revenues. While there are other factors at play, it may provide some insight into investor sentiment.
Relative Performance vs Parent Index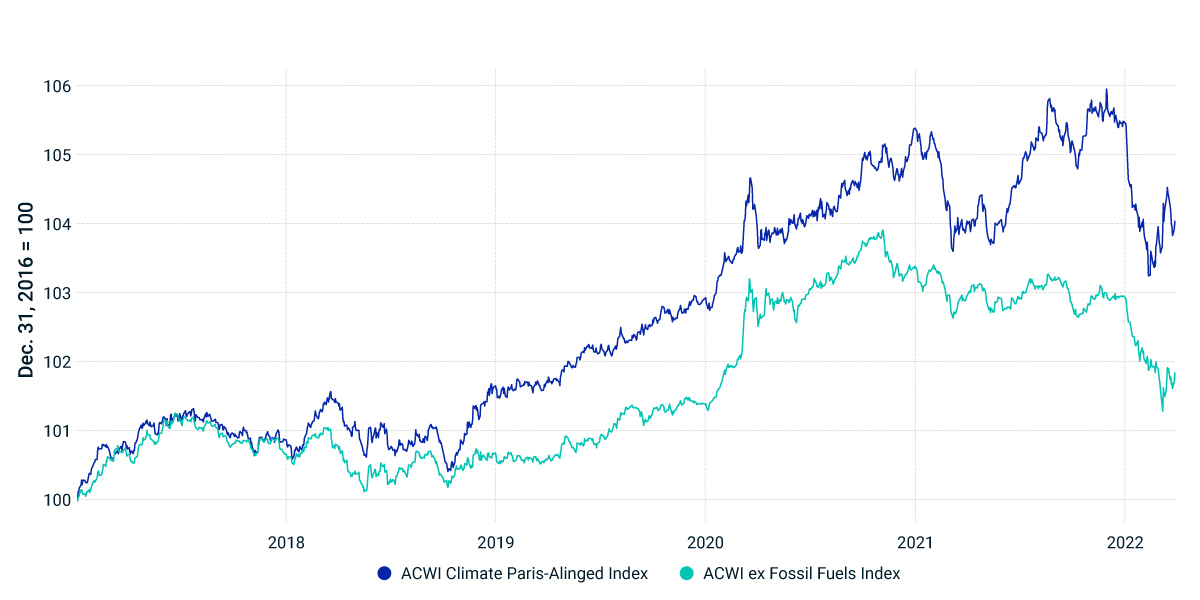 Active Return Decomposition (GEMLT Model %)