Commercial Property in Hurricane Ian's Path
Commercial Property in Hurricane Ian's Path
Hurricane Ian slams into Florida on Wednesday, putting lives and livelihoods at risk. The projected path of the storm five days into the future can help people mitigate some of these risks by knowing when to evacuate. Commercial real estate in the track of the storm can also be plotted.
There are assets with an estimated value of USD 1.5 trillion in Ian's five-day path forecast by the National Hurricane Center. The apartment sector has the highest dollar value of assets in the path of the storm, at an estimated USD 603 billion. Of those apartment properties, USD 10 billion may also face storm surge, which can cause extreme flooding and presents the greatest threat to properties and human life.
This aggregation of commercial real estate assets in the storm's path includes only institutional-quality properties priced USD 2.5 million and greater. There are other assets priced below that threshold that face similar risks.1
One can plan around the risks to commercial real estate in the face of such a storm. While it is impossible to attribute individual events to climate change, events like this storm are predicted to become more frequent and more intense, meaning that real estate investors face risks that must be mitigated.
Commercial real estate in predicted path of Hurricane Ian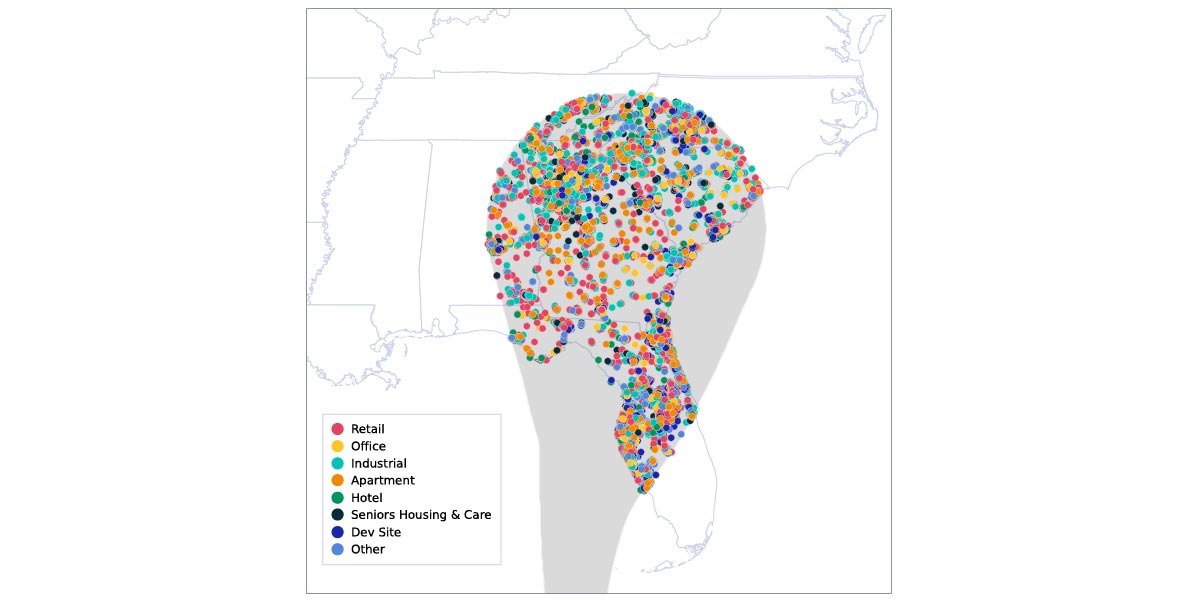 National Hurricane Center predicted path as of Sept. 27.
1
Current estimated values of every asset are generated by taking the sale price or appraisal value at the most recent refinancing and moving that observation forward at the growth rates implied by the RCA commercial property price indexes (RCA CPPI) for the relevant property sector and location.
Related content
Net-Zero Alignment for Multi-Asset-Class Portfolios
Asset owners with net-zero pledges are committing to short- and medium-term carbon-footprint reduction targets for their portfolios.
Read the blog post
Real Estate Climate Solutions
We help real estate investors integrate climate, performance and risk analysis to build more sustainable portfolios.
Learn more
Measuring Climate Risk in Real Estate Portfolios
As a long-term asset class with fixed asset locations, private real estate may be especially vulnerable to both physical and transition risks from climate change.
Read the blog post