Deteriorating Liquidity Complicates Fed Action
Deteriorating Liquidity Complicates Fed Action
The erosion in U.S. Treasury market liquidity over the past 10 months could worsen as the Fed more aggressively reduces the size of its balance sheet. Investors in Treasurys may face higher transaction costs, and institutions hedging with Treasurys may incur greater trading losses resulting from hedge slippage.
Fed actions have influenced Treasury market liquidity
Massive bond purchases by the Fed after the onset of the COVID-19 crisis in early 2020 coincided with a dramatic improvement in liquidity conditions as measured by yield dispersion. Starting in the fall of 2021, however, liquidity began to deteriorate as the Fed stated its intent to slow bond purchases. Liquidity continued to worsen as the Fed announced guiding principles for reducing the size of its portfolio in January of this year.
Looking forward, the Fed might be tempted to slow the runoff of their Treasurys portfolio (currently scheduled to double in size to USD 60 billion per month starting in September) in an effort to improve market liquidity. But doing so could further harm its credibility with investors, which has suffered over the past year as the Fed's initial inflation projections turned out to be way too optimistic and inflation reached 40-year highs.
During the early days of the COVID-19 crisis, Chair Powell partly justified the Fed's asset purchase program as necessary to restore market liquidity. Today, it seems quite plausible that Treasury market liquidity may soon be worse than what was experienced during COVID-19. Market participants will be closely following how the Fed balances market liquidity with its efforts to reduce the size of its portfolio — as will we.
Liquidity deterioration approaching previous COVID highs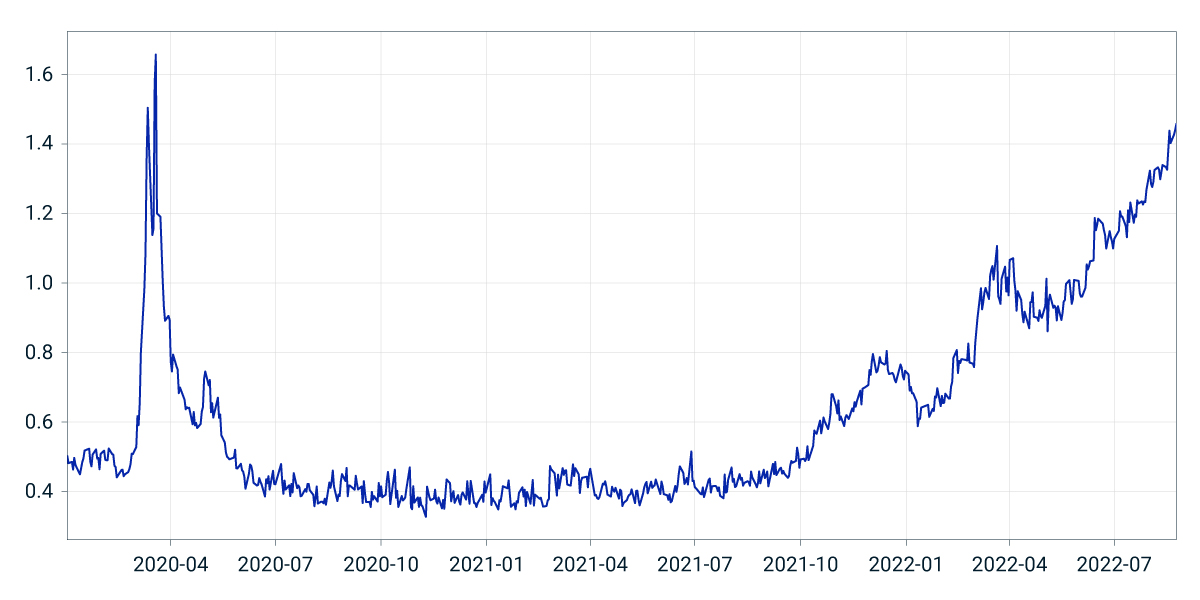 U.S. Treasury market yield dispersion around base curve (in basis points)