Do Birds of a Feather Flock Together?
Do Birds of a Feather Flock Together?
Twitter is now a private firm following its acquisition, and it has been removed from MSCI's Global Standard Indexes. However, it will still be impacted by many of the same economic forces as those that affect publicly traded, new-media stocks. And based on recent earnings announcements from firms such as Meta Platforms Inc., those economics could be worsening.
Assessing flight patterns
Traditionally, stock pickers have used analyses such as comparable metrics to identify opportunities. Yet it can be challenging to find peers for firms with revenue models like digital advertising, which might not fit neatly into a single industry.
Using MSCI's Peer Similarity Scores to identify Twitter-like firms, we reduced more than 2,500 companies in the MSCI USA Investable Market Index to the 20 most similar firms (shown in the left plot). The peers spanned the communication-services, consumer-discretionary and information-technology sectors, highlighting how alternative methods of firm classification can augment traditional methods, such as the Global Industry Classification Standard (GICS®)1 framework.
The market's souring mood on these firms is shown in the right plot, with recent stock momentum turning mostly negative. Investors throughout the year have shed firms with deteriorating profit margins and dilutive share issuances in the flight to high-quality stocks. Valuations were also much higher than that of the market, but the stocks were not particularly crowded, given they had already fallen so far throughout the year. Finally, we found that equity analysts' sentiment was bullish for smaller firms such as Snap, yet bearish for the larger advertisers including Meta, Alphabet Inc. and Twitter. Although sentiment is not part of the peer-group construction, it can nonetheless complement it.
The top Twitter peers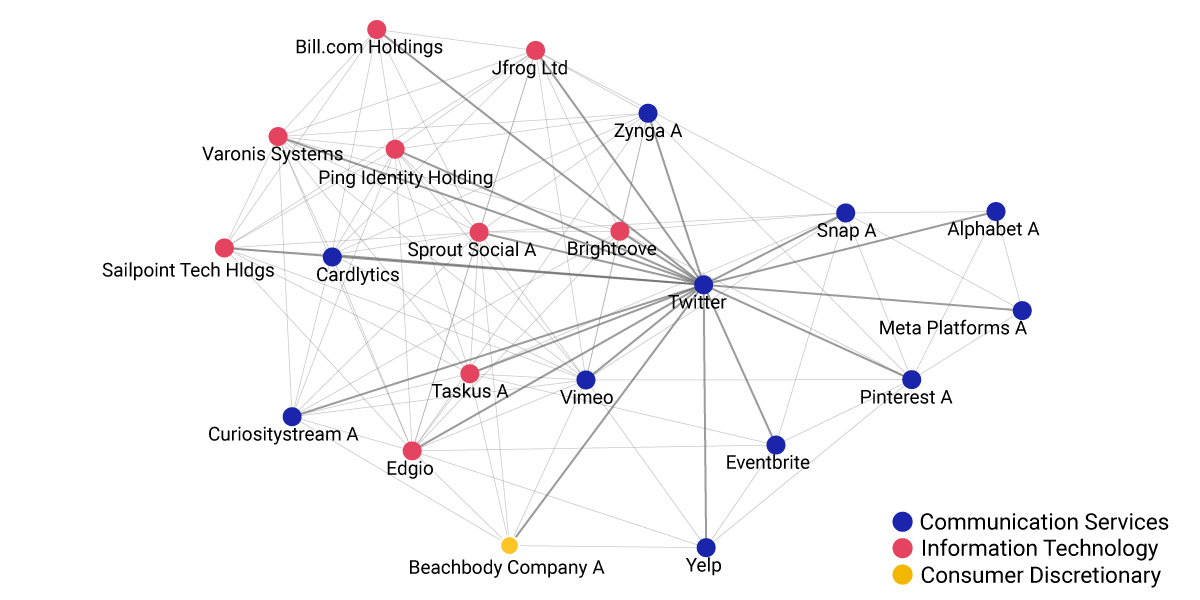 Top 20 peers of Twitter based on MSCI Peer Similarity Scores as of March 31, 2022, prior to the announcement of Twitter's acquisition. Scores are based on return correlations, ESG profiles, news co-mentions, financial fundamentals and 10-K business descriptions.
Fundamental-metrics heat map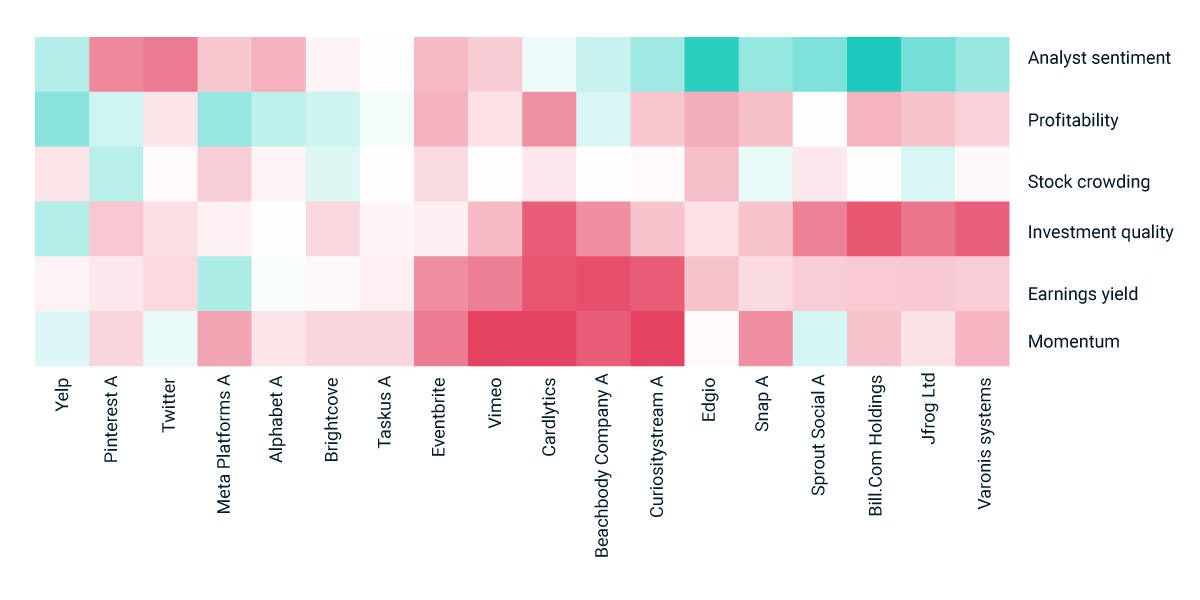 Exposures are as of Oct. 31, 2022, from the MSCI Global Equity Factor Trading Model. Red and green shades indicate negative and positive exposure, respectively. Note that some firms from the March peer group have since been delisted or acquired as of October 2022.
1
GICS® is the industry-classification standard jointly developed by MSCI and S&P Global Market Intelligence.