ESG and Climate in Focus: Balancing Climate and Financial Goals in Fixed Income
ESG and Climate in Focus: Balancing Climate and Financial Goals in Fixed Income
In a time of volatile fixed-income markets and expectations for "higher for longer" rates, MSCI Investment Grade Corporate Bond Climate Indexes remain largely correlated with their parent indexes. But how did they perform in terms of climate objectives, including change in carbon footprint, green versus fossil-fuel-based revenues and implied temperature rise?
To answer this question, we analyze these indexes from two aspects:
1. Emissions profile
Comparing the carbon footprint of different climate indexes, we observe that almost all achieved a significant reduction in emissions intensity, potential emissions and weight of fossil-fuel-reserve holding companies compared to their parent indexes.
Looking at exposure to green technology, for example, the MSCI Paris Aligned Indexes had the largest green-to-fossil-fuel-based-revenue ratio owing to the explicit methodology criteria of maintaining a ratio 4x higher than the parent indexes. The MSCI Climate Change Indexes also showed a notable degree of improvement in this ratio versus that of the parent indexes and were in line with the parent indexes in terms of exposure to green technology.
2. Impact and risk
Examining MSCI Climate Value-at-Risk (Climate VaR) for policy and physical risk, as well as MSCI Implied Temperature Rise (ITR) measures for all the parent and derived climate indexes, we observed that average policy risk and ITR were lower than the parent indexes across all the climate indexes.
In short, the answer to our question is that the MSCI Climate Indexes performed well in terms of improved carbon-emissions profiles and climate impact. From a return perspective, the discrepancies observed compared to the parent indexes can be largely attributed to deliberate underrepresentation of higher-emission sectors and issuers, such as energy and utilities. And the variety of climate fixed-income solutions based on these indexes may allow investors to strike a balance between their climate and financial objectives.
Index emissions profile and climate exposure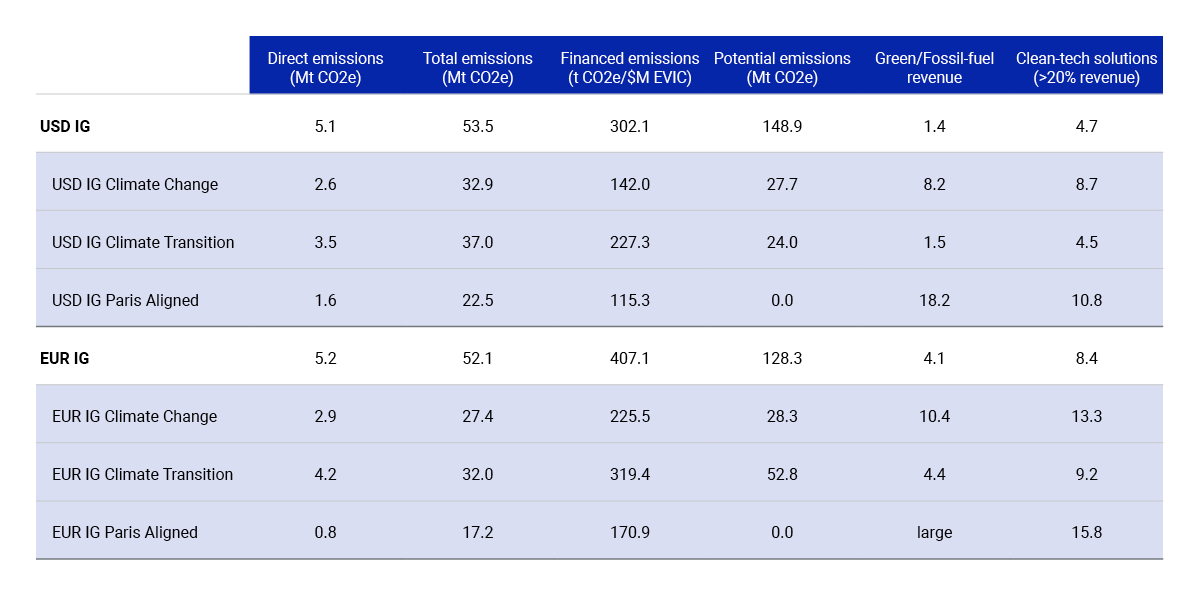 Source: MSCI ESG Research, as of March 2023. Potential emissions is the potential carbon emissions of the coal, oil and gas reserves owned by a company with fossil-fuel reserves used for energy application.
MSCI Climate VaR and Implied Temperature Rise of corporate bond indexes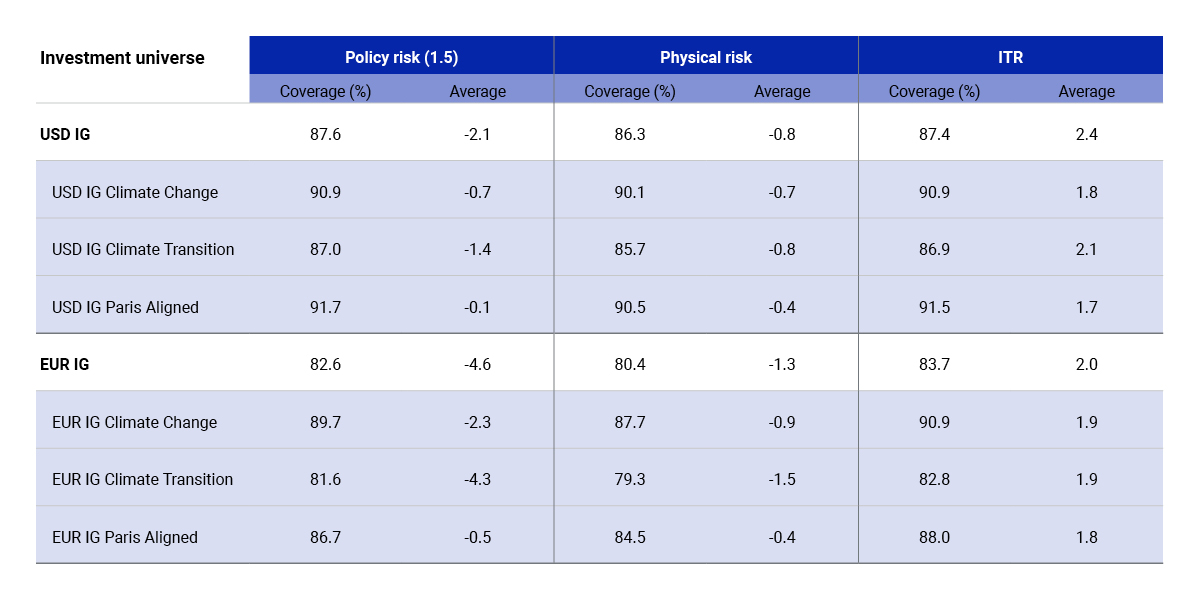 Source: MSCI ESG Research, as of Oct. 2, 2023. Coverage is a % of issuers with data; average is market-value-weighted average of issuers with data. Implied temperature rise is temperature rise in the year 2100 or later, if the whole economy had the same over/undershoot level of greenhouse gas emissions to the company analyzed. ITR = 2°C + relative carbon budget over/undershoot x Global 2°C x TCRE Factor (a transient climate response to cumulative emissions). Policy-risk climate VaR is a company's debt-aggregated downside policy-risk exposure as a % of the market value of the company's debt, assuming a global 1.5°C target and using carbon prices from the AIM CGE model under the advance scenario. Physical-risk climate VaR is a company's debt worst-case (95th percentile) downside as a % of the market value of a company's debt, assuming trends in extreme weather conditions continue along a legacy scenario.