Price Growth for US Commercial Property Slowed Further
Price Growth for US Commercial Property Slowed Further
The prices of U.S. commercial properties that sold in August continued to climb but at a slower pace than seen in recent months. The RCA CPPI National All-Property Index increased 14.0% from a year prior, down from the record-high 20.0% rate at the start of 2022 and marking the seventh consecutive month of decelerating growth.
Trading of U.S. properties such as offices, apartment buildings and warehouses has also weakened amid investor caution due to higher lending rates and economic concerns. Deal volume for August totaled $42.9 billion, a 41% decline on the same period a year ago.
Industrial outpaced other property types
All the property-type indexes showed prices growing in August but at slower annual rates. For the industrial sector, this slower rate of growth still came in at 24.7%, easily outpacing the other major sectors. Prices for suburban offices increased only 6.6% from a year ago and for offices in central business districts prices gained 7.7%. Apartment prices climbed 17.1% and retail 16.0%.
Annual change in US commercial property pricing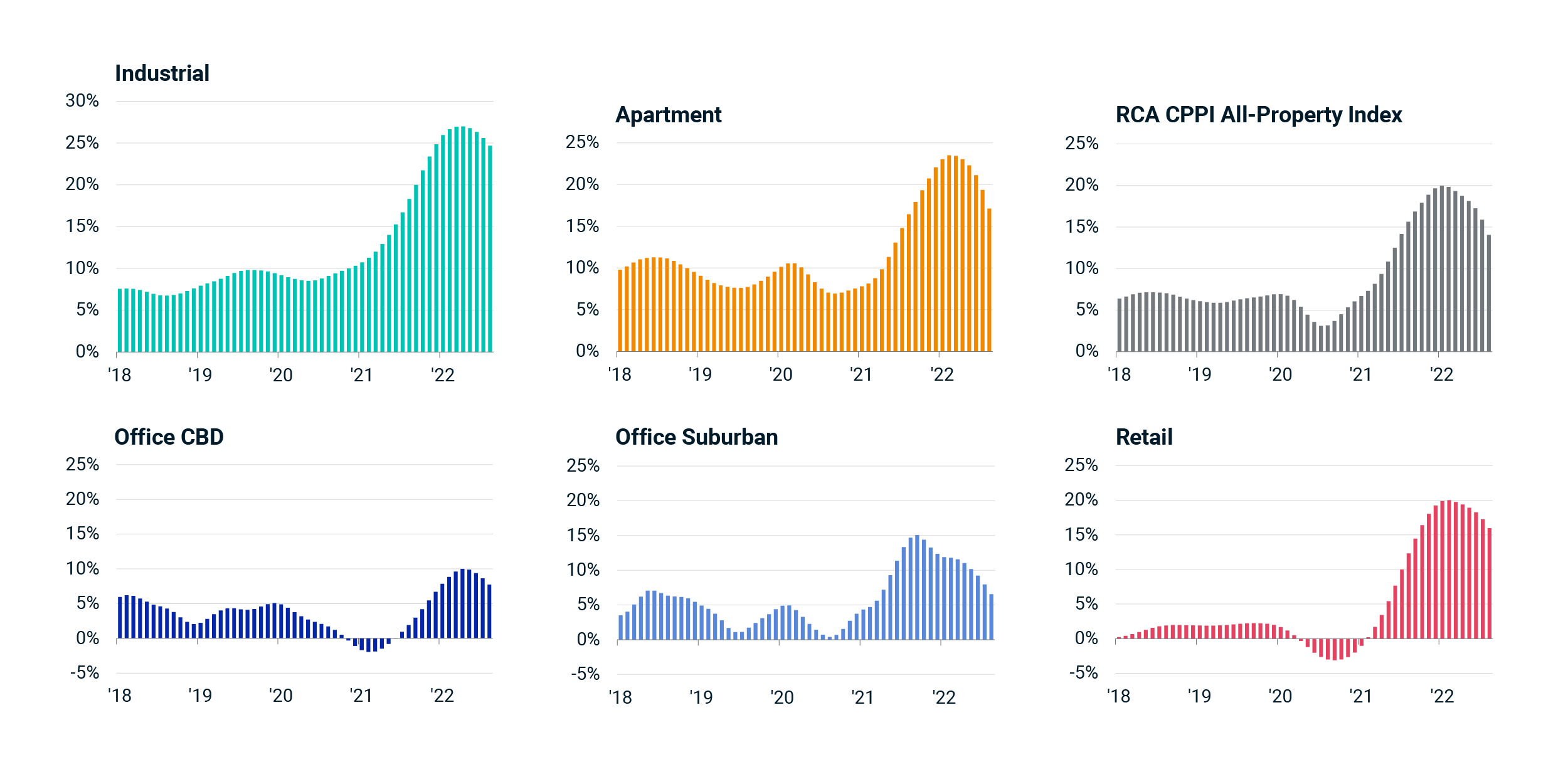 RCA CPPI (Commercial Property Price Indexes)
Related content

Global Real Estate Mostly Resisted Headwinds
The myriad headwinds that the global commercial real estate market has faced in 2022 might have slowed transactions.
Read more
Dorothy Didn't Say, 'There's no Place like the Office'
Investors in commercial real estate are confronting the lingering effects of COVID-19 on what being an "office worker" means.
Listen to the podcast
How US Real Estate Purchases Changed During the Pandemic
One notable consequence of the COVID-19 pandemic was a shift in real estate investors' preferences.
Read more