Real Estate Likely to Transition to Be a Source of Inflation
Real Estate Likely to Transition to Be a Source of Inflation
Housing prices account for roughly one-third of the U.S. consumer price index (CPI), but have not yet contributed in a big way to recent inflationary pressures, despite double-digit growth rates for apartment rents, as reported by listings company Zillow. The issue is the difference between spot-market rents and the rental measure used in the CPI calculation. The discrepancy also suggests more inflationary pressure ahead from shelter prices.
The rental component of the CPI includes a mix of responses from apartment tenants with long-standing occupancy, as well as those paying the current market rent because they had leased an apartment recently. Taking a three-year trailing average of the growth rates in the Zillow Observed Rent Index, a measure of rental-price change, approximates the trend in the rental component of the monthly CPI. There are differences shown in the chart below, but as a general indicator, this relationship suggests ongoing pressure ahead from housing costs.
Rethinking real estate's role
Even if growth in spot-market rents were to immediately moderate to the 3.6% average annual pace seen from 2015 to 2018, growth in the rental component of the CPI would still move above the 6% growth level through 2024. Energy prices had been punching above their weight in the CPI calculations, but retreated by 5% in August from the levels seen in July. Rather than thinking of real estate investment as a haven from inflation, investors may worry about the implications of the sector transitioning to a source of the above-average trend in overall price growth.
Lag in CPI rents suggests more price pressure ahead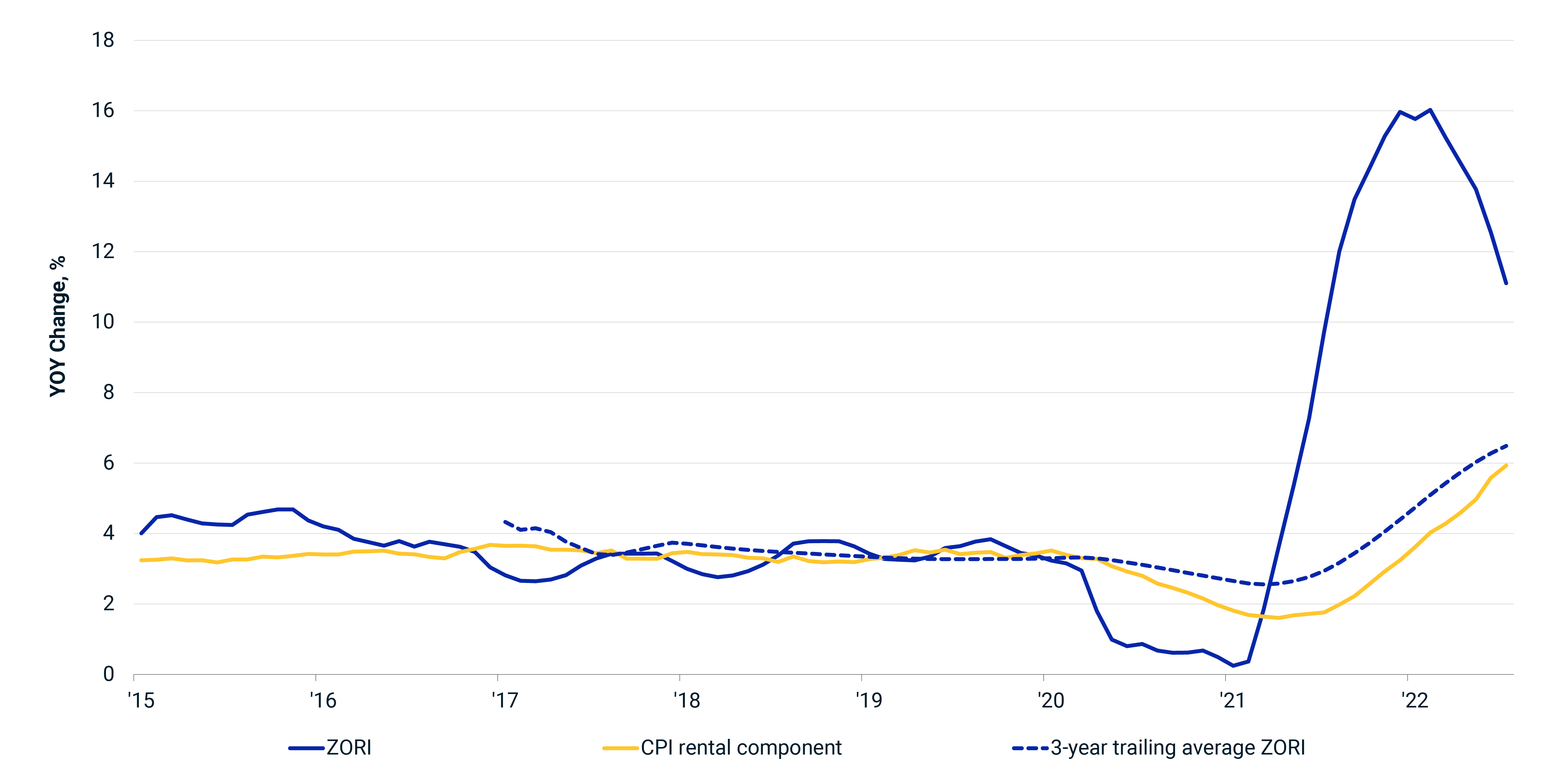 Source: Bureau of Labor Statistics, Zillow Observed Rent Index (ZORI), MSCI
Related content

Government-Bond Yields and Inflation
Inflation expectations based on the prices of government bonds have sharply risen since January, as military conflict in Ukraine increased in likelihood and then turned into an all-out war.
View the chart
Fed Policy and the Spector of Stagflation
A surprisingly high U.S. inflation reading was released ahead of the June 14-15 meeting of the Federal Reserve's Federal Open Market Committee, and equity and bond markets reacted by selling off sharply.
Read the quick take
What Can We Learn from the July CPI?
The U.S. consumer price index (CPI) climbed 8.5% from a year earlier in July 2022, down from the 9.1% pace set in June.
Read the quick take