Returns for European Property Fell to a Record Low
Returns for European Property Fell to a Record Low
Total returns across the properties covered by the MSCI Europe Quarterly Property Index reached a new low in the fourth quarter of 2022. The return of -6.7% was below the previous record of -6.4% in December 2008, when property was left reeling by the onset of the global financial crisis (GFC).
Capital growth was the major drag on returns, as property valuations were lowered because of the shift in interest-rate policy to combat inflation. This shift has made low-yielding assets appear less viable when compared with the cost of capital and returns from other asset classes.
Despite a tumultuous year for many European economies, however, the results showed the occupier market remained in relatively good health. Market-value rental growth accelerated in December when compared with September, and vacancy rates remained well below their long-run average.
Europe-wide slide
The U.K. was the worst-performing country in the fourth quarter, with total returns at -11.7%. This was the market's second-worst period in the index's history. The underperformance reflects how rapid the correction has been, with the loss of value in the second half of 2022 outpacing that recorded during the onset of the GFC and the late 1980s crash.
Returns in Europe's two other largest markets, Germany and France, sank to their lowest level. Falling to -6.5%, the French market experienced by far its worst period on record, eclipsing the -1.9% total return recorded at the end of 2008. Similarly, at -6.0%, the German outturn was well below the -3.3% level in 2008.
No country or region escaped the negative returns, in a sign that a widespread correction is underway. Relatively, the best-performing markets were Belgium and Luxembourg, followed by Central and Eastern Europe, where the drag from capital values was not as great as elsewhere.
Quarterly returns dropped across markets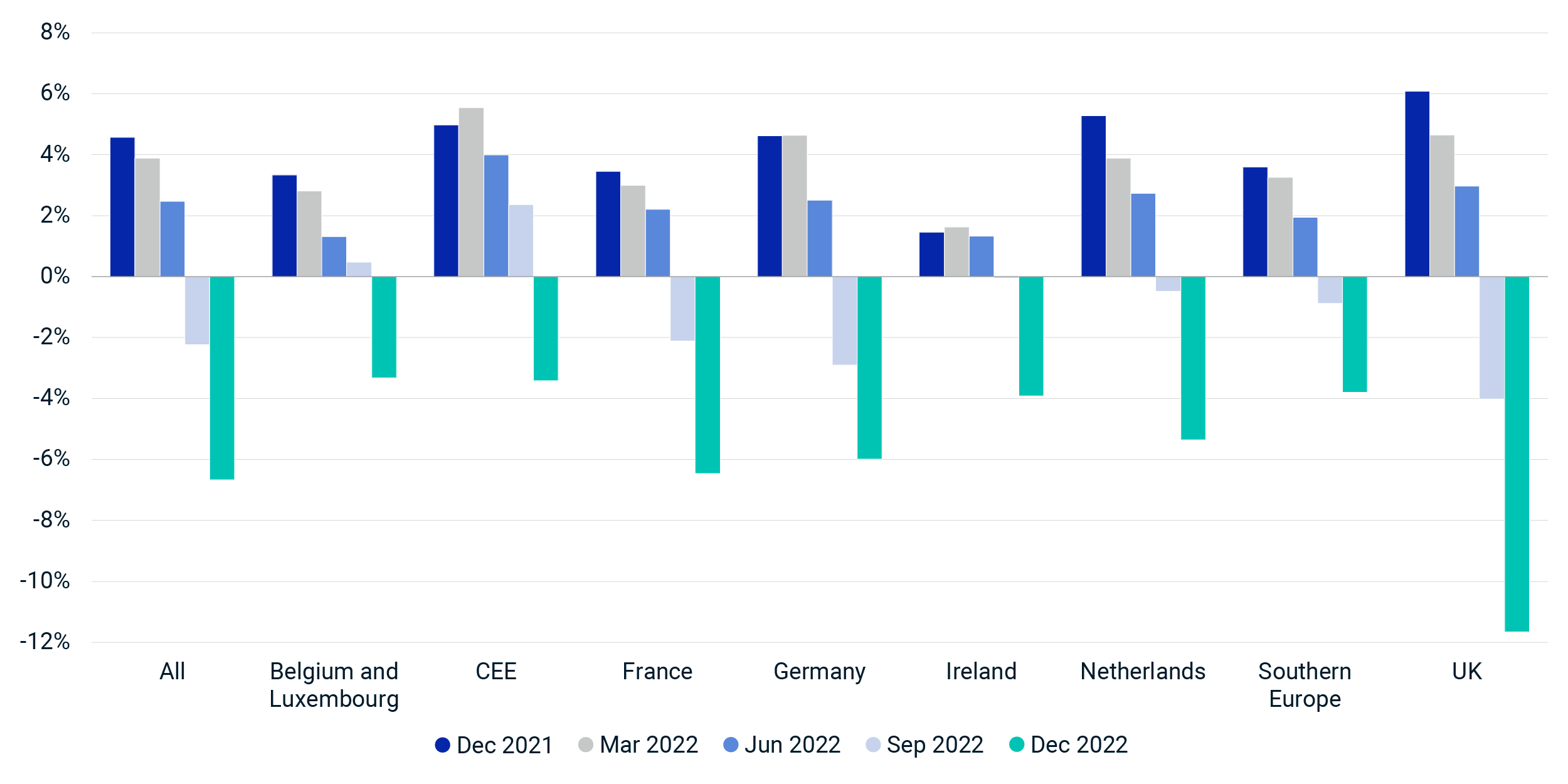 Source: MSCI Europe Quarterly Property Index