Small Banks Falter in US Commercial-Property Lending
Small Banks Falter in US Commercial-Property Lending
Smaller U.S. banks retreated from commercial-real-estate (CRE) lending in Q2 of 2023. From a record high of 34.2% of all commercial-mortgage originations in the first quarter of 2023, these regional/local banks captured only 25.1% of the market in the second quarter. Never has the share of lending by these smaller banks fallen so sharply in a single quarter.
The share of all CRE loans originated by regional/local banks fell 900 basis points (bps) in the second quarter. The next sharpest decline was 650 bps in Q4 of 2020. These smaller banks had consistently captured an average of 17% of the market for loans from 2015 to 2019, before their share surged into the COVID-19 era.
Bank failures
The failures of Silicon Valley Bank, Signature Bank and First Republic early in 2023 cast a cloud over the lending behavior of other regional/local banks. There was a 53% year-over-year decline in commercial-mortgage originations by smaller banks in Q2 of 2023, according to MSCI Mortgage Debt Intelligence.
There is a seasonal pattern with lending, and normally originations by these smaller banks rise into the second quarter of the year from the first: On average from 2012 to 2022, the originations by smaller lenders climbed an average of 14%. In 2023, originations fell 4% into the second quarter.
Signature Bank of course was one of these regional/local banks and dominated the apartment lending market in New York. The decline in originations by the small banks in the second quarter was not a function of Signature's absence, however. Without Signature, the regional/local banks would have captured 33.9% of all originations in Q1 of 2023, still a record high.
Regional/local-bank lending on the back foot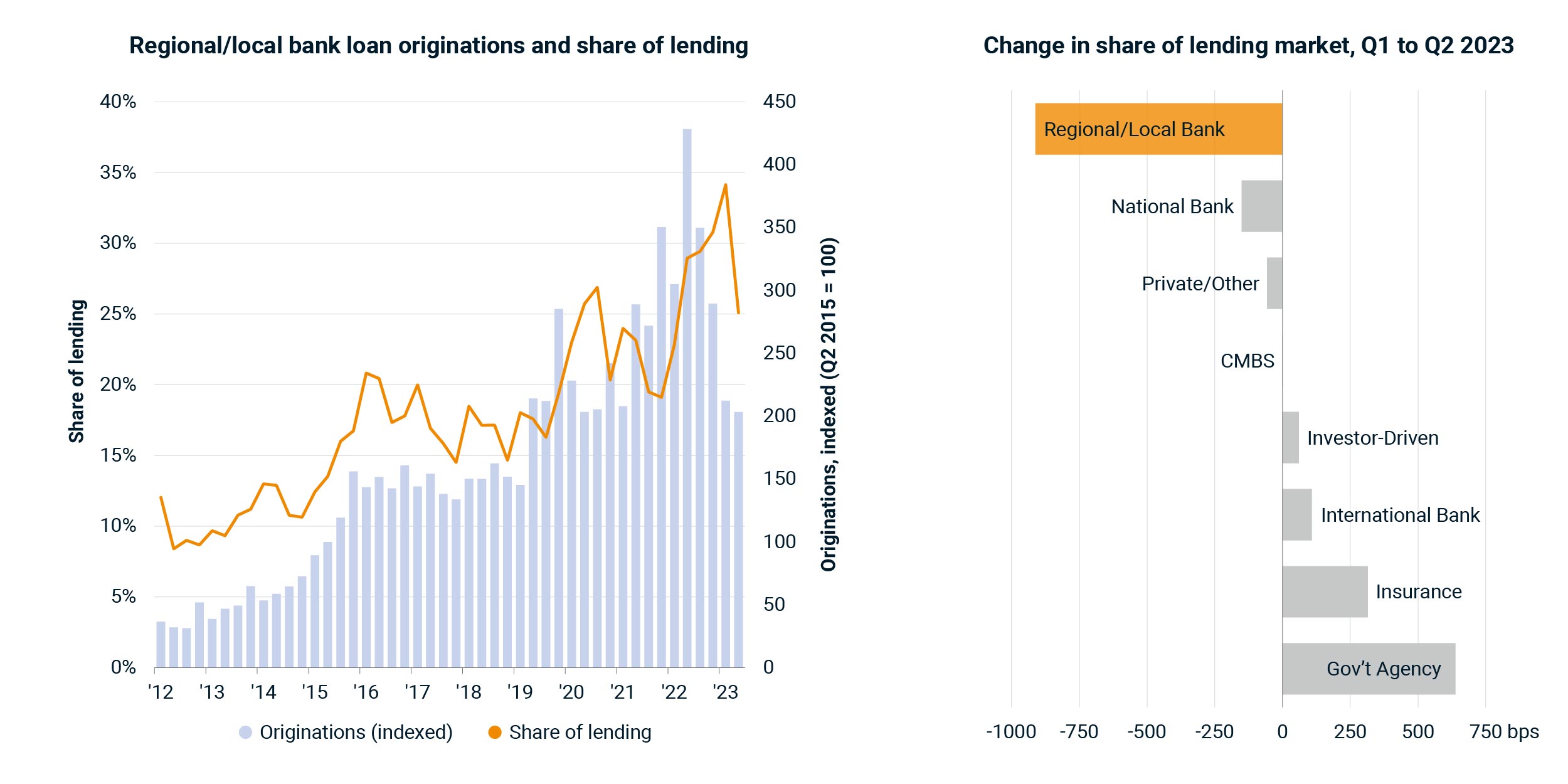 Mortgage originations not seasonally adjusted. Source: MSCI Mortgage Debt Intelligence