Tech and AI-Driven Firms Spearheaded Thematic Resurgence
Tech and AI-Driven Firms Spearheaded Thematic Resurgence
The heightened interest in artificial intelligence this year has significantly boosted returns in several AI-centric areas. We assessed the performance of various thematic indexes based on the MSCI ACWI Investable Market Index (IMI), for 2023 as well as the preceding year. Themes such as robotics and AI, internet innovation, autonomous technologies and the digital economy — all featuring companies in the AI supply chain — have emerged as this year's top performers.
Yet the sizable returns haven't been solely an AI phenomenon. Many themes have seen a considerable turnaround from their 2022 downturns. Those that suffered the greatest declines last year have made the most notable strides this year. This reversal, coupled with investors rallying toward a select few growth stocks and the pause in U.S. rate hikes, have been key drivers in the upswing of thematic valuations.
But how have underlying trends such as AI been mirrored in the broader equity market? Our analysis reveals that certain themes linked with transformative technologies and society and lifestyle trends have a significantly larger footprint in the MSCI ACWI IMI today than they did back in 2016, the start of our data set. Interestingly, the surge wasn't driven by initial public offerings. Instead, the lion's share of the increase can be attributed to the growing capitalization of existing players and, to a lesser extent, their transition toward new business models.
Thematic investing rests on the principle of providing opportunity through exposure to broad, structural change. It seems to have been one guiding principle in 2023 so far.
Last year's declines gave way to a resurgence in most themes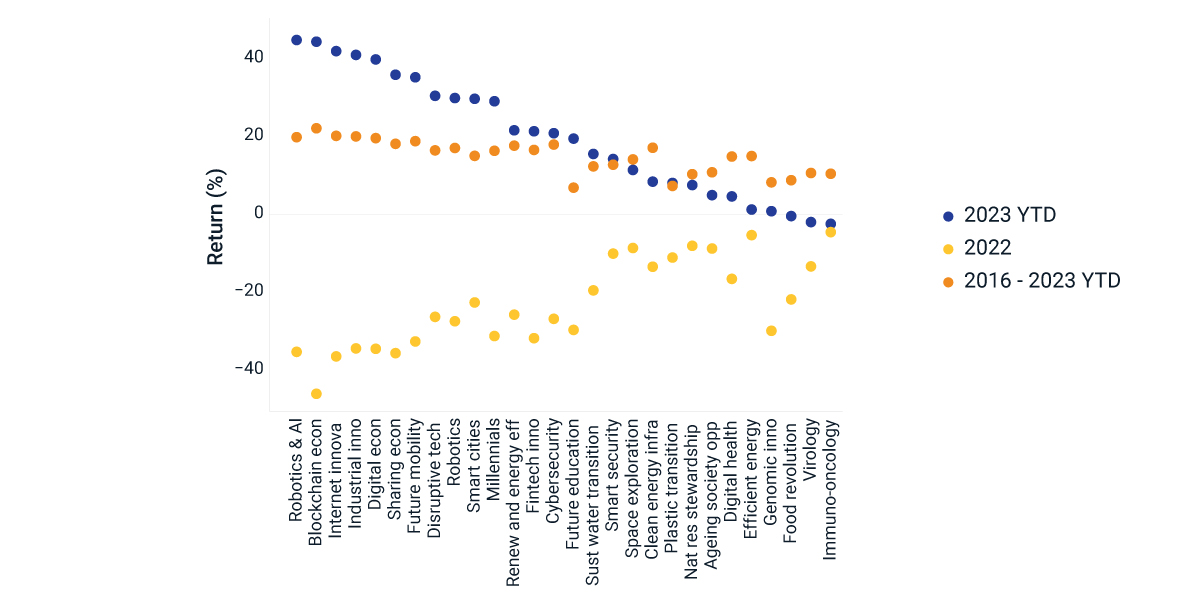 Index returns are gross in USD from Dec. 31, 2022, through June 16, 2023, and Dec. 31, 2021, through Dec. 31, 2022
Incumbents reaped the benefits of the equity market's evolution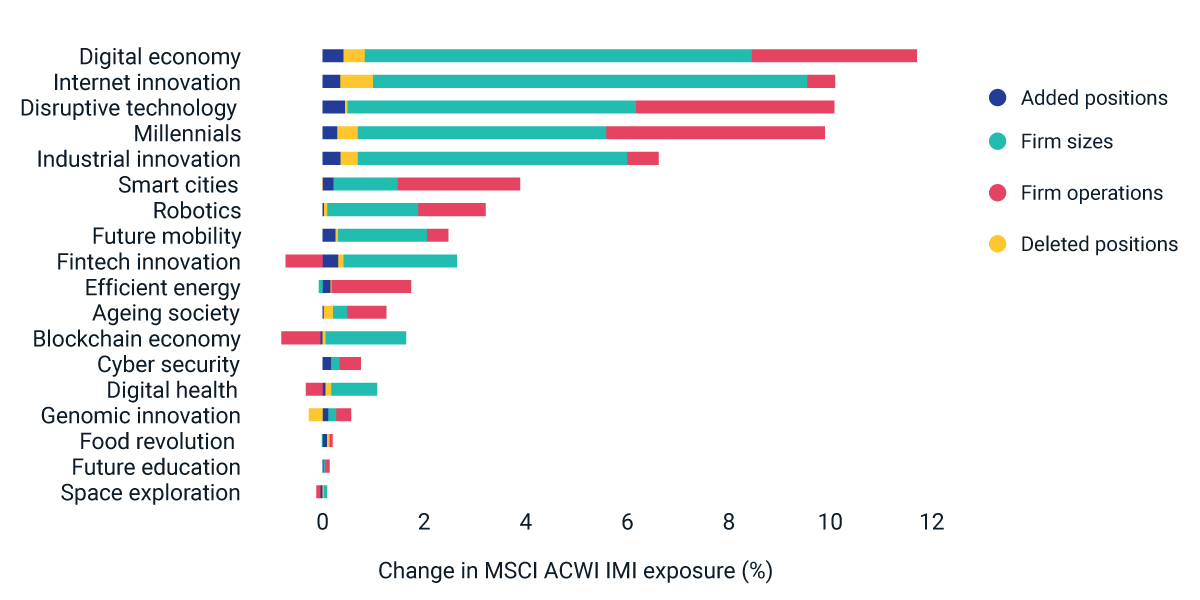 Decomposition based on MSCI ACWI IMI thematic exposure as of Dec. 31, 2016, and May 31, 2023.