US Commercial Property Price Growth Held Steady in May
US Commercial Property Price Growth Held Steady in May
Price growth for U.S. commercial properties hovered just below recent record highs in May, supported by price gains in the industrial and apartment sectors. The RCA CPPI National All-Property Index climbed 18.6% from a year ago, slightly down from the record annual growth of 19.3% seen in January.
Industrial prices climbed 28.6% since May 2021, a record annual rate for this sector, and rose 1.8% from April. Prices on traded properties have remained robust even amid signs of potential cooling in the market, as industrial deal volume retreated for a second consecutive month in May.
Apartment prices also registered an all-time high rate of growth. The annual pace of 23.3% in May matched April's rate, which was a record for the sector. The index for retail properties increased 18.8% from a year ago. While still a significant double-digit growth rate, the pace has eased for three consecutive months.
The office sector index grew 12.2% year-over-year driven by prices of offices in central business districts (CBDs), which rose 13.4%. This pace is the fastest rate of growth for CBD offices since 2014. Suburban office prices increased 10.5% from a year prior. Growth in the index for suburban offices has been unchanged or decelerating for eight months in a row.
Annual growth in US commercial-property pricing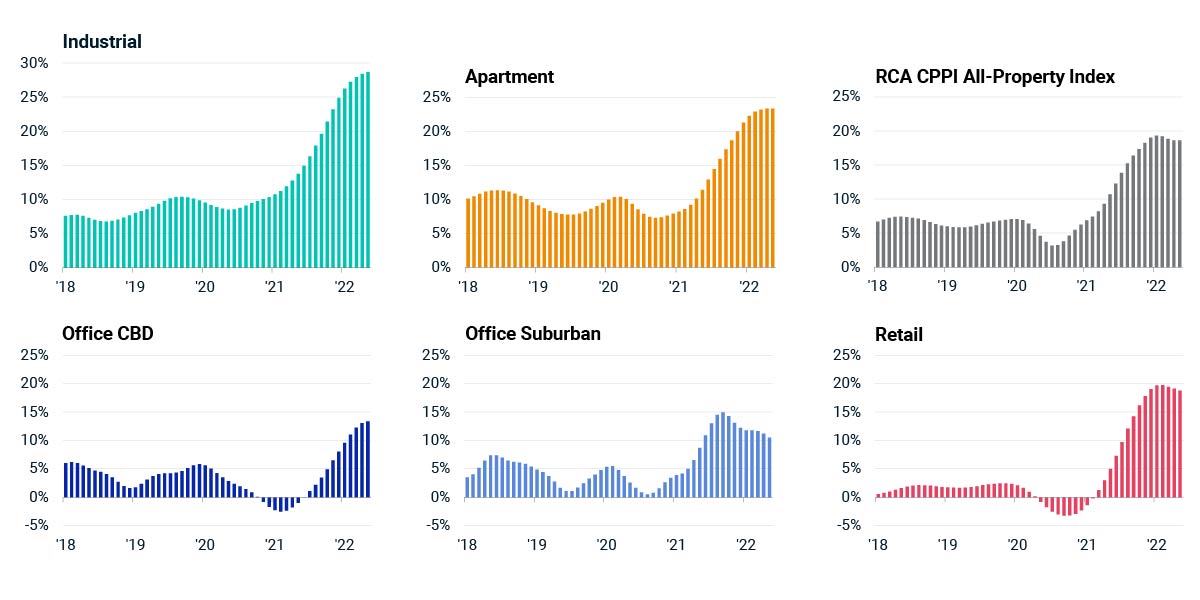 Related Content
The Signal for Industrial Property Amid E-Commerce Noise
Longer-terms trends have offered a better signal on the performance of this asset type.
Read the Blog
US Commercial Real Estate Price Growth Slipped in April
Annual growth in the price of U.S. commercial properties ebbed again in April, the third consecutive month of decelerating price gains.
Read More
Top Global Investors: Piling Into Apartment, Industrial in 2021
There was record momentum behind capital deployed by the top global investors in 2021.
Learn More