Which Sectors Are Most Affected by Climate Risks?
Which Sectors Are Most Affected by Climate Risks?
Managing climate-change risks and capturing new opportunities can be crucial to protecting investments and optimizing performance while reaching sustainability goals. MSCI ESG Research's physical-risk scenarios evaluate the impacts and financial risk of several extreme weather hazards, such as extreme heat and cold, heavy snowfall and precipitation, wind gusts, tropical cyclones, coastal flooding/rising sea levels and fluvial flooding.
Under the 2°C scenario (2°C REMIND Orderly), coastal flooding and extreme heat appeared to have the biggest expected downside across sectors, with the energy and utilities sectors facing the highest potential downside among the constituents of the MSCI AC Asia Pacific Investable Market Index as of April 2023.1
Climate-aware investors may wish to consider such sector-level risks when assessing their portfolios.
Impact of physical risks at the sector-level under a 2°C REMIND Orderly scenario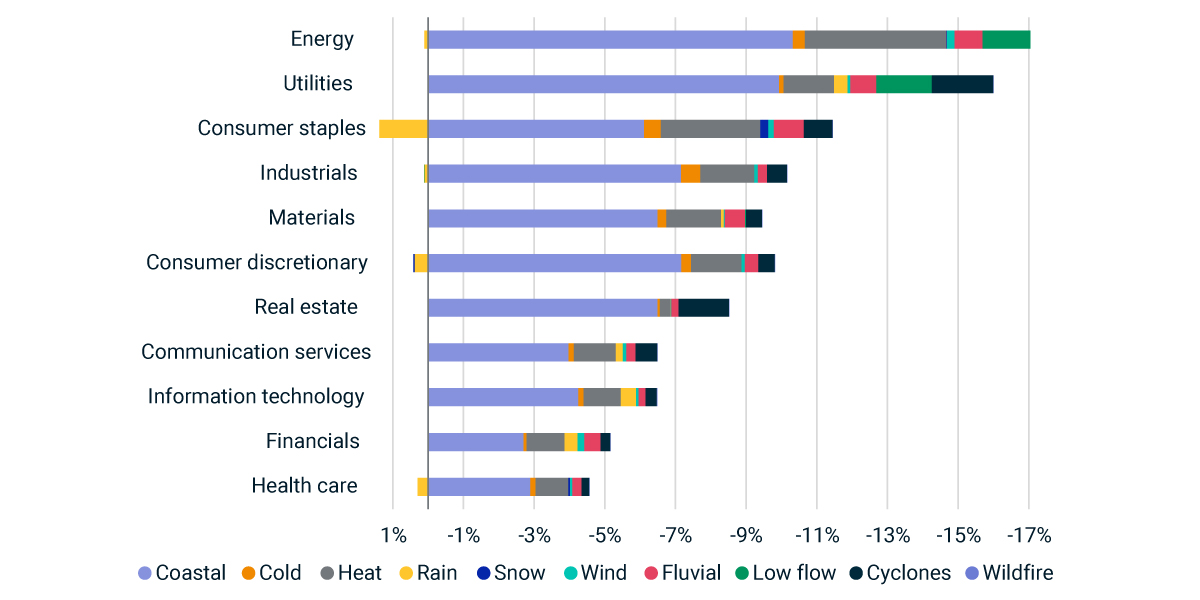 Chart shows companies' expected downside or upside potential, expressed as a percentage of the companies' market value, assuming trends in extreme cold, extreme heat, extreme precipitation, heavy snowfall, extreme wind, coastal flooding, fluvial flooding, tropical cyclones, river low flow and wildfires continue along the 2°C REMIND Orderly scenario. The chart shows sector averages and does not take into consideration index weights. Data as of April 2023. Source: MSCI ESG Research
1
The Global Industry Classification Standard is the industry taxonomy jointly developed by MSCI and S&P Global Market Intelligence. The constituents (n=4,170), belonging to the information-technology (n=569), financials (n=438), consumer-discretionary (n=544), industrials (n=713), materials (n=), communication-services (n=193), health-care (n=367), consumer-staples (n=319), real-estate (n=318), energy (n=91) and utilities (n=117) sectors of the MSCI AC Asia Pacific Investable Market Index, are as of April 2023.
Related content
Capital for Climate Action Conference
Clarity in the low-carbon transition
Register now
Most Prevalent Climate Hazards Found in Asia-Pacific
Hazard data is a key component of MSCI ESG Research's physical-risk modeling.
Learn more
How Extreme Temperatures May Affect Chinese Companies
In the face of rising temperatures in China, comprehensive adaptation and response plans are crucial to mitigate the physical risks of extreme heat, especially for more exposed regions.
Read more