Corporate Bonds and Climate Change Risk
Corporate Bonds and Climate Change Risk
Feb 22, 2023
In this research, we focus on portfolios of developed-market corporate bonds and study the financial materiality of climate-change risk for these portfolios. Analyzing the level of corporate credit spreads and the slope of credit curves, we show that the broader credit market and bond spreads did not appear to have been significantly and systematically impacted by climate policies or the potential for physical climate risk. But even under a scenario with a modest temperature-rise target (3°C), climate-change risk could negatively affect corporate-bond portfolios and their credit spreads could widen to more than double the current historically narrow levels. ©2023 With Intelligence. Republished with permission from the Journal of Portfolio Management, from: Afsaneh Mastouri, Rohit Mendiratta, and Guido Giese. 2023. "Corporate Bonds and Climate Change Risk." Journal of Portfolio Management 48, no. 10.
Issuer spreads do not yet reflect the cost of physical climate risk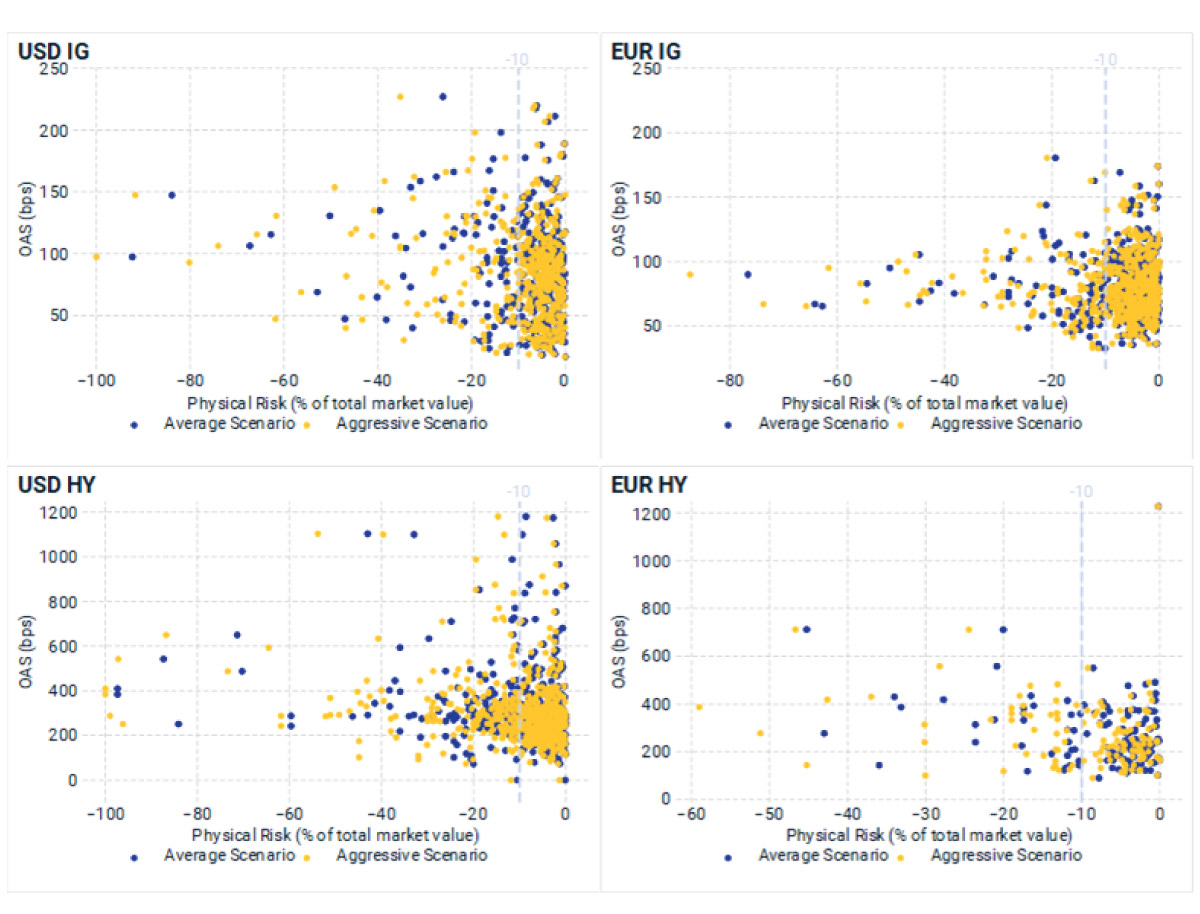 Issuers' option-adjusted spreads (OAS) and physical-risk cost of climate change defined as company's expected (Average Scenario) or worst-case (95th percentile, Aggressive Scenario) downside, expressed as a percentage of a company's total market value, assuming trends in extreme weather conditions continue along different greenhouse-gas concentration pathways, as of June 30, 2021.
Download Report
Related Content
Climate and Net-Zero Solutions
Climate and Net-Zero Solutions helps investors make their portfolios more resilient to the transition to a net-zero economy and overall effects of a warming climate.
Learn More
Foundations of ESG Investing in Corporate Bonds: How ESG Affected Corporate Credit Risk and Performance
Environmental, social, and governance (ESG) investing is a very broad field with many different investment approaches addressing various investment objectives across asset classes.
Access the Paper
Foundations of Climate Investing: How Equity Markets Have Priced Climate Transition Risks
In this paper, we examine the financial impact of climate-transition risk on global equity markets and find that climate has increased in importance in the last two years, with potential long-term implications for understanding market behavior.
Access Report