Fund ESG Transparency Q3 2021 Spotlight: Thematic Funds
Fund ESG Transparency Q3 2021 Spotlight: Thematic Funds
Oct 29, 2021
Thematic funds aim to invest in long-term trends that can range across social, environmental and technological realms, from millennial consumption to cloud computing. They have experienced strong inflows over the past four years, with assets under management quadrupling from under USD 150 billion in 2017 to over USD 600 billion, as of August 2021. In this quarterly report, we examine the ESG characteristics of this fund universe.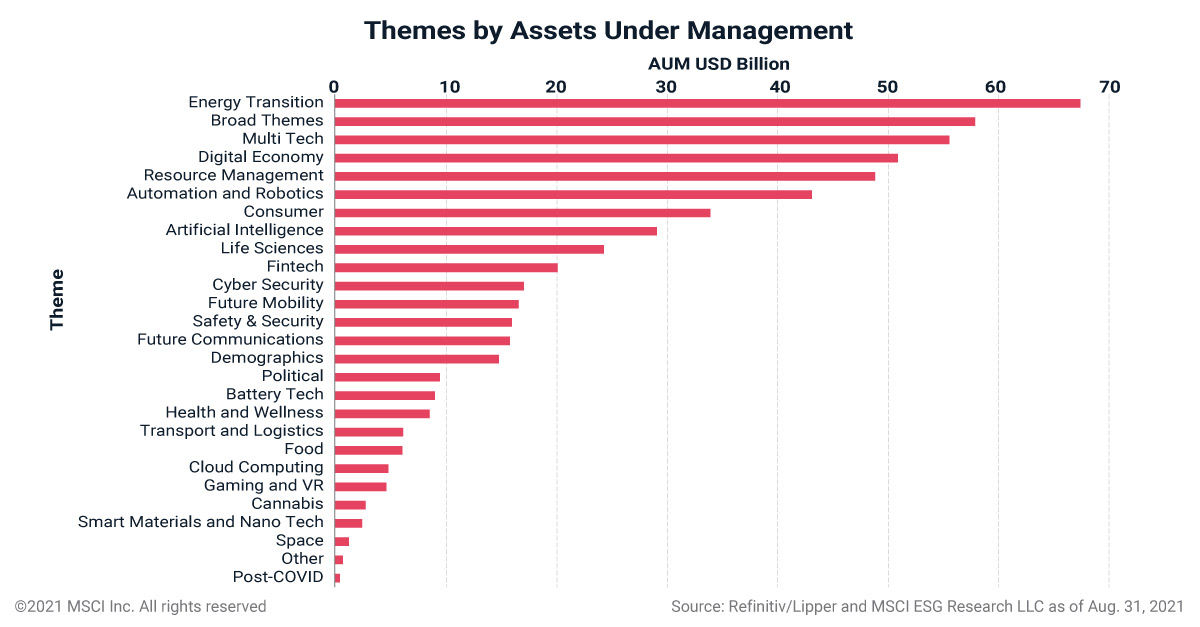 Source: Refinitiv/Lipper and MSCI ESG Research LLC as of Aug. 31, 2021
Download Report
Related Content
Fund ESG Transparency — Q2 Spotlight: Mutual Funds
ESG funds account for just 4.3% of the mutual-fund universe, totaling over USD 2 trillion. But they are growing in number, and their use as an ESG integration tool is also becoming more established. We take a deeper look at this subset in this quarterly report.
Access Report
Fund ESG Transparency: Quarterly Report 2021
ESG ETF strategies saw record inflows in 2020, driven by demand from asset owners looking to increase ESG integration and transparency across their portfolios.
Learn More
The 20 Largest ESG Funds
You can use the interactive chart to compare the carbon intensity and stock allocations across the 20 largest ESG funds in our coverage universe.
Read More