Understanding MSCI Climate Corporate Bond Indexes
Understanding MSCI Climate Corporate Bond Indexes
Jun 23, 2023
In this paper, we discuss our research on developed-market climate corporate-bond indexes. We aim to help institutional investors translate their climate objectives — both quantitative and qualitative — to a benchmark-construction concept. We do this by assessing different investors' objectives and targets, matching these with the goals of our current indexes and proposing possible approaches to customization that are consistent with investors' requirements.
We explain different climate corporate-bond indexes' methodologies and variants available to integrate climate considerations into benchmarks. We compare the resulting differences in financial and climate characteristics of these indexes.
This document is designed as a guide for investors to illustrate how a complex set of financial and climate targets and climate investment objectives can be simultaneously integrated into the construction of indexes as well as portfolios.
MSCI's climate corporate-bond indexes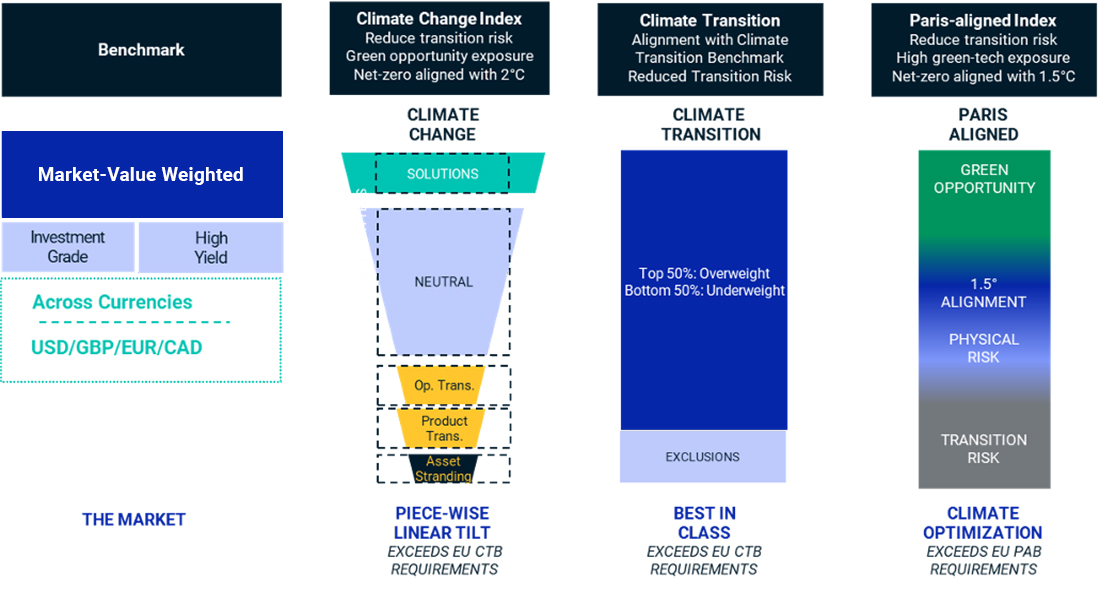 CTB is Climate Transition Benchmark and PAB is Paris-Aligned Benchmark.
Download report

Related content
Corporate Bonds and Climate Change Risk
In this paper, we highlight to investors and portfolio managers the significance of climate-change risk for the value of corporate bonds, as well as provide a framework for further research in this area.
Read the paper
ESG Investing in Corporate Bonds: How ESG Affected Corporate Credit Risk and Performance
Environmental, social, and governance (ESG) investing is a very broad field with many different investment approaches addressing various investment objectives across asset classes. While there are many studies relating to ESG in equities, the risk assessment of ESG considerations within fixed income may be equally if not more important.
Read the paper
Climate and Net-Zero Solutions
MSCI offers a suite of tools to help institutional investors benchmark, measure and manage portfolio exposure to climate risk, identify low carbon investment opportunities, and support investors seeking to set a net-zero target.
Learn more