Inflation, the Fed and the Rocky Road Ahead
Inflation, the Fed and the Rocky Road Ahead
Next week's Federal Open Market Committee (FOMC) meeting, combined with the release of U.S. inflation data, will test the good cheer currently prevailing in the bond market. Last month's consumer price index (CPI) showed unexpectedly low inflation and triggered one of the sharpest rallies of the past several years, as the yield on the 10-year Treasury fell by almost 60 basis points (through Dec. 6). Last week's surprisingly strong U.S. employment report had a relatively modest impact on yields, suggesting that the market's focus is more on inflation than on the strength of the labor market.
The market appears to have confidence that the Federal Reserve can successfully drive inflation much lower than the current 7.7% rate of the past year. As shown in the exhibit below, market-implied inflation by June 2023 is below 3% and by December 2024 is near the Fed's inflation target of 2%. In line with these expectations, current market pricing shows the Fed raising the federal-funds rate to 5% over the next three meetings, followed by a pause and then cutting rates by the fourth quarter of 2023.
Uncertainty remains
The way forward is still uncertain and depends on the stickiness of inflation, appropriateness of the rate policy to address it and how much economic damage monetary tightening could cause.
Over the past two years, the Fed and market pricing have consistently undershot inflation. Further, as Chair Jay Powell has repeatedly stated, monthly inflation can be very volatile and may be misinterpreted. Next week's CPI release may help confirm last month's inflation report or show it to be an anomaly. Either way, the FOMC meeting taking place after the release of the inflation data will provide investors with insights into how the Fed is viewing inflation trends.
Treasury market expects inflation to be under control by mid-2023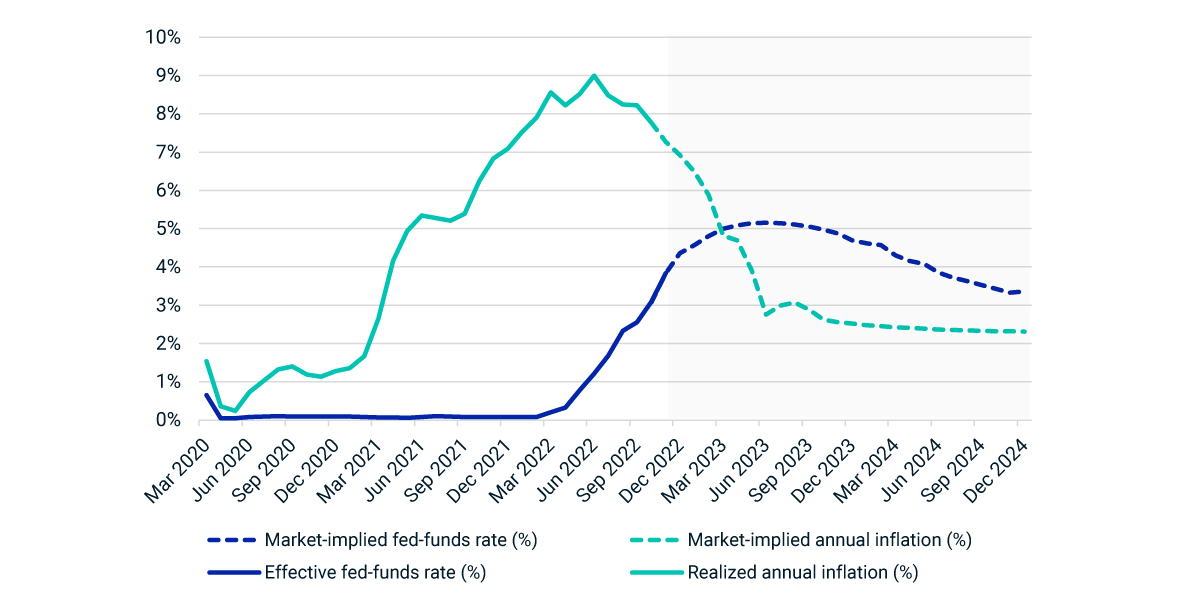 Market-implied expectations for the federal-funds rate and U.S. inflation are derived from the MSCI USD overnight-index-spread curve and MSCI USD breakeven-inflation curve, respectively. Data as of Dec. 6, 2022.